Video of Tiny Duckling Tucked Up Asleep in Bed Dubbed 'Cutest Thing Ever'
Social media is awash with adorable animal content. However, one heartwarming video of a tiny duckling enjoying a snooze may have just taken the title of the cutest thing to ever grace the internet.
Or at least, that's according to one Redditor who posted the clip online.
BusyBusyBizzy shared the video to Reddit alongside a caption declaring: "it's finally happened. I've seen the cutest thing ever."
The post has already earned more than 37,000 upvotes, however, the clip has blown up even bigger on TikTok, where it was originally posted.
It's the work of a user who regularly posts videos of a family of ducks under the handle ducks_in_space. According to the TikTok account's bio, the account chronicles the adventures of Tonia, a mother duck, and her young ducklings.
While previous videos have centered on everything from the sight of a tiny duckling snuggled in a shirt pocket to a clip of the ducklings enjoying a bath together in the kitchen sink, it's this more recent effort that has been garnering the most attention.
The footage centers on a tiny, sleepy, duckling enjoying a snooze in what appears to be a full-sized human adult bed.
To top it all off, the duckling has been tucked in and appears to be happily dozing away in its new surroundings. Ducks_in_space shared the sweet clip alongside a caption reading "Have you seen this?"
Plenty have, with the video racking up more than 11 million views in the space of just a single day. It can be watched here.
As with the Reddit post, fans were unanimous in expressing their appreciation and adoration for this most enchanting of clips.
Brittney Fisher called it "the cutest thing ever," while comedian Ryan Kelly commented: "There's nothing I wouldn't do to keep that duck happy." Schwavi, meanwhile, lamented: "I'll never know peace like this duck has," and hayley.bryce demanded: "get him a tiny pillow."
Antonia Shago, who lives and looks after the ducks featured on the ducks_in_space social pages, told Newsweek the duckling that features on the video is a Pekin duckling by the name of Doo who was just two days old when the clip was filmed.
"She was hatched in one of my incubators with another two ducklings," Shago said. "When they were hatching, thousands of people were watching my live stream on TikTok. People are so happy that I shared this on social media and they became so attached to these 3 ducklings."
She said she was inspired to take them on as pets after seeing the practice in Japanese culture. "It's common for Japanese people to have ducks as pets; I really love to watch videos of ducks on YouTube."
The three ducklings now live with Shago. " I like to hang out with them, but most of the time I keep them in their duckling brooder [a heated container that houses ducklings who aren't hatched by a duck] because, for small ducklings who were hatched without a duck mom, it's important to stay in specific warm temperatures and the brooder has everything baby ducklings need."
Shago is always on the lookout to see if her ducklings are up to anything cute or funny. That's how the video came about. "They love the bed, especially in the warm sunlight, it's their favorite."
She said there are multiple benefits to keeping ducks as pets.
"Ducks are cute, and smart. You can train them like a dog, they can walk on leashes and execute commands," she explained. "There are always people who prefer dogs compared to cats, or birds compared to hamsters."
Shago said anyone considering taking on a duck as a pet should do their research to decide which breed they would like to have and the type of food they will need.
"Ducks are social animals," she adds. "Don't keep just one duck, you need at least two to five ducklings." Ducklings also need to be kept indoors inside a duck brooder for up to three weeks before moving outdoors. At that point, they will need to live in a coop with a pond.
More than anything, Shago is keen to stress that looking after ducks takes work.
"It's really sad, but some people have been leaving their domestic ducks in parks because they don't want to care for them," she said. "This is illegal and unethical, please don't do this, they will never survive in the wild. Just really make sure you are ready to raise your duck."
Ducklings might seem like loveable balls of fluff but they are actually significantly smarter than many may realize.
According to a study published in the journal Science in 2016, ducks outperformed many animal species in certain areas of abstract reasoning.
Researchers from the University of Oxford found, just hours after birth, ducklings were able to comprehend ideas like "same" and "different" and were not only able to remember them but also apply them to previously unseen objects.
They reached this conclusion after showing a group of newborn ducklings a series of different pairs of objects that were either the same or different in terms of their shape or color. Later, the ducklings were then shown entirely different objects.
Scientists found that 75 percent of the ducklings ended up following the pair that were related to the ones they had originally seen, whether it was by color or shape e.g. the ducks were first exposed to two matching spheres and later chose a pair of matching triangles rather than a pair of different shapes.
Earlier this week, a duck made headlines after hitting the pavement to compete in the New York City marathon, with footage of the fowl's efforts proving popular on TikTok.
New York has been a hive of activity for our feathered friends, with one duck filmed leading her ducklings through the Big Apple, en route to a bagel shop.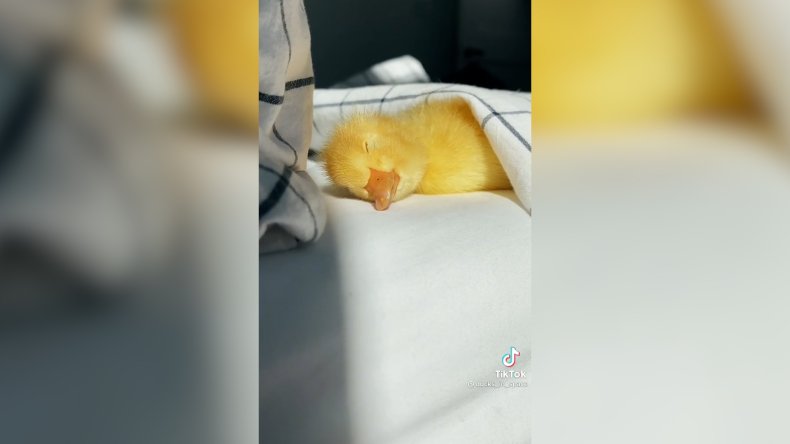 UPDATE 12/01/21 4:27 a.m. ET: This article was updated to include Antonia Shago's name.