'Today Is My Last Day': Manager Finds New Job When Expected to Return to Office
Many employees worked from home as a result of the ongoing COVID-19 pandemic, however, some companies are now expecting to move operations back in the office. One manager took to Reddit's r/antiwork to announce that he landed a new job after learning he was expected to return to the office.
In u/ryan_m's post, he explained he worked as a manager and enjoyed the job.
"Employees are great, bosses are great, job is interesting, it's basically everything you'd want," he wrote.
Employees were given a flexible work policy while working from home. They were also afforded time off when needed, which u/ryan_m said he made sure his team was aware of.
"This lead to my team's significant improvement in productivity," he noted.
Redditor u/ryan_m's employees began asking if they would soon be expected to return to the office, but as a fan of working from home himself, the Redditor told the employees he would do what it took to ensure they would keep a work-from-home schedule.
Forbes reported that a 2020 study conducted by Growmotely found most professionals preferred to continue working remotely.
More specifically, that study found that 74 percent of professionals believed remote work would become the new normal and 61 percent of them preferred a fully remote position.
By the end of December, u/ryan_m received an email and learned that, while his staff would work from home permanently, management had to return to the office at a minimum of three days each week for in-person meetings.
He told Newsweek that about 10 minutes after receiving the email, he began searching for a new job and had several job offers.
"Accepted a job a couple weeks later with a significant pay bump that is permanent remote and flexible schedule," he wrote. "Today is my last day. I start the new one Monday."
Another factor that played a part in u/ryan_m getting a new job is "overemployment," which means he is able to work two full-time remote jobs at the same time.
He explained while one job has some downtime, he's able to get work done for the other job, earning an additional salary. With this new job, he'll be able to continue working two remote jobs at the same time.
Redditor u/ryan_m told Newsweek this was not the first job that allowed him to work from home. He explained that he worked in another role where he worked from home for four years.
"In the other role, we began doing WFH one day a week, then two, then three and I was hooked," he said. "Can't beat the convenience of not having a commute and being able to work in sweatpants and a hoodie every day."
If he had a choice, u/ryan_m said he would never again work in an office. Some of his friends are also thinking about searching for a new job that would ensure working remotely.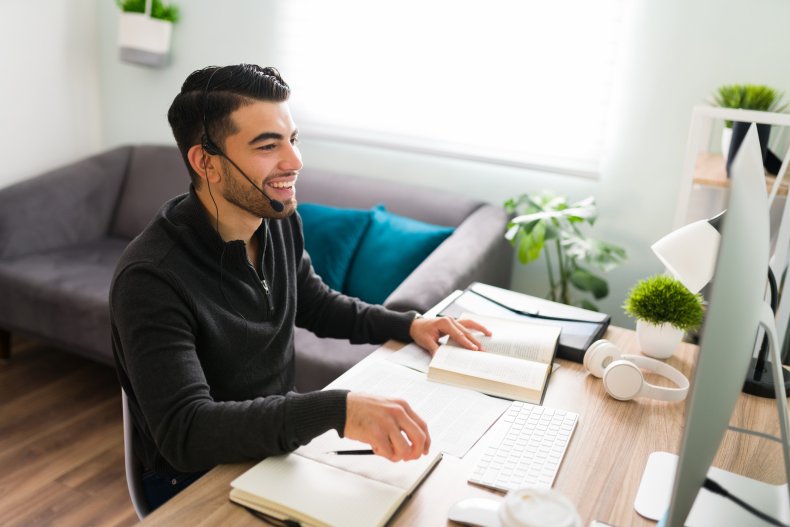 Many commenters under the post agreed with u/ryan_m and said they preferred to work from home.
"I'd consider going into an office for an extra 200k," u/IAmNotABartender wrote.
One commenter claimed they left a completely remote position for an in-office position for a $10,000 pay increase but regretted it.
"The company and management [were] toxic, employees were treated like disposable cogs in the machine, leadership gets 25 [percent] pay bonuses and everyone else gets a $50 give chard for Christmas [and no Christmas party either]," u/FastRedPonyCar wrote. "Not worth the pay bump at all."