Toddler Spots Huge Alligator in Sewer Outside Florida Restaurant, Calls It a 'Turtle'
A man in Jacksonville, Florida, had revealed how his 2-year-old son spotted a "turtle" in a sewer outside a restaurant that turned out to be a huge alligator.
Joseph Brenner, posted a photo on Reddit on October 19 in which it is clear that the creature lurking beneath the grates is actually a much larger and more toothy reptile.
Captioning the image the father wrote: "My 2 year old son looked down into the sewer outside the restaurant and said 'turtle' not quite."
The photograph has since been removed from the subreddit "Unexpected" because it does not comply with the page's rules that entries must be gifs or videos.
However, Brenner has passed on the photographs to Newsweek.
He also shared a video in which he expresses his shock at spotting the reptile.
In the footage he exclaims: "Yo, look at this in the sewer outside of Cantina. There is a ginormous alligator and it is alive as hell."
A young boy's voice can then be heard saying: "Hello Mr. Alligator!"
The photo gained more than 10,100 upvotes on Reddit before it was removed.
More than 210 people also left comments on the surprising snap.
One person, Reddiculed, wrote: "Your kid is a good scout. Trust his intuitions."
Another Redditor, MachinistDadFTW, added: "At least he was in the general reptile category."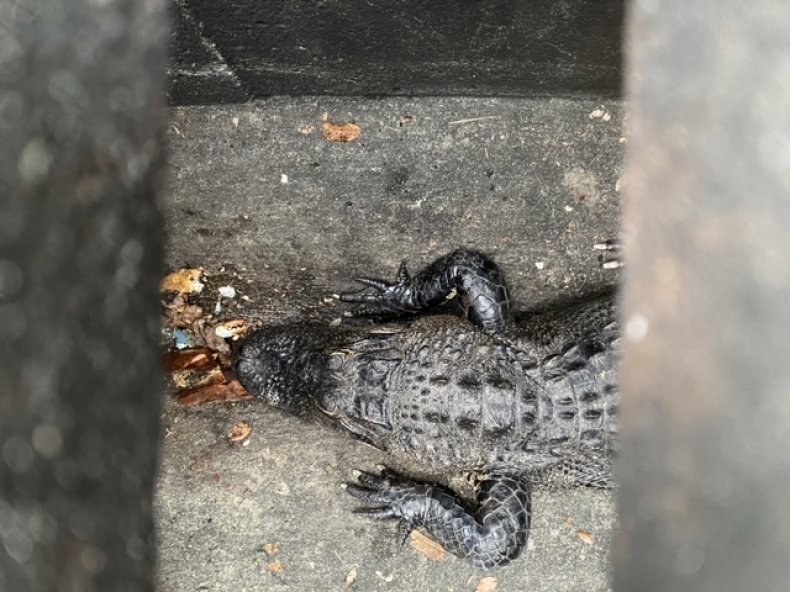 Prettydragongal revealed: "Huh well I guess there are alligators in the sewers; never thought that myth would be proven true even if it's just a one in a million case scenario."
Luke-townsend-1999 posted: "Alligators are pretty closely related to turtles actually! But even more closely to birds, because reptile evolution is kinda wacky."
Yetzer_hara wrote: "That gator is big enough that he's probably lived in that one spot for a long time. Never needs to move because food and water come directly to him."
Funky-Monk commented: "Laughed out loud at this, thank you."
To this, Brenner responded: "Should've seen my face I said no way [there's] a turtle 'holy s*** a gator'."
The Florida Fish and Wildlife Conservation Commission estimates that there are around 1.3 million alligators in Florida.
Frank Mazzotti, an alligator expert and professor at the University of Florida, has previously told Newsweek that alligators do not usually present an imminent threat.
He said: "There are millions of people living really in the same places where there are millions of alligators. Alligators are not dangerous.
"They certainly have capability of inflicting harm on people, but under most circumstances that is simply something that's not going to happen."