Toddler's Adorable Reaction After She Does Her Own Eyebrows Goes Viral: 'What Did I Did!?'
A video chronicling a toddler's hilarious reaction to her first attempt at applying makeup to her eyebrows is proving a hit on social media.
The delightful video was initially posted to Twitter by nicspalate1, where it has accumulated over 760,000 views as well as 11,200 retweets and 59,400 likes.
It was originally posted to TikTok by camifrobabe, where the super-cute footage has been viewed more than 1.2 million times.
In the video, a young toddler can be seen sporting a distinctive set of eyebrows that appear to be the result of her applying liquid eyeliner pen to the affected area.
It's a scenario that will be familiar to anyone who has ever dabbled in makeup and experienced similar disasters when they first tried it out.
"Tell mama, what did you do to your eyebrows?" a woman filming off-camera asks. "I did it by myself," the toddler replies.
A few seconds later, the young girl tells her mom "I'm sorry." "You don't have to be sorry," her mother responds. "Do you like it?" The toddler replies: "Yeah, I'm going to go look in the mirror."
After a few more seconds of back-and-forth between mother and daughter, with the young child insisting she is happy with the job she did on her eyebrows, the toddler tells her mom she is "gonna go over there" and check out the results in the mirror.
Her mom follows close behind to capture her reaction—and it does not disappoint.
Quickly surveying the results of her handiwork, the visibly shocked toddler exclaims: "What did I did!?!" Her mom can be heard quietly laughing in the background.
"Impossible!" the young girl screams, as her mom breaks out into fits of laughter.
Unimpressed at her mother's reaction, the toddler turns to her and tells her: "you are a naughty bird!" The full video can be watched here.
As sweet an interaction between mother and daughter as you are ever likely to find on the internet, the video is one of many on the camifrobabe TikTok account to feature the young girl.
According to an accompanying YouTube channel, the toddler in the video goes by the name of Cami and is just 3 years old. Her parents regularly post videos offering fans an update on Cami's day-to-day life and activities.
This particular clip appeared to resonate most with fans, who flocked to comment on the adorable footage. "I love that she blamed you when it was 100% her," Ms. R wrote. "Kids are something else."
"I wasn't expecting that reaction," Jazzzzzz added while Harmony's World declared the clip simply "too funny." Many were also eager to praise Cami's mom for her encouraging parenting style.
"Thank you for telling her she doesn't have to be sorry," Sywee wrote. Shariya Wise agreed: "I really love how you build her confidence."
Serawit927 was similarly effusive in her praise of what she viewed as "positive, affirming and loving Black parenting" with GraceNBeauty describing the mom's reaction as "beautiful."
Cami's mom, Colette Louis, told Newsweek via email: "Cami enjoys watching me do my makeup and sometimes I let her (pretend) to put on blush and lipstick for fun. Somehow she got into my eyeliner and decided to do her eyebrows."
"After she called me a naughty bird a few more times we took it off," she added.
Colette said she was aware of the video going viral and puts its success down to the fact "so many people because we have all been there at one time or another trying to do our own makeup and having a major fail, thinking WHAT DID I DID!!"
"Plus I think people find it funny she calls me a NAUGHTY BIRD!"
The adorable everyday actions of toddlers remain a rich source for viral content on social media, with the last few weeks throwing up some notable highlights.
One young girl recently proved a hit on TikTok with her uncanny ability to recite the intro to Jeopardy! In another viral clip, a young boy's adorably emotional reaction to seeing his older sibling leave the house also managed to melt hearts online.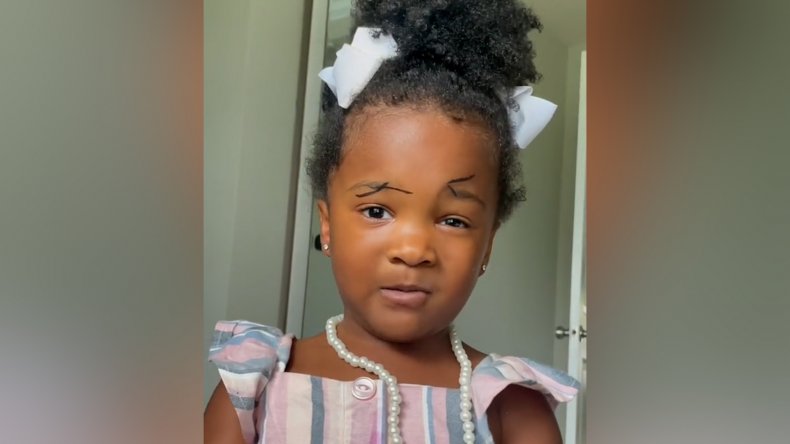 UPDATE: This article was updated to include comments from Cami's mother as well as additional video and photo.