Toddler's Ear 'Eaten' Off By 12-Week-Old Puppies in Brutal Attack
The parents of a two-year-old girl who was brutally attacked by the family's litter of 12-week-old puppies are warning other parents about "Littermate Syndrome."
While her parents and siblings were doing yard work to prepare for a get together at their California home, young Felicity was playing with the four puppies–Queensland Red Heeler Labrador mixes.
As Jeff Stallings, a certified dog trainer, told The Wildest, early signs of Littermate Syndrome include:
Separation anxiety
Fear of unfamiliar people or animals
Difficulty learning basic obedience skills
Incessant rough play
What makes Littermate Syndrome dangerous is that affected dogs often freak out when introduced to unfamiliar stimuli. It is also difficult to train littermates because they are more focused on each other than training.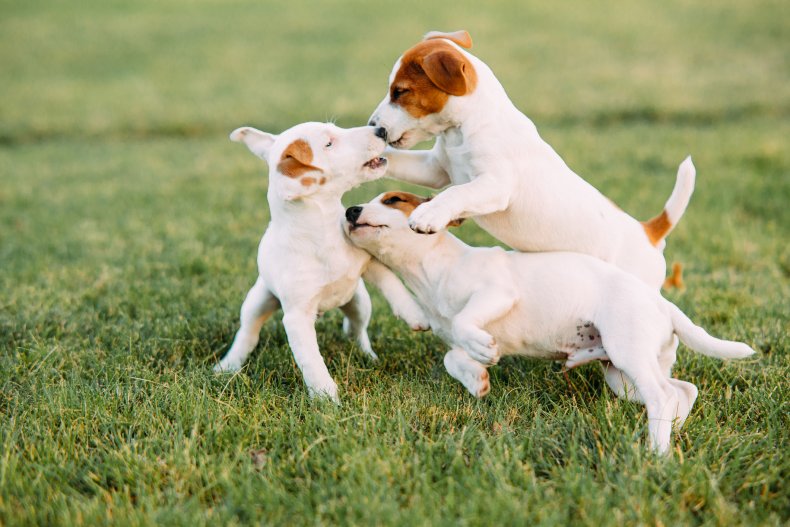 Felicity's mother Sierra Michele Peden recalled in a GoFundMe that she went inside to take a shower. She added that in the past three weeks, the puppies never gave them a reason not to allow them around the children.
Peden then left to run errands with a friend but when she called her husband, he said he didn't see Felicity outside.
She recalled her daughter calling her cell phone, but only hearing "dad...fel... bleeding.. hospital..'' because of spotty reception.
"As we flipped the U-turn, I saw our van racing down the road and my husband waving us to follow," Peden recalled in the GoFundMe. "I called him, he said, 'I think Felicity's missing an eye! I found her unconscious laying under the peach tree! Call 911!'"
The 911 dispatch kept Peden on the phone until she arrived at the hospital and they determined the damage was caused by the puppies.
"All of this happened in a 10 minute span; from the time I went inside to shower to the time I called 911," she wrote. "Tragically, we have all learned how everything can change in an instant when everything was going fine."
Felicity was life-flighted to Fresno Children's Hospital where she underwent a three-hour-long surgery, but doctors said they were unable to save part of Felicity's ear.
In photos posted by Peden to the Instagram account @following_felicity, she shows the severe injuries her daughter sustained including bites, cuts, swelling, and a large part of her ear missing.
"We are trying to spread awareness to other families that there is something called Littermate Syndrome," Peden wrote. "This term refers to a whole host of behavioral issues that tend to present when canine siblings (Littermates) are raised in the same household beyond the normal 8 to 10 weeks of age."
She added that littermates are normally separated from each other at this age and are placed in new homes.
"We accept full responsibility and accountability for this and are incredibly grateful for all that have extended their love, prayers, and financial support," the GoFundMe read.
Newsweek reached out to Sierra Michele Peden for comment.
Just last week, an elderly woman from Tennessee was killed after a savage dog attack.
In late March, a two-year-old boy from the United Kingdom was fatally attacked by a dog, and an eight-year-old also from the U.K. was left with serious facial injuries after being mauled by a dog.