Tokyo 2020 Live Updates: Team USA Sets 400m Hurdles Record
Team USA picked up a slew of medals on day 12 of the Tokyo Olympic Games.
The U.S. had an impressive showing on the track, as Sydney McLaughlin won gold and set a new world record in the women's 400-meter hurdle. Defending champion Daliah Muhammad finished second.
Courtney Frerichs earned a silver in the women's 300-meter steeplechase and Gabrielle Thomas earned bronze in the women's 200-meter.
Kenneth Bednarek and Noah Lyles took silver and bronze in the men's 200-meter behind Canada's Andre De Grasse. De Grasse finished with a time of 19.26 seconds to take the title held by Usain Bolt in the previous three Olympic Games.
In the inaugural women's skateboarding final, teenagers lead the podium. Great Britain's Sky Brown, 13, and Japan's Kokona Hiraki, 12, became the youngest medalists for their respective countries.
Day 12 in Tokyo also had some controversies. After Team Great Britain won gold in the women's 470 sailing final, France protested the race results, alleging that Britain conspired with Poland to keep France from earning a silver medal. The appeal from France, who earned bronze in the event, was dismissed by officials.
The International Olympic Committee (IOC) is also demanding an explanation from Team China as to why two of their cyclists, Bao Shanju and Zhong Tianshi, wore badges appearing to depict the country's late leader Mao Zedong.
China still leads the Olympic medal board with 32 golds. The United States is in second with 25, followed by Japan with 21 and Great Britain and Australia with 15 each. The U.S. has the most amount of total medals in the competition with 79.
The live updates for this event have ended.
KEY MOMENTS
Allyson Felix keeps her streak, qualifies for the 400m final in Tokyo
Team USA track star Allyson Felix has qualified for a final in every individual event she has competed in since her Olympic debut in 2004.
Athens 2004 — 200-meter (Silver)
Beijing 2008 — 200-meter (Silver)
London 2012 — 100-meter (5th) & 200-meter (Gold)
Rio 2016 — 400-meter (Silver)
Tokyo 2020 — 400-meter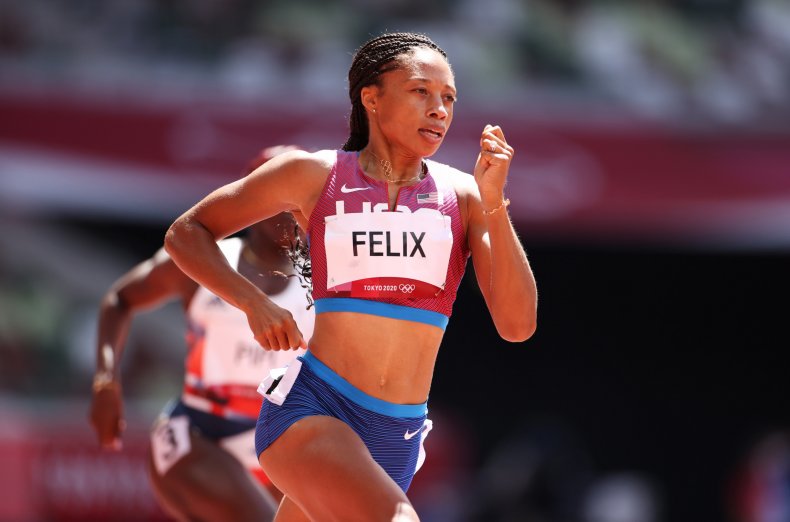 British heptathlon Olympian suffered an injury, finished race
After an injury on the track, British heptathlon Olympian Katarina Johnson-Thompson refused help and finished her 200-meter heat with a limped jog.
While she crossed the finish line, Johnson-Thompson was disqualified for stepping out of her lane.
Johnson-Thompson suffered a ruptured achilles last year which seems to have caused the complication in Tokyo.
Team Great Britain tweeted that Johnson-Thompson has withdrawn from competition in Tokyo.
The 200-meter race was the fourth event in the heptathlon, which also consists of 100-meter hurdles, high jump, shot put, long jump, javelin throw and an 800-meter race.
Simone Biles reveals she lost her aunt while in Tokyo
Simone Biles revealed that her aunt unexpectedly passed away before her beam final.
"Two days ago my aunt unexpectedly passed, and that was something I wasn't expecting to happen at the Olympic Games either, so at the end of the day, you have to be a little bit more mindful of what you say online, because you have no idea of what these athletes are going through as well as their sports," Biles said.
Biles overcame a lot of mental and physical stress during the Tokyo Games to return home with a silver and bronze medal after she withdrew from several events.
"People have to realize that, at the end of the day, we're humans, we're not just entertainment," she added. "There are things going on behind the scenes that people have no idea about."
Teenagers dominate inaugural Olympic skateboarding event
Teenagers continue to dominate in the first-ever skateboarding events at the Olympics.
Japan's Sakura Yosozmuni, 19, and Kokona Hiraki, 12, won gold and silver, respectively, in the women's park final. Sky Brown, 13, from Great Britain took bronze.
Brown and Hiraki became the youngest Olympic medalist from their respective countries.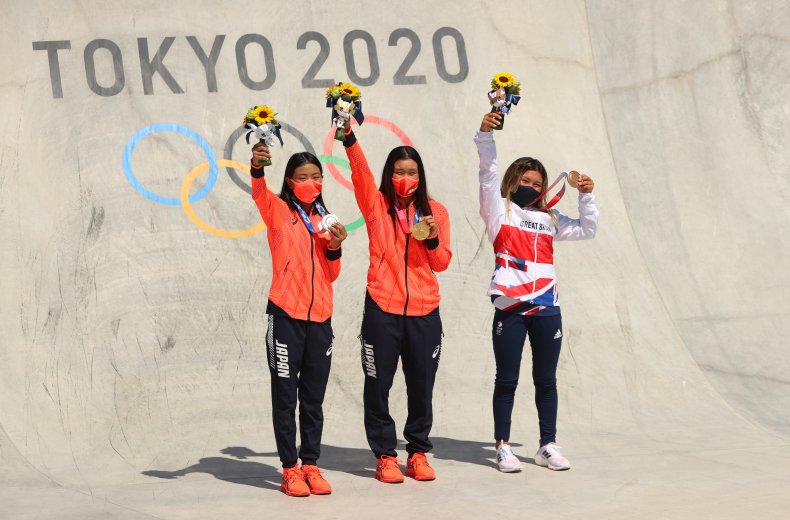 ICYMI: Taylor Swift and Simone Biles' wholesome Twitter exchange
Taylor Swift and Simone Biles had a wholesome exchange on Twitter last night.
Swift recorded a voiceover for an NBC Olympics video about Biles' courageous journey in Tokyo ahead of her comeback beam performance. The video was set to Swift's song "This is me trying."
"I'm crying, how special. I Love you @Taylorswift," Biles tweeted.
Swift responded with a heartfelt message of support for the seven-time Olympic medalists.
"I cried watching YOU. I feel so lucky to have gotten to watch you all these years, but this week was a lesson in emotional intelligence and resilience. We all learned from you. Thank you," Swift wrote.
U.S. baseball's quest for gold is not over yet
After losing to Japan in round two, Team USA had to battle back to keep their gold medal dreams alive.
The U.S. defeated the Dominican Republic 3-1 and will play South Korea in the semifinals Thursday.
If they win, Team USA will have a rematch with Japan for gold. A loss will mean a battle for bronze against the Dominican Republic.
Team USA picks up medals on the track
Team USA had an impressive showing on the track Wednesday.
Sydney McLaughlin won gold and set a world record of 51.46 seconds in the women's 400-meter hurdle. She beat teammate and defending champion Daliah Muhammad, who earned a silver medal.
Kenneth Bednarek and Noah Lyles took silver and bronze, respectively, in the men's 200-meter race. Canada's Andre de Grasse won the gold.
In the women's 3000-meter steeplechase, Courtney Frerichs finished second to earn silver behind Uganda's Peruth Chemutai.
In her fifth Olympic Games, Allyson Felix will race for gold after advancing to the women's 400-meter final after finishing second in her heat.
Russian athlete pulls out of Tokyo 2020 after positive COVID-19 test
Anna Chernysheva will no longer compete after contracting the virus, according to the Russian Karate Federation.
The team thanked her for her performances so far and said it wants to "support you the whole federation" in her recovery.
Anna, in any case, thank you for the Olympic license for Russia! We understand how difficult it is for you now and we really want to support you with the whole federation! Recover, come back, we are waiting for you on the tatami with your bright fights and new victories that we know you're capable of!
Belarusian athlete lands in Austria for security reasons, heads to Poland
Sprinter Krystsina Tsimanouskaya has left Tokyo en route to Poland via Austria after refusing an attempt from Belarusian officials to send her back home against her will. Several countries offered to help after the 24-year-old runner sought refuge in the European Union, and accepted Poland's offer of a humanitarian visa.
She boarded a plane at Tokyo's Narita International Airport that left the gate for Vienna, Austria - a diversion for security reasons - but will be in Warsaw, Poland by the end of the day, Belarusian activist Vadim Krivosheyev told The Associated Press.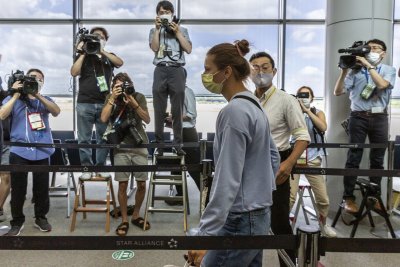 Italy breaks record and gets gold in cycling track pursuit
Team Italy's Simone Consonni, Filippo Ganna, Francesco Lamon, Jonathan Milan finished the race against Denmark 3:42.032.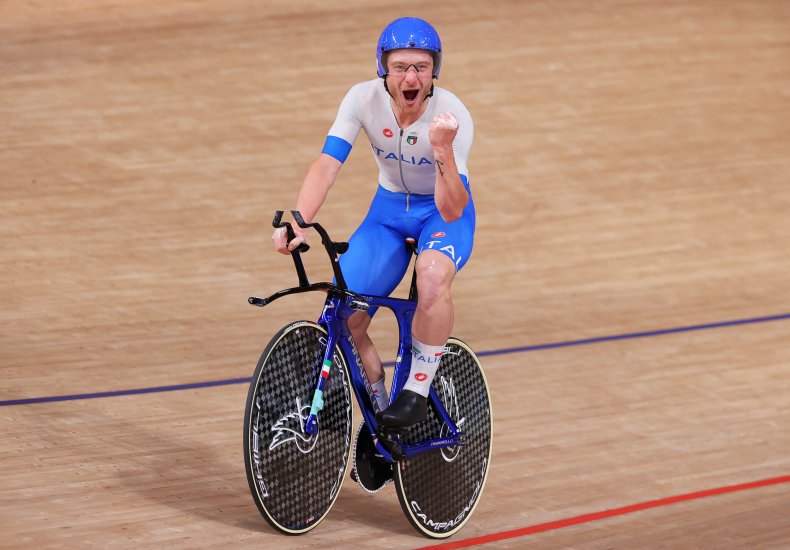 Have you seen athletes wearing or making an X symbol?
You may have seen some athletes wearing a black X mark on their hand - or some even making an X gesture with their arms - at medal ceremonies. But what is it?
Team USA fencer Race Imboden explained the symbol on Twitter after winning gold - an agreement between athletes to subtly - or not so subtly - demonstrate against racism and protest against Rule 50, which bans "political, religious or racial propaganda" anywhere on Olympic grounds.
Problem at sea? Team France's sailing protest against Team GB dismissed
The British sailing team, which won the two-person dinghy 470 medal race overall, let Poland by which allowed them to tie with France across the finish line - but with Poland taking the silver medal. The French athletes filed a protest against the decision but their appeal was rejected.
It is not just an ordinary win for Team GB - it secures Hannah Mills' title as the most successful female Olympic sailor in history.