Just over half of Tokyo's residents believe the Japanese capital should not host the postponed 2020 Olympics next year, a new poll has found.
According to a poll carried out by Japanese news organizations Kyodo News and Tokyo MX television channel over the weekend, 51.7 percent of those surveyed believe the Games in 2021 should be postponed again or canceled altogether, while 46.3 percent of the 1,030 respondents suggested the Games should go ahead next summer instead.
There was a clear split between those opposing the Olympics in 2021, with 27.7 percent calling for the event to be canceled altogether and 24 percent wanting the Games to be postponed again.
In March, the International Olympic Committee (IOC) and Tokyo's organizing committee took the unprecedented decision of postponing the Games by 12 months in the wake of the coronavirus outbreak and mounting criticism of the way it handled its pandemic response.
Originally scheduled to be held in Tokyo between July 24 and August 9 this year, the Games will instead take place from July 23 to August 8 2021.
With the exception of the two world wars, the Olympics has never been canceled or postponed since they began in their modern guise in 1896.
In April, Japan's Prime Minister Shinzo Abe admitted it would be "difficult" to stage the Games if Japan didn't successfully recover from the COVID-19 outbreak.
"The Olympic Games must be held in a way that shows the world has won its battle against the coronavirus pandemic," Abe told parliament. "Otherwise, it will be difficult to hold them.
Earlier this month, however, Tokyo 2020 President Yoshiro Mori declined to discuss the possibility of the Games being canceled altogether.
"It's not right to discuss speculation based on a hypothetical scenario and therefore our direction is to not consider at all about cancellation," he said at a press conference.
It marked a significant change in dynamic from two months earlier, when Mori had conceded the Games could be canceled if the coronavirus pandemic extended into next year.
"In that case, it's canceled," Mori was quoted as saying by Japan's Nikkan Sports when asked whether the Games could be delayed by a further 12 months, should coronavirus still be a threat next year.
Meanwhile, earlier this month, Tokyo 2020 chief executive Toshiro Muto said a "simplified" version of the Olympics will be held next year, adding the Games will "not be done with grand splendour."
Muto admitted the organizers were considering reducing capacity at the different Olympic venues, but indicated no decision had been taken.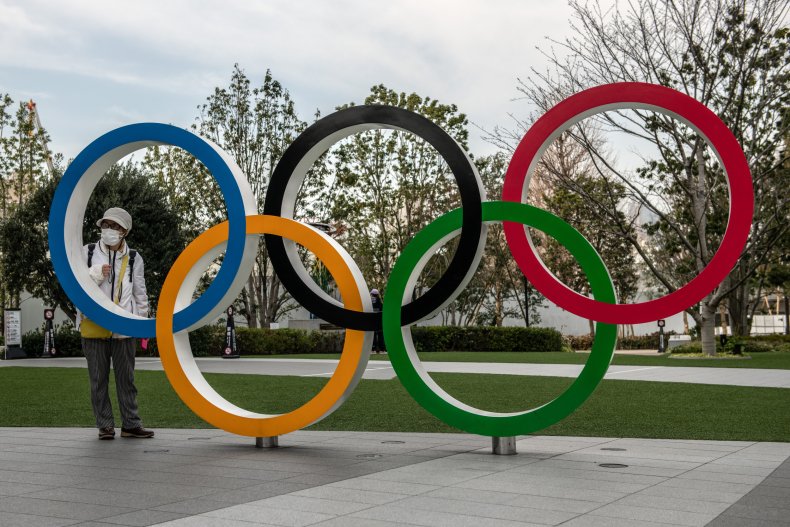 As of Monday morning, over 18,400 cases and 972 deaths have been reported in Japan, according to Johns Hopkins University, which has been tracking the outbreak using combined data sources.
There have been over 10.1 million confirmed cases globally and over 502,000 people have died globally since the outbreak of coronavirus was first identified in Wuhan, a city located in China's central Hubei province, late last year.
The decision to postpone the Games is expected to have a major impact on the Japanese economy.
According to official figures, Japan has committed 1.45 trillion yen ($13.4 billion) to organizing the Olympics, with $277 million alone spent on building a new Olympic Stadium in Tokyo.
"Even if the Olympic Games is deferred until next year, there is likely to be an economic impact in terms of fewer visitors due to higher global unemployment rate as a result of the economic impact of the current crisis," Michael Hewson, chief market analyst at CMC Markets, told Newsweek before the announcement of the postponement was made in March.
The graphic below, provided by Statista, illustrates the countries with the most coronavirus cases.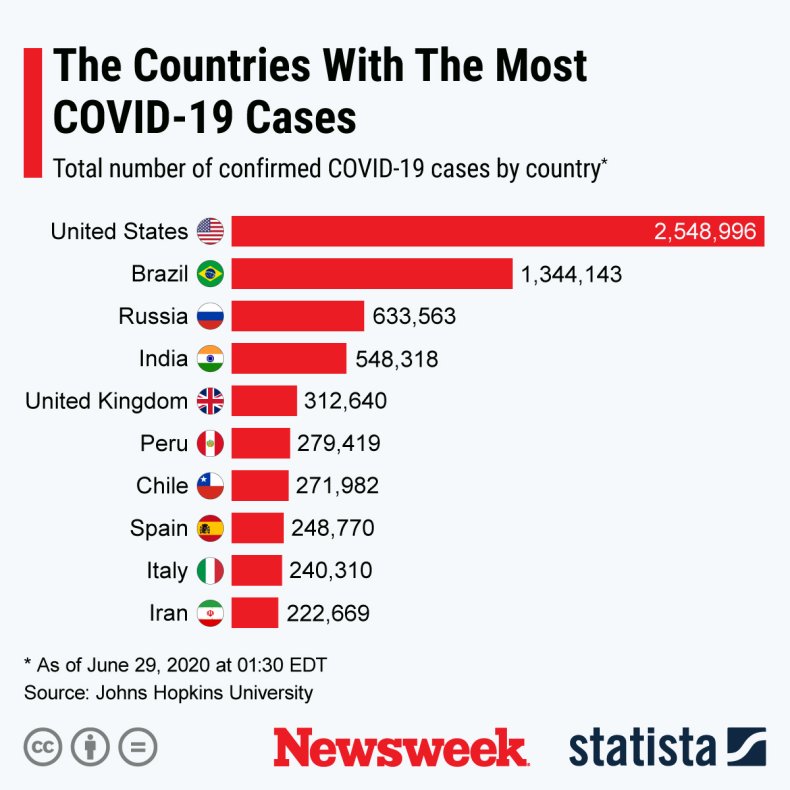 About the writer
Dan Cancian is currently a reporter for Newsweek based in London, England. Prior to joining Newsweek in January 2018, he was a news and business reporter at International Business Times UK. Dan has also written for The Guardian and The Observer.