Celebrities Join Impeachment Task Force Because Trump Took a 'Wrecking Ball to Our Democratic Institutions'  
Actor Rob Reiner joined an "Impeachment Task Force" because he believes President Donald Trump has taken a "wrecking ball" to democracy. Actor Tom Arnold signed up because he was tired of "cowards" in the Republican Party who remain silent or complacent. Comedian Rosie O'Donnell got on the task force and vowed to "never give up until he is gone."
They are just a few of dozens of celebrities who decided to go beyond blasting Trump on social media and unite on a task force dedicated to supporting the impeachment inquiry of the president by House Democrats. The task force, organized by The Democratic Coalition and first reported by Newsweek last Thursday, has enlisted more than 100 members in the leadership including entertainers, former politicians and activists, in it for various reasons.
"Donald Trump is the most corrupt and lawless president in U.S. history. He has violated his oath of office and taken a wrecking ball to our Democratic institutions," Reiner said in a statement provided to Newsweek by the coalition on Monday. "For the survival of our republic, he must be impeached and removed from office."
Reiner also said he wants to ensure the task force garners bipartisan support, though it is headed by a coalition comprised of Democratic elected officials, leaders and advocates. The actor is "helping to connect dots to who should be more involved from the other side of the aisle, because it's about country, not party," The Democratic Coalition's co-founder Scott Dworkin told Newsweek on Tuesday.
Arnold, who looked for incriminating evidence against Trump in his Viceland show The Hunt for the Trump Tapes with Tom Arnold, stated he was "honored to be a part of this esteemed group of freedom fighters" led by Dworkin and other coalition leaders.
"The legit, factual information Scott and the other quality people share about Donald Trump's crimes and lies to their varied audiences have made a big difference," Arnold said in the statement provided to Newsweek.
"I also know we bother the hell out of Donald Trump personally because unlike so many cowards in his own party, we won't be bullied into silence or complacency." Arnold concluded, "It's all hands on deck."
Arnold "brings a unique perspective" to the task force because he knew Trump personally from Hollywood, Dworkin noted.
"He's been one of the loudest patriots since day one and he will be heavily involved in the effort," Dworkin said of Arnold.
Comedian Rosie O'Donnell stated that "Russia helped Trump win" and that the president is "trying to bury that story, but he can't."
"Now is the time for all with a public profile to stand against this lawless conman,"
O'Donnell stated, "And never give up until he is gone."
Actress Alyssa Milano stated that she joined because "I want our country's rule of law back."
"When Donald Trump publicly asked Russia for help in 2016, Republicans should've pulled the plug on his campaign then. Now he's doing the same thing from the White House lawn," Milano stated, seemingly referring to Trump's Ukraine scandal which led to his impeachment inquiry. "What else is left to prove for impeachment, and removal?"
Actor Misha Collins, who opposed Trump before he won the 2016 presidential election, admitted he has been wary of pushing for impeachment, "fearing it would lead to a partisan political spectacle yielding no meaningful change."
"But Trump's attempts to solicit foreign interference in our elections mark a turning point for our country," Collins stated. "I joined the Impeachment Task Force because this is no longer a partisan issue—every American who values our Constitution should be raising their voices right now to demand that Congress stand up to protect our democracy."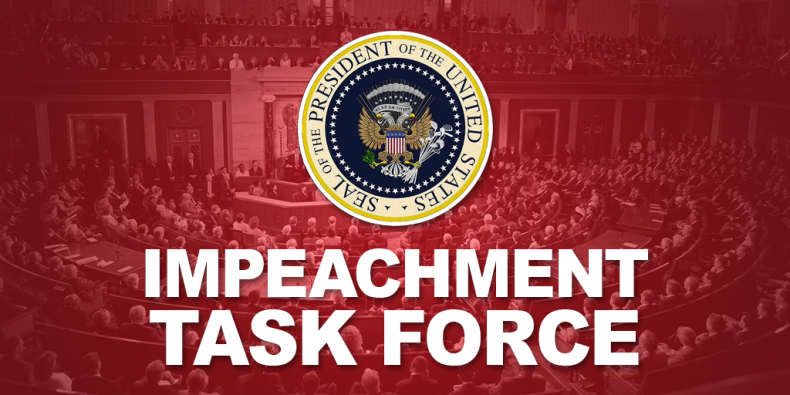 The task force has already met for planning purposes and is producing a TV ad focusing on Trump's impeachment inquiry and Ukraine scandal, set to be finished next week. Its main objective is to push Republicans in the House of Representatives and both Republicans and Democrats in the Senate to support the inquiry, through in-person meetings, phone calls, emails, letters and social media.
It met its 10-day fundraising goal in two days, according to Dworkin, who did not disclose numbers but said the information would become public knowledge in January.
On Friday, #ImpeachmentTaskForce trended on Twitter in the U.S. with a push by the coalition and its celebrity allies.
Here are some of the well-known people who have jumped on the task force:
Kirk Acevedo, actor
Tom Arnold, actor
Kurt Bardella, former Republican House Oversight Committee spokesman
Ady Barkan, progressive activist and lawyer
Lea Black, author and TV personality
Misha Collins, actor
Mia Farrow, actress
Andrew Gillum, former Tallahassee mayor
Fred Guttenberg, gun control activist
David Jolly, former congressman
Steve Kerrigan, former Democratic National Convention CEO
Renato Mariotti, former federal prosecutor
Debra Messing, actress
Alyssa Milano, actress
Kristin Mink, teacher and activist
Peter Morley, patient advocate
Martina Navratilova, former tennis player
Stefan Lessard, musician
Rosie O'Donnell, comedian
Ron Perlman, actor
Michael Rapaport, actor
Otep Shamaya, singer
Grant Stern, author
George Takei, actor
The task force launched to counter Trump's "propaganda machine" and fight disinformation during the impeachment inquiry. It uses as its logo a doctored presidential seal that appeared behind Trump at a summit in July, with a two-headed bird like the one on the Russian coat of arms, clasping golf clubs and cash instead of 13 arrows and an olive branch.