Tom Brady Hugs Family after Super Bowl Triumph in Viral Video Watched 2 Million Times
After becoming the first player in NFL history to win seven Super Bowls on Sunday night, Tom Brady wanted to celebrate with those he holds dearest.
The 43-year-old quarterback shared a heartwarming moment, as he embraced his kids after leading the Tampa Bay Buccaneers to a 31-9 win over the Kansas City Chiefs in Super Bowl LV at Raymond James Stadium in Tampa, Florida.
NFL footage shows Brady searching his family out on the field in the immediate aftermath of the Super Bowl celebrations, before sharing a hug with his sons, Jack and Benjamin Rein, his daughter, Vivian Lake, and his wife, the Brazilian supermodel Gisele Bündchen.
The video was shared on Twitter by NFL Up and immediately went viral, racking up more than 1.9 million views at the time of writing.
Sunday's triumph over the Chiefs was Brady's seventh Super Bowl title—making him more successful than any of the 32 NFL franchises—and the fourth witnessed by his kids—Jack is 13 years old, Benjamin 11 and Vivian eight.
Speaking ahead of Super Bowl LV, Brady reflected on how his family did not view him as the greatest quarterback to have ever played the game, but saw him through an entirely different prism.
"That's one of the things that's changed over the years for me," he explained to reporters last week.
"[My kids have] been a part of a lot seasons, successful and unsuccessful, and I think to them, I'm just dad. I know their life is different based on the one that I grew up in.
"There are some different challenges that they face and will have to navigate in their lives. I love being their dad. I try to be the best I can be for them."
Brady's celebrations with his family came after he had further cemented his status as the greatest player in NFL history and one of the greatest athletes of all time.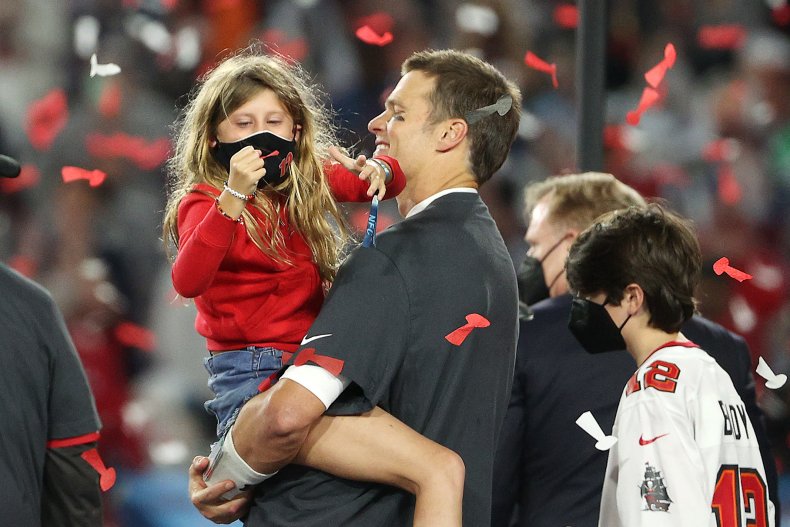 The 43-year-old completed 21 of his 29 passes for 201 yards and three touchdowns in the 31-9 win over the Chiefs, securing a seventh Super Bowl ring and a fifth Super Bowl MVP crown.
It capped a remarkable first season in Tampa for the veteran quarterback, who left the New England Patriots as a free agent last March after two decades of unprecedented success.
The Patriots drafted Brady in 2000 and he led the franchise to nine Super Bowl appearances and an NFL-joint record six Vince Lombardi Trophies in 20 seasons.
Last year, however, the California-native opted to leave New England for Tampa Bay, citing a desire to prove himself in a different environment.
With their last trip to the playoffs dating back to 2007, the Bucs were the polar opposite of a Patriots team that had won 11 consecutive AFC East titles and had made the playoffs in all but two of Brady's seasons in New England.
Odds on Tampa to win Super Bowl LV were as long as 60-1 a year ago, before Brady's arrival.
The 43-year-old, however, immediately transformed the Bucs, leading them back to the playoffs for the first time in 13 years and then back to the Super Bowl for the first time in 18 years and only the second time in franchise's history.
"This team is world champions forever, you can't take it away from us," he said after the game.
"It takes a lot of people for us to get to this point. We all have great support systems in place, and I think everybody should be celebrating them tonight."
The Bucs have opened at 11-1 to win Super Bowl LVI in Los Angeles on February 6 next year, as they aim to become the first team since the Patriots in the 2003 and 2004 seasons to win the Lombardi Trophy in back-to-back years.
At 6-1, the Chiefs are the early bookmakers' favorites, followed by the Green Bay Packers at 9-1.