Tom Brady Mocked After Saying Wealth Is the 'Hardest Thing' About Parenting
Tom Brady is receiving backlash after saying his and his wife Gisele Bündchen's wealth is the "hardest thing" about parenting.
"They can give me some money if it makes it easier on them," one person wrote via Twitter on Friday, July 15. Another added, "What I wouldn't give for this difficulty." A third chimed in: "Spare me. TOM, dare you to tell that story to a parent that can't feed their child, or can't afford medication or daycare during summertime." Meanwhile, a separate user on Reddit sarcastically said: "Thoughts and prayers."
Others, however, defended the Tampa Bay Buccaneers' superstar quarterback. "Make sure to read the article," someone else suggested on Reddit. "At least he understands that his children are growing up very privileged and is trying to make sure they aren't a**holes."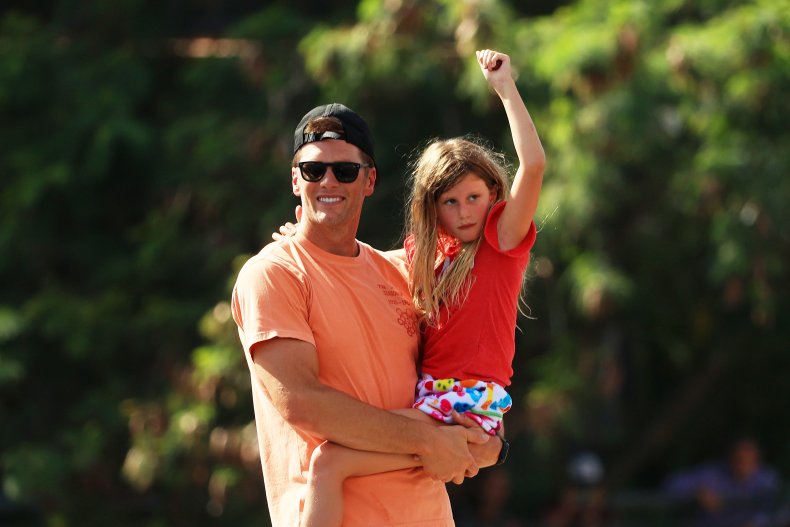 Brady, 44, who shares kids Benjamin and Vivian with Bündchen, 41, and son John "Jack" with ex Bridget Moynahan, explained the difficulties of fatherhood on Spotify's "Drive" podcast. Bringing up his children amid great wealth was "probably the hardest thing for us as parents," he said.
"We have people that clean for us. We have people that make our food. We have people that drive us to the airport if we need that," he admitted. "We get off a plane and there's people waiting there for us and we get ushered in. That's my kids' reality, which is the hard part to say, 'Guys, this is not the way reality really is. What can we do about that?'"
Brady explained that he and Bündchen came from humble beginnings. "My wife grew up in rural Brazil, the farthest state south, Rio Grande do Sul, very small kind of farming town, very simple girl," he told host and Ford Motor Company CEO Jim Farley. "There are two bedrooms in their house—one for their parents and one for her and her five sisters."
As for the seven-time Super Bowl champion, he "grew up in a middle-class family in California." He said, "My dad worked his ass off for our family. My mom stayed at home [and] took care of us kids, and I saw my mom work every day to make food for us at night and wash our clothes."
In the June 2022 issue of Vogue UK, Bündchen revealed she makes most of the decisions when it comes to their family.
"I don't think relationships just happen; it's never the fairy tale people want to believe it is. It takes work to be really in sync with someone, especially after you have kids," the supermodel said. "His focus is on his career, mine is mostly on the kids. And I'm very grateful that he lets me take the reins when it comes to our family. He trusts my decisions."
Brady has an estimated net worth of $250 million while Bündchen's is $400 million, according to Celebrity Net Worth.