How Eli Manning 'Knew 100 Percent' Pal Tom Brady Would Play Football Again
Eli Manning, a long-time opponent of Tom Brady opponent and friend of the quarterback, recently said he was certain the superstar would make a return to the NFL after retiring.
The New York Giants quarterback appeared on The Tonight Show with Jimmy Fallon where he opened up on his friendship with Brady.
Manning is the younger brother of hall of fame quarterback Peyton Manning and son of Hall of Fame quarterback Archie Manning. Manning is one of the only five quarterbacks to win the Super Bowl MVP award twice, along with Brady, Bart Starr, Terry Bradshaw and Joe Montana.
Fallon questioned Manning about whether he was surprised about Brady's return to the game after he announced his retirement in February.
"I saw him not long after he retired and I congratulated him and he was like 'you never know, I'm still working out a bit'," Manning said.
Manning then said once he heard that, he said to himself, "Oh yeah, he's coming back. 100 percent."
Manning spoke of his own retirement saying he wanted to do "nothing" for a few months and he was not thinking about anything else."
"I knew 1,000 percent I was not coming back, but if there's like 10 percent or even [a] 2 percent chance, then you're coming back," Manning told Fallon.
Fallon asked Manning if he knew he was the "only quarterback in NFL history" to beat Brady twice in a Super Bowl.
"I do not. I see Tom all the time and I never bring it up to him. The guy's got seven Super Bowl rings. He's MVP," Manning joked. "I have no bragging rights near him."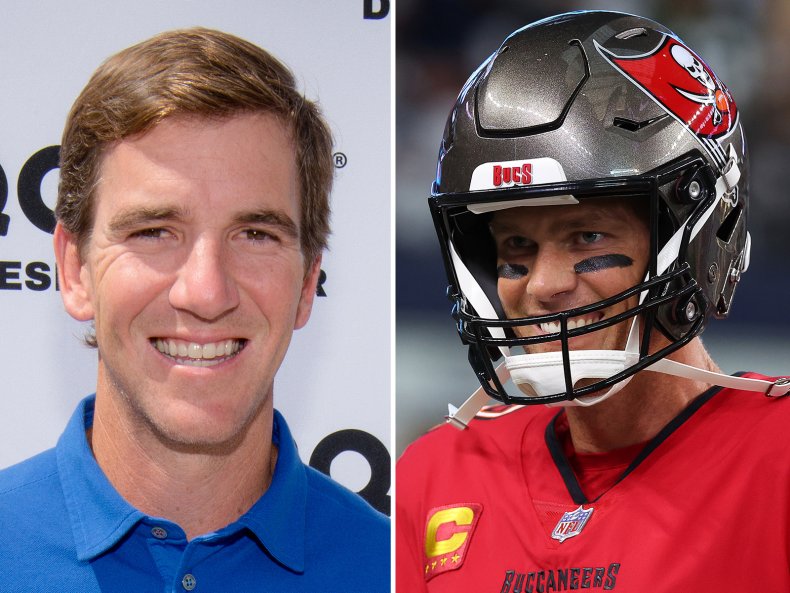 In February, Brady said that he was retiring from the NFL after 22 seasons and seven Super Bowl titles.
But he changed his mind in March and announced that he was coming back for another season with the Tampa Bay Buccaneers, who he joined in 2020 after spending 20 seasons with the New England Patriots.
"These past two months I've realized my place is still on the field and not in the stands. That time will come. But it's not now," Brady wrote on Twitter about his decision to end his brief retirement and return to the NFL.
"I love my teammates, and I love my supportive family," Brady continued. "They make it all possible. I'm coming back for my 23rd season in Tampa. Unfinished business LFG."
Brady's decision to return to football has put a spotlight on his marriage to supermodel Gisele Bündchen.
She labeled rumors that she forced him to retire and that she was angry he returned to football as "sexist."
"I think this is the system we've been living in. That's what society has accepted and what society hasn't accepted," Bündchen told Elle magazine earlier this month.
"Obviously, I have my concerns—this is a very violent sport, and I have my children and I would like him to be more present."
"I have definitely had those conversations with him over and over again," she added. "But ultimately, I feel that everybody has to make a decision that works for [them]. He needs to follow his joy, too."