Tom Brady Retires Updates: Brady Signed Post-Retirement Contract With Fox Sports
Tom Brady announced he will officially retire from the NFL after the 2023 season. The Tampa Bay Buccaneers Quarterback took to Twitter to announce he is retiring "for good" Tuesday morning.
The Buccaneers made the playoffs this season, but lost to the Dallas Cowboys earlier this month.
Brady, who is considered by many as the greatest quarterback of all time, won seven Super Bowls during his 23 year-long career.
The 45-year-old spent 20 seasons with the New England Patriots and three seasons with the Buccaneers.
Brady announced his retirement for the first time after the 2021 season, but decided to come back for one more year.
He won three NFL MVP awards, been a first-team All-Pro three times and selected to the Pro Bowl 15 times.
This announcement comes after Brady and supermodel Gisele Bündchen finalized their divorce in the fall after 13 years of marriage.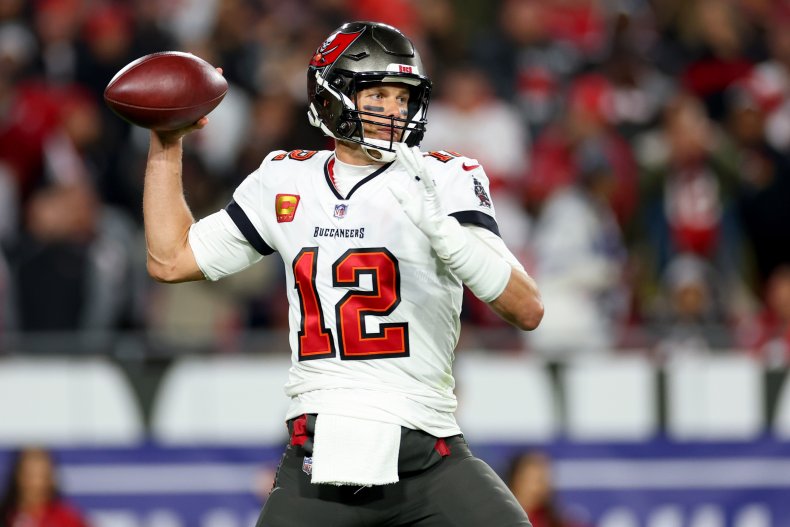 Live updates have ended.
Brady Signed Post-Retirement Contract With Fox Sports
While Tom Brady's time as a player is over, he is not leaving the football world entirely.
Last March, Brady signed a post-retirement deal with Fox Sports to be a color commentator.
He signed a 10-year contract for $375 million to be the network's newest analyst, competing with former quarterbacks Tony Romo and Robert Griffin III on CBS and ESPN, respectively.
Fox CEO Lachlan Murdoch announced that the seven-time Super Bowl champ would move to the broadcast booth when his time in the NFL ended.
"Over the course of this long-term agreement, Tom will not only call our biggest NFL games with Kevin Burkhardt, but will also serve as an ambassador for us, particularly with respect to client and promotional initiatives," Fox Sports said in a statement to the New York Post at the time.
With Super Bowl LVII just two weeks away, it is unclear whether Brady will be on camera for Fox, who will broadcast the game.
Buccaneers GM, Coach Hail Brady's Leadership
The Tampa Bay Buccaneers said they will always appreciate Tom Brady's leadership and performance as quarterback.
Brady joined the team three years ago and led the Bucs to a Super Bowl win in 2021.
General Manager Jason Light said Brady's legacy "is unmatched in the history of this game."
"Our entire organization is indebted to him for what he provided us over the past three years," he said. "We won't ever forget the wins or the accolades and his influence will be felt for years to come."
Bucs coach Todd Bowles said he greatly appreciated Brady's leadership as quarterback.
"I have always had the utmost respect for Tom Brady as a football player, as a winner and as a person," he said.
Bowles added that it wasn't until Brady joined the team in 2020 that he really appreciated him as a teammate.
"Even before I became head coach, we communicated often and had a strong relationship built on mutual respect and desire to win," he said. "That connection only grew over this past season as we fought to get the most out of our football team."
Brady Walked '80 for Brady' Red Carpet Last Night
Tom Brady attended the premiere for the film "80 for Brady" the night before he announced hi retirement from the NFL.
The film, directed by Kevin Marvin, follows a group of friends who take a road trip to Super Bowl LI in the hopes of meeting Brady. It is based on a real-life group of friends and Brady fans called "Over 80 for Brady."
Brady posed on the red carpet with the film's stars Rita Morenao, Sally Field, Lily Tomlin and Jane Fonda.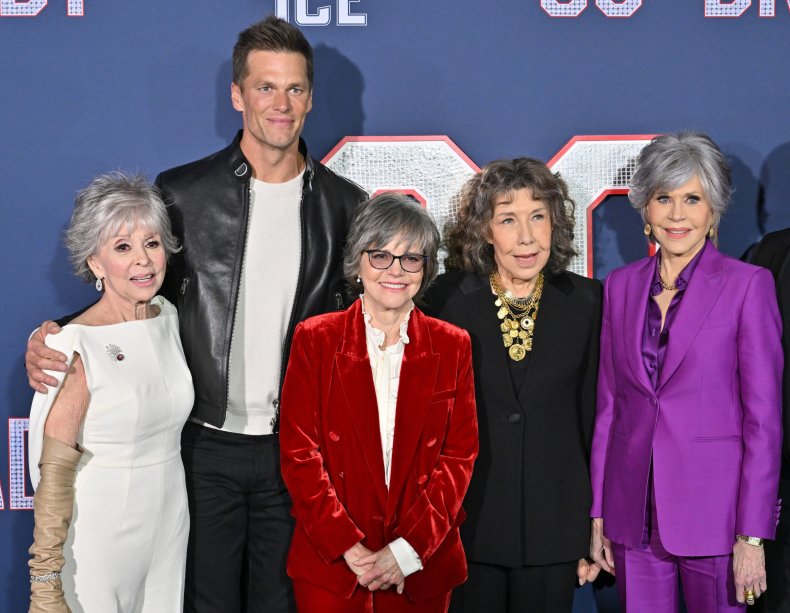 Brady Played in 18% of All Super Bowls
The Pro Football Hall of Fame shared some of Tom Brady's stats following his official retirement announcement.
They include:
Seven Super Bowl championships
Five Super Bowl MVPs
Three NFL MVPs
Most career wins (251)
Most passing yards in NFL history (89,214)
Most passing touchdowns in NFL history (649)
The Hall of Fame also noted that Brady has played in 18 percent of all Super Bowls.
Brady Says He's Retiring 'For Good'
Tom Brady announced his retirement from the NFL for the second time.
In a brief video posted on social media, the quarterback said he was retiring "for good."
Brady announced his retirement back in 2022 before decided to stay on with the Tampa Bay Buccaneers for another season.
"Good morning guys, I'll get to the point right away. I'm retiring, for good," he said. "I know the process was a pretty big deal last time and when I woke up this morning I figured I'll just press record and let you guys know first."
He would not be "long winded," saying "you only get one super emotional retirement essay and I used mine up last year."
Brady thanked his family, friends, teammates, competitors and fans for their support over his two-decades-long career in the NFL.
"Thank you guys for allowing me to live my absolute dream," he said. "I wouldn't change a thing. Love you all."
On his Instagram, Brady also shared photos with his family, including his children and ex-wife Gisele Bündchen.
Star Athletes Congratulate the GOAT
Star athletes are paying tribute to Tom Brady on social media, congratulating him on his 23 year-long career.
JJ Watt praised Brady's career, inviting him to morning golf with the "newly retired group."
"Greatest of All Time," Watt tweeted. "No question, no debate. It's been an honor and a privilege."🐐
"PS - The newly retired group meets on the golf course every morning at 10am. Drinks are on the new guy, so bring your wallet."
Derek Jeter also congratulated Brady on his "unbelievable" career, saying "it was fun to watch!"
Kansas City Chiefs Quarterback Patrick Mahomes also shared Brady's video with three GOAT emojis.
Brady Will Always Part of Tampa Family, Mayor Says
The Mayor of Tampa thanked Tom Brady for the "memories" shortly after he announced his retirement Tuesday morning.
"The GOAT will always be a part of our Champa Bay family 🏆," Mayor Jane Castor tweeted. "Thank you, Tom Brady, for the grit, spirit, and amazing memories. We'll look for you on the golf course!"