Tom Brady and Rob Gronkowski's Bromance Timeline
Tom Brady and Rob Gronkowski were one of the most effective partnerships in the NFL during their careers and often took their teams over the top when it was looking tough.
The pair played together with the New England Patriots and Tampa Bay Buccaneers, with Gronkowski as a receiving tight end Brady would often turn to when a big play was needed or if they were in a sticky situation.
They played in four Super Bowls together with the Patriots, three of them ending in New England victories, and in February 2021, they were together again with the Buccaneers when they added another Super Bowl ring to their collections.
While Brady and Gronk had an almost telepathic understanding on the field, away from football they were also close friends and have shared personal highs and lows.
Here is the story of a great friendship that began when they first met in Massachusetts.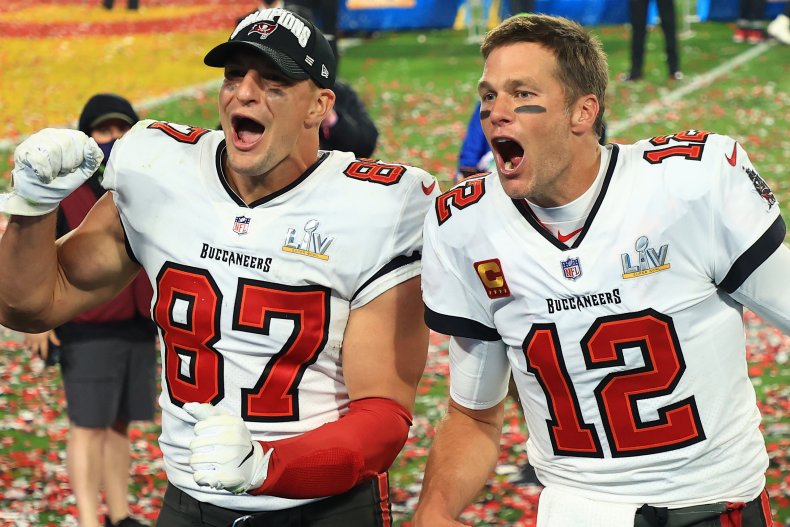 Best friends for life
Gronkowski has always been happy to talk about his bond with Brady and in 2018 spoke about why their relationship has been so special over the years.
"Just the way he prepares. His work ethic, the way he's just still going at his age," Gronkowski said. "Just still has a competitiveness to him every single time he steps out on the field.
"It's obviously an honor to be next to a quarterback like that in the huddle and it's really basically how he brings it every single day, no matter what kind of day it is."
Christmas gifting
The exchanging of gifts at Christmas between the pair still seems to be on the menu, but in 2020, Gronkowski revealed that he took back what he gave Brady so that he could gift it to someone he felt was more worthy.
Speaking to ESPN, Gronkowski revealed that he asked for the Bluetooth boombox back after he had wrapped and given it to Brady.
"I actually took his Bumpboxx away from him and gave it to one of the cafeteria workers," he said. "I was like, 'Tom, you don't need the Bumpboxx.' And he agreed. I was like, 'You're a good guy.' And then he gave me sunglasses."
Drink up buddy!
Gronkowski once recalled that one of his favorite memories of time spent with Brady was seeing him taking a shot of alcohol.
"I would just say going to the Kentucky Derby and seeing him take a shot," Gronkowski told ESPN reporter Jenna Laine. "Just seeing his face after, like disgust, like, 'I'm putting this alcohol in my body.'"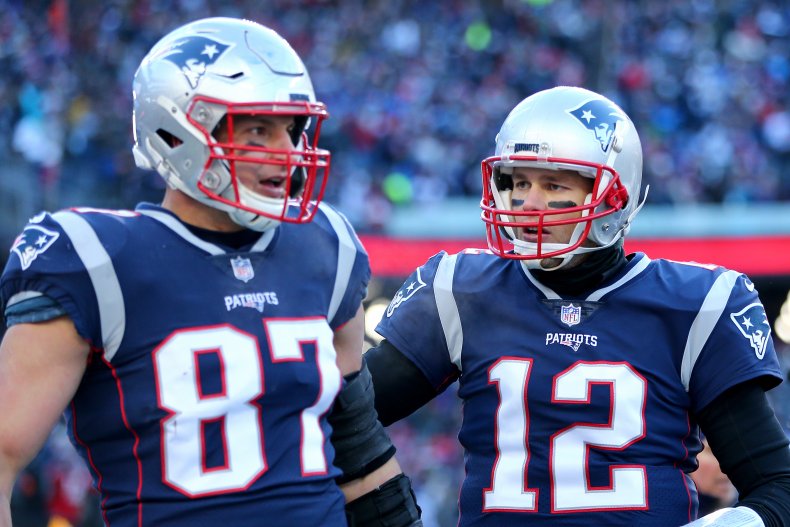 Rewind in Florida
It was a little bit of a shock when Brady was traded by the Patriots to the Buccaneers in 2020, but once he arrived in Florida, Brady was quick to ask Gronkowski to come out of retirement and enjoy a swansong with the Bucs.
Brady posted a video on social media in which he said to Gronk: "Time to run it back."
The nod to their time at the Patriots was enough to persuade Gronkowski to return to football and they were soon back in the Super Bowl together again.
Knowing me, knowing you
In September 2020, the Buccaneers' Twitter account posted a video of Brady and Gronkowski answering questions about each other.
They showed that their friendship was real by getting all the answers correct, prompting Brady to joke about the test: "Does that prove our kinship or what?"
Hugging it out
When Brady and Gronkowski returned to the Super Bowl after winning the NFC Championship, the tight end was delighted that their reunion in Tampa Bay led them to the title game.
During an appearance on The Late Late Show With James Cordon in January 2020, Gronkowski revealed how the close friends celebrated.
"We just gave each other a big hug and said, 'This is what it's all about. This is why we came down here,'" he said.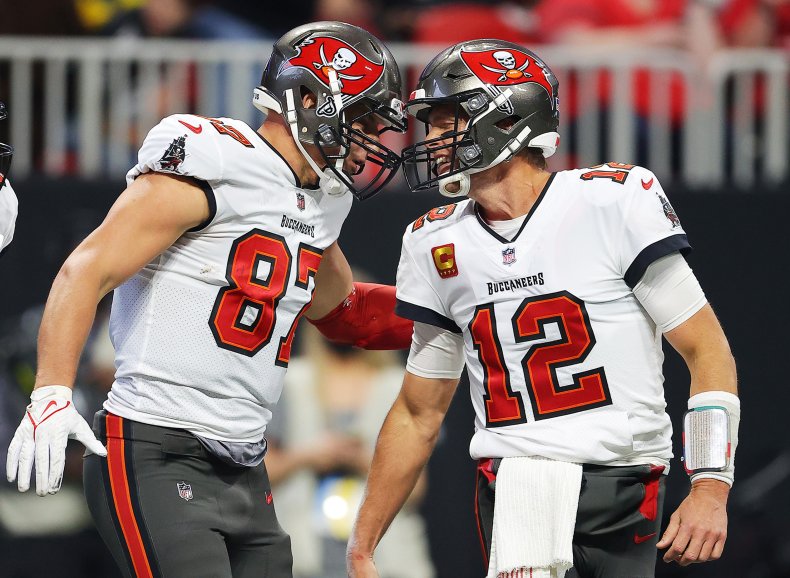 Retirement: Part 1
Gronkowski was gushing in an emotional message to Brady after the quarterback announced his retirement in February 2022.
In a statement that he posted to social media, Gronkowski wrote: "Tommy Boy!!! This football journey has been nothing short of special. Thank you for your dedication to the game, putting the team in the best possible position to win every year, all the record[s] that were broken, the Super Bowls, the memories, and your friendship through the last 12 years.
"If you commit even just 10 percent of what you committed to football in whatever you do next, you will be super duper successful. Witness greatness for many years and got to learn from the best to ever do it. You're a legend and always will be. Thank you. Much love, Gronky."
Eight weeks later, Brady reversed his decision and said that he would play more season with the Bucs and take one more shot at the Super Bowl.
No surprise
While many were shocked by Brady's retirement reversal, Gronkowski believed that there was more to come from his BFF.
He told Entertainment Tonight that while he hadn't expected the decision to be so quick, he was expecting the return to happen.
"When I was, you know, at the NFL Honors, they were all asking me, 'How long? Do you think Tom's coming back?' Well, I didn't think it was gonna be that quick," he said. "I mean I know the guy loves football like no other, you know? He lives and dies for it.
"He's just an amazing player and he can still play! I mean, he can still throw the ball like no other. And I was like, 'Maybe he's just gonna take a year off or so.' But I knew he was gonna make it back eventually. I just didn't think it was gonna be that quick."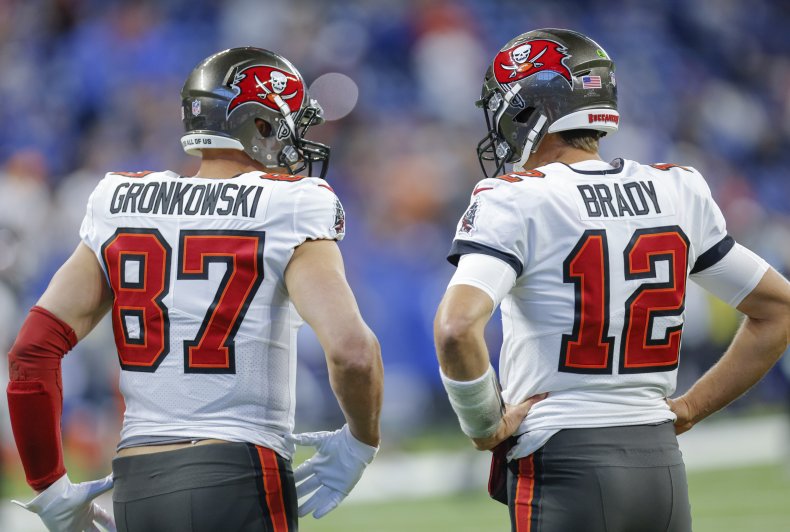 Retirement: Part 2
Gronkowski revealed that he was going back into retirement after he and Brady had won a Super Bowl together with the Buccaneers.
"I want to thank the whole entire first class Buccaneers organization for an amazing ride, trusting me to come back to play and help build a championship team," he wrote on Instagram. "I will now be going back into my retirement home, walking away from football again with my head held high knowing I gave it everything I had, good or bad, every time I stepped out on the field."
Brady replied to his friend's retirement message, saying: "Love you as a man, teammate and friend. One of a kind in every way."
Retirement: Part 3
All good things come to an end, and when Brady decided that he would be retiring, "for good" this time, Gronk congratulated his former teammate for finally deciding to call it a career, on February 1, with a reference to their time together over the years.
"Tommy, since I already wrote you a long retirement message last year, this time I shall say, welcome to the 2x retired club," he posted on Twitter. "You're a legend and you always will be, my friend ♥️🏉@TomBrady."
Do you have a tip on a sports story that Newsweek should be covering? Do you have a question about the NFL? Let us know via entertainment@newsweek.com.