Tom Brady Struggled When His Son Didn't Show Interest in Sports Because 'He's a Boy'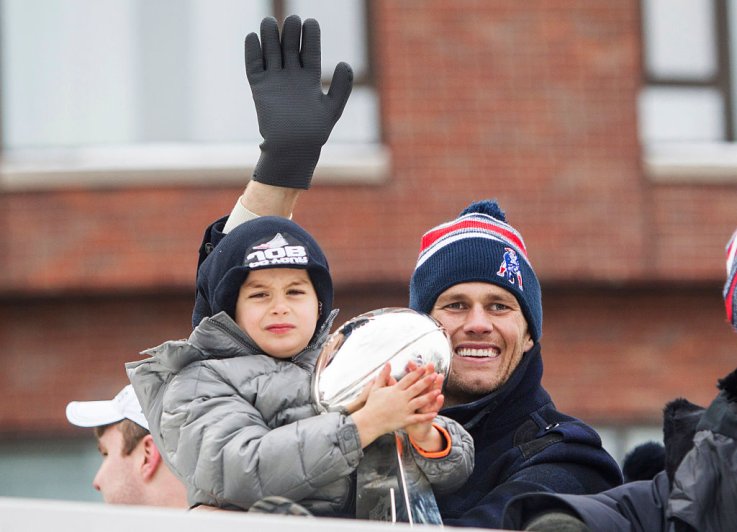 New England Patriots' quarterback Tom Brady seemingly has it all: a picture-perfect family with Gisele Bündchen and three children, six Super Bowl championships and, well, plenty of money. But there's one thing he can't have: his son's undivided attention when it comes to sports.
When Brady found out his 9-year-old son Benjamin didn't have an interest in sports, the football legend was shocked.
"I was like, 'C'mon, let's do this,'" Brady told Men's Health magazine. "And he [Benjamin] was like, 'Nope.' And I was like, 'What? No, do this!'"
Brady is the father of three children: 12-year-old Jack with his ex-wife, actress Bridget Moynahan, and his two children with Bündchen, Benjamin and 7-year-old Vivian.
It was Bündchen who had to make Brady see that it was alright Benjamin wasn't interested in sports.
"Gisele kept saying to me, 'Would you effing understand that your son is different?' It was hard for me," Brady told the magazine. "I was like, 'What do you mean? He's a boy; he should just do all these things that I do.'"
"The reality is that Benny just likes different things. And it's great because now I just have to go do what he wants to do. When we do that, we have the best time. He's like, 'OMG, Dad, you're so funny.' He loves joking, and I joke back."
Brady credits Bündchen for being the catalyst behind looking at parenting differently than how Brady was parented. He talked about trying to please his father as a child, wanting to be there for everything his dad did, even waking up early just to accompany his dad golfing.
"If I ever missed those things, it would crush me," he said.
That upbringing is in stark contrast to Bündchen's childhood in Brazil. She moved to São Paulo at 14 to start her modeling career, leading to her walking in New York Fashion Week at 16.
"She left home at 14; she lived in Japan at 16 in an era with no cell phones. She lived in New York City at 17 without speaking English. In her mind, there are no boundaries," Brady said in the magazine.
Lately, there have been hints Brady might have more time in the future to spend with Bündchen and the kids. The couple recently put on the market their $40 million Boston estate, leading to speculation that the 42-year-old New England Patriot might soon be retiring.
Brady has, however, commented in the past he plans to continue playing football until he's 45.
"I'd like to play until my mid-40s," he told CBS Sports in 2017. "Then I'll make a decision. If I'm still feeling like I'm feeling today, who knows? Now, those things can always change. You do need long-term goals too. I know next year is not going to be my last year."
Steve DeBerg became the oldest quarterback in NFL history when he led the Atlanta Falcons against the New York Jets in 1998 during a game. He was 44-years-old at the time.
Tom Brady Struggled When His Son Didn't Show Interest in Sports Because 'He's a Boy' | Sports