Republican Sen. Tom Cotton Says Life Begins at Conception, Fetus Has Constitutional Rights Protecting From Abortion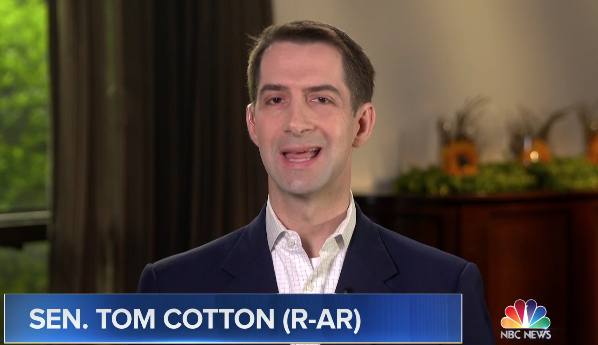 Arkansas Republican Senator Tom Cotton said Sunday he believes a fetus has constitutional rights and that life begins at conception.
Cotton discussed abortion at length on Meet the Press with host Chuck Todd Sunday, repeatedly decrying the "unelected judges" of the Supreme Court for allowing the procedure across the U.S. without democratic debate.
Existing abortion precedents, like 1973's Roe v. Wade decision were, in Cotton's eyes, "wrongly decided as a constitutional matter," and argued that instead, these decision are ones that the "American people ought to make through their elected representatives."
The senator, a graduate of Harvard Law, would not explicitly support or object to recently passed anti-abortion laws in Alabama and other states that seek to severely restrict a woman's access to the procedure. Instead, Cotton reiterated he is "pro-life" and he said the frontiers of medical science are being "pushed back" to allow unborn children to survive that may have died fifteen or twenty years ago. Ultimately, said the senator, abortion is a moral issue, not a medical one.
"When do you believe a fetus has constitutional rights?" Todd asked Cotton, seeking his personal opinion on abortion.
"Like a lot of folks here in Arkansas, I'm pro-life and I think a basic responsibility of government in a civilized society is to protect innocent life," Cotton said. "What I'm most proud of here in Arkansas is that we have recognized that the frontiers of medical science are being pushed back."
"Medical science of course informs these decisions but utimately these are moral questions, but medical science is advancing. Ten or fifteen years ago a child that was born at 22 or 20 weeks might not have been able to survive as the progress of medical science advances, though that informs our debate."
Cotton repeatedly lamented "unelected judges in Washington" for allowing abortion procedures to continue across the states.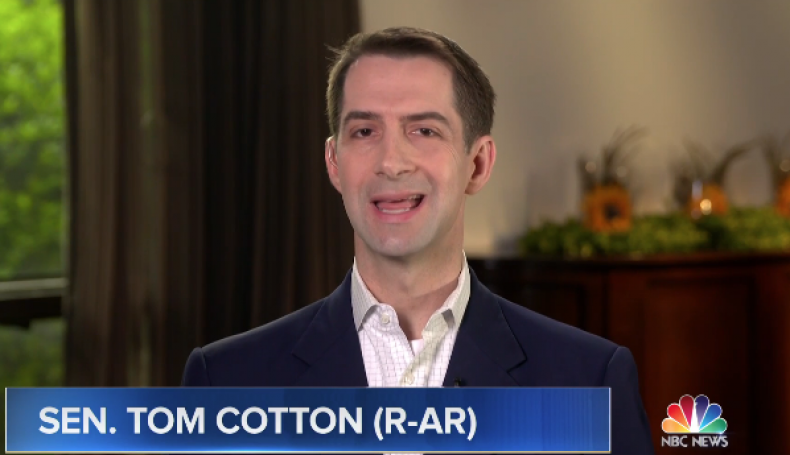 "I personally believe that life begins at conception, as long as we have unelected judges making the basic rules for abortion though we should try to find ways in which we can protect the most innocent lives that can survive," he said.
Cotton continued: "I personally believe that life does begin at conception, that's the standard that most Republicans who have held the presidency in modern times have held as well. Now, we understand there are certain tragic cases like rape or incest or where a mother's life is in danger that we ought to make an account for — that was the position that Ronald Reagan has as well."
Todd pressed Cotton on how he can believe life begins at conception and still make exceptions in the cases of rape or incest. Cotton responded by claiming without evidence — and contrary to available polling data — that a "vast majority of Americans" are opposed to abortion. In fact, U.S. public opinion hasn't changed much in the last 24 years, with the most recent Pew Research Center data showing about 58 percent of Americans think abortion should be legal in most situations, while approximately 37 percent say it should be illegal in most cases.
"Chuck because we live in a democratic society I recognize not everyone shares my views or the views of the vast majority of Americans or Arkansans, that's why I say that one of the major problems with having unelected judges make these kind of decisions is we don't have the ability to have those democratic debates," said Cotton. "To have an open and frank conversation without playing within the guard rails that unelected judges have put up in this country."
The senator acknowledged that "states are going to make different decisions. New York state earlier this year adopted a very extreme abortion law that would allow abortion almost up to the point of delivery. Some politicians in Virginia ealier this year, like the disgraced governor, proposed even euthanizing children that are born during an attempted abortion I think those are extreme positions."
"Should this be a political decision or should this be a medical decision?" Todd asked, echoing a point Bernie Sanders made on the show earlier Sunday morning.
Cotton said he worries about some of the "horrors" of medical science where people can screen for abortions or decide the sex of the fetus. He said he is concerned that parents may soon choose to abort an unborn child out of fears of genetic defects.
The Arkansas senator was not the only political figure to chime in on the abortion debate Sunday.
Minnesota Democratic senator and 2020 hopeful Amy Klobuchar weighed in on the so-called "heartbeat bills' in states like Georgia and Missouri, telling Fox News Sunday's Chris Wallace such laws are "dangerous" for U.S. women.
"This is dangerous," Klobuchar said. "It is a place that we have never seen. I think people have always warned that this could happen and it's actually happened." She said laws similar to the one passed by Alabama Republicans last week "would actually make it so that no one could get an abortion."
Cotton's fellow GOP Senator Mitt Romney of Utah said Sunday that he is not in favor of the Alabama bill. Appearing on CNN's State of the Union, the former presidential nominee and governor — who has occasionally publicly disagreed with President Donald Trump — echoed much of what the president said this weekend about his position on abortion.
"I don't support the Alabama law," said Romney. "I believe that there ought to be exceptions — I'm pro-life, but there out to be exceptions for rape and incest and where the life of the mother's at risk."
He added: "You're seeing laws on both of sides of the argument that are in the extreme, and whether it's New York and Virginia or whether it's Alabama and Missouri, people have gone to the wings, if you will. I don't think that's productive. I something much more toward the center makes a lot more sense."