Tom Cotton Blasted for Claims About Being an Army Ranger by Lawmaker Who Was One
Arkansas Republican Senator Tom Cotton was criticized by a Democratic lawmaker who served as a U.S. Army Ranger, after Cotton was accused of misrepresenting his military record during his first run for office.
Colorado Democratic Representative Jason Crow called out the GOP Senator on Twitter Saturday, following a report that said Cotton previously embellished the truth about being an Army Ranger.
"Hey@SenTomCotton, unless you wore one of these berets you shouldn't be calling yourself a Ranger. Truth matters," Crow wrote.
Crow served in the Army's elite 75th Ranger Regiment during tours in Iraq and Afghanistan, and tweeted an image of himself wearing the distinctive Ranger beret.
According to a report published in Salon on Saturday, Cotton said he was "a U.S. Army Ranger in Iraq and Afghanistan," and to have "volunteered to be an Army Ranger," during his first campaign run for Congress in 2012.
"My experience as a U.S. Army Ranger in Iraq and Afghanistan and my experience in business will put me in very good condition," Cotton told the Hot Springs Sentinel-Record in 2012, Salon reported.
Similarly in 2011, Cotton told Roby Brock of Talk Politics during a video interview that he "became an infantry officer and an Army Ranger."
But Cotton, who served in the Army for eight years and was discharged as a captain with two commendation medals, a Bronze star and a Ranger tab, was never a part of the 75th Ranger Regiment, according to Salon.
Instead, said the report, Cotton spent two months at the Ranger School to take a small-unit tactical infantry training course that is open to anyone serving in the military. Those who complete the challenging course are then able to wear a Ranger tab on their uniform, but they are not technically considered an Army Ranger.
Rangers are deemed to be "the most elite large-scale fighting force the Army has to offer," according to the U.S. Army website.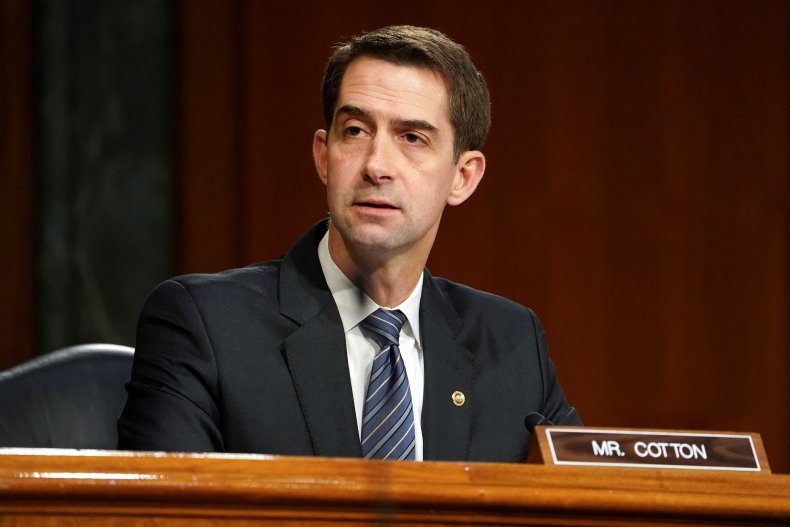 In response, a spokesperson for Cotton clarified that he had not served in the 75th Ranger Regiment, and maintained that the senator had not intended to embellish the truth.
"To be clear, as he's stated many times, Senator Cotton graduated from Ranger School, earned the Ranger Tab, and served a combat tour with the 101st Airborne, not the 75th Ranger Regiment," Caroline Tabler told Newsweek.
The Arkansas senator, an ally to former President Donald Trump, received heavy criticism last summer for writing a New York Times op-ed in which he called on the military to quell protests inspired by the Black Lives Matter movement.
Updated 8:45 PM ET, with a revised headline to indicate it was 'claims' regarding about Cotton being an Army Ranger.