Tom Cotton Faces Backlash for Likening Columbia's Multicultural Graduation Events to Segregation
Republican Senator Tom Cotton faced backlash on social media Tuesday, after the Arkansas congressman criticized Columbia University's plans to host multiple graduation events honoring its students backgrounds and went so far as to describe the commencement schedule as an example of "segregation."
Earlier, Fox News published a report about the recognized education institution's graduation ceremonies. Ahead of the school's broad commencement event to close the current academic semester, it will offer opportunities for students to participate in Native Graduation, Asian Graduation, Latinx Graduation, Black Graduation, FLI (first-generation and/or low-income) Graduation and Lavender (LGBTQIA+) Graduation celebrations.
"The endpoint of critical race theory: segregation," Cotton tweeted on Tuesday, alongside a link to Fox News' report. "Critical race theory is the belief that people have value based on the color of their skin, and that our race defines everything about us. It's not just false—it's dangerous."
"The problem is not just one 'woke' university embracing discrimination," the congressman continued. "Critical race theory is being pushed on our kids at school, it's peddled by HR departments at corporations, and the Biden administration has embraced it under the guise of 'racial equity.'"
Cotton's definition of critical race theory is inaccurate. The academic movement originally emerged during the 1970s, as civil rights scholars, activists and attorneys began to examine the inherent existence and implications of racism on institutions and foundational legal frameworks. Its analyses act as a resource for policymakers, educators, corporate leaders and others to effectively address systemic racism, discrimination and inequity.
When President Joe Biden assumed office last January, he rescinded a previous order effected under Donald Trump's administration that prevented federal employees and contractors from learning about critical race theory during workplace trainings. Cotton has faced widespread denunciation before for public remarks about race and racial justice.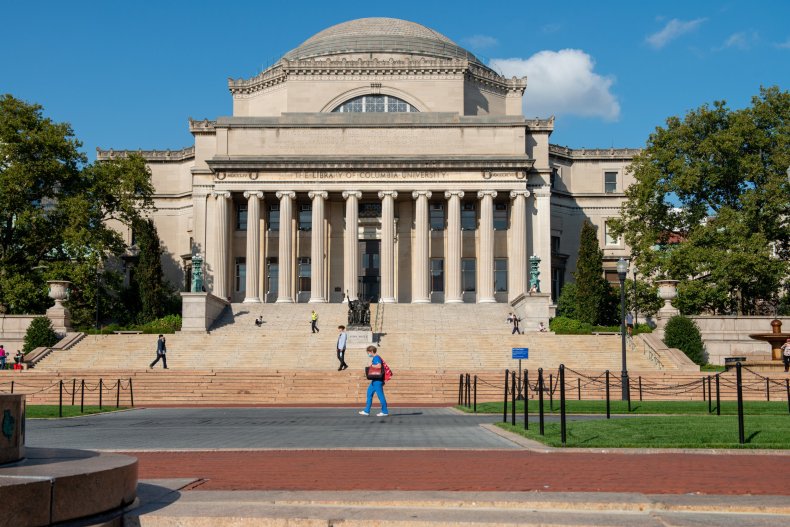 Columbia responded to Fox News' report shortly after Cotton's tweets surfaced on Tuesday morning, noting inaccuracies in the outlet's article and clarifying details about its upcoming graduation events.
"Reports today and previous tweets misrepresent our multicultural graduation celebrations, which exist in addition to, not instead of, University-wide commencement and individual school Class Days," the university wrote on Twitter. "These events are important, intimate and welcoming spaces for students aligned with these groups to come together to celebrate their achievements if they wish. They are organized in tandem with students and student groups."
All students can attend any one of Columbia's commencement celebrations, which "evolved from ceremonies originally created by students and alumni," according to the school.
"They are voluntary. And they have become a highly anticipated and valuable part of the Columbia graduation experience," its response statement concluded.
Social media users additionally pointed out that numerous higher education institutions host graduation events that celebrate students' diverse backgrounds with the completion of their studies. Georgetown, Harvard, Johns Hopkins, Princeton and Yale are just a handful of U.S. universities that host events like these, and have for several years.
Many emphasized that Cotton's tweets about Columbia's commencements were misleading, and some questioned why the senator did not amend his claims in light of the widely publicized criticism and clarification that came later.
"These are *complementary* ceremonies to the actual undergrad graduation ceremonies," one Twitter user wrote in the comments section of Cotton's earlier thread. "They parallel alumni functions that are geared toward each group of people. I often attend LGBT alumni events at Columbia."
"I think they're just looking for something to be mad about," another added. Why is this even news? Columbia has done this for years. Black graduation was awesome."
"These are a bunch of Zoom meetings for people to get together," a third person said. "That's it. No segregation, but way to tell yet another lie."
Newsweek reached out to Cotton's office for comment but did not receive a reply in time for publication.