Tom Cotton Goes After GOP Colleagues For Misleading Voters Ahead of Capitol Chaos
Republican Senator Tom Cotton went after fellow GOP colleagues who objected to certifying the presidential election results for "misleading voters," ahead of the violent chaos that unfolded at the U.S. Capitol Wednesday.
Speaking to Fox News Thursday, Cotton noted that some Republican lawmakers gave "false hope" by allowing their supporters to believe the election outcome could be changed.
"You have some senators who, for political advantage, were giving false hope to their supporters, misleading them into thinking that somehow yesterday's actions in Congress could reverse the results of the election or even get some kind of emergency audit," Cotton said in a video clip he posted to Twitter.
"That was never going to happen, yet these senators, as insurrectionists literally stormed the Capitol, were sending out fundraising emails," he added.
Cotton's statements follow a violent scene at the Capitol, where a mob of pro-Trump supporters broke through windows, clashed with police, and occupied congressional offices. At least four people died in connection to the riots, while many more were reportedly injured.
The violence occurred after President Donald Trump and some Republican lawmakers called for Congress to investigate the results of the presidential election after falsely claiming that it was riddled with voter fraud.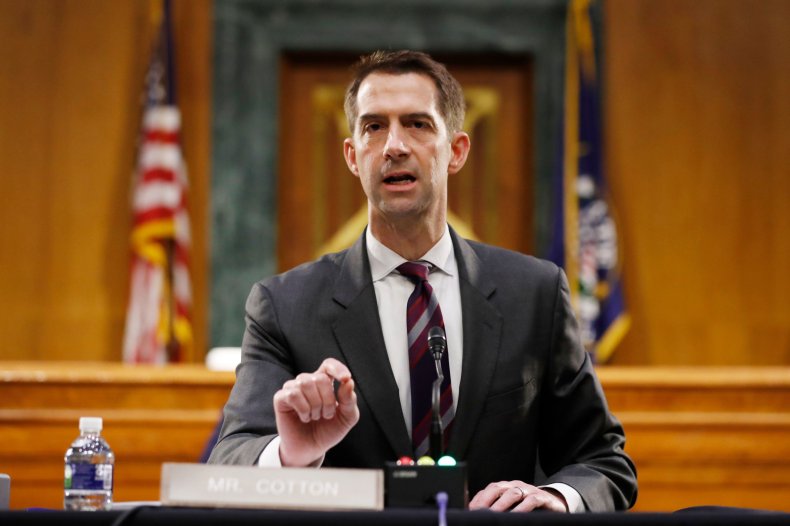 Despite the chaos that unfolded inside the Capitol, a total of 147 Republican lawmakers objected to certifying the Electoral College vote when Congress reconvened late Wednesday, including eight senators and 139 representatives.
Senators Josh Hawley of Missouri, Ted Cruz of Texas, Tommy Tuberville of Alabama, Cindy Hyde-Smith of Mississippi, Roger Marshall of Kansas and John Kennedy of Louisiana voted to overturn the results in Arizona, while 93 senators voted against.
For the vote concerning Pennsylvania, Hawley, Cruz, Tuberville, Hyde-Smith, Marshall and Senators Cynthia Lummis of Wyoming and Rick Scott of Florida voted to overturn the results, while 92 voted against it.
The process ultimately proved futile, as Congress worked through the night and officially declared that Joe Biden will be sworn in as the 46th president of the United States on January 20.
Though most Republican lawmakers have condemned the violence, many have since received backlash and have been accused of playing a role in inciting the mob.
Former Republican National Committee chairman Michael Steele tweeted Wednesday afternoon that Hawley, the first senator to publicly support the opposition effort, was a "symbol" of Trump's sedition.
"The picture (among many) we will all remember from what we've witnessed today @HawleyMO—you are @realDonaldTrump's symbol of this sedition," Steele tweeted.
On Twitter, Beto O'Rourke retweeted a statement from Cruz and said "It is your self-serving attempt at sedition that has helped to inspire these terrorists and their attempted coup."
Meanwhile, Representative Joaquin Castro, a Democrat from Texas, and Alexandria Ocasio-Cortez, a Democrat from New York, called for the resignation of both Hawley and Cruz.
Cotton, a senator from Arkansas who received heavy criticism last summer for calling on the military to quell protests inspired by the Black Lives Matter movement, said Thursday that the situation on the Capitol was no different.
"Mob violence is never an acceptable form of political expression," he said during an interview on Fox News. "It shouldn't matter what kind of signs the mob carries before they become violent. There is no acceptable basis for mob violence in this country."
Newsweek reached out to the offices of Cotton, Hawley and Cruz for additional comment but did not hear back in time for publication.