Jeanne Shaheen Fires Back at Tom Cotton Over Putin—'He Didn't Deny You a Visa'
GOP Senator Tom Cotton (R-AZ) earned a stern rebuke from Sen. Jeanne Shaheen (D-NH) in a widely viewed exchange after he accused the Democrats of "appeasing" Russian President Vladimir Putin.
Cotton took broad aim at how the Democrats had handled Moscow in criticism, referring in particular to the Biden administration's suspension of sanctions on entities involved with the Nord Stream 2 pipeline.
Critics, including both Republicans and Democrats, say that the pipeline, which will take gas between Russia and Germany, gives Putin a geopolitical advantage. The pipeline was stalled by German lawmakers this week.
The heated exchange in Thursday's Senate session came as the international community and Biden look at how to respond to a military buildup by Russia along its border with Ukraine.
Cotton told the Senate that "for four years we stood together and cast votes... in defense of Nord Stream 2 sanctions."
He said that Biden is now "appeasing Vladimir Putin at every turn," as he referred to the extension of the New START nuclear arms treaty between Moscow and Washington, as well as the Biden administration's policy on Nord Stream 2.
"Suddenly the Democrats have reverted back to their old conciliatory ways," Cotton said.
"The simplest way to deter an invasion of Ukraine, the simplest way to deter Russian aggression is to draw clear red lines and enforce them."
He said that this is "something that Joe Biden will not do, something that apparently the Democratic senators will not force him to do."
In response, Sen. Shaheen, a senior member of the Senate foreign relations committee, said: "I just have to take real umbrage at your suggestion Senator Cotton."
"I'm the one who Vladimir Putin refused a visa to get into Russia because of my opposition to Russia and to what Putin was doing," she said.
"He didn't deny you a visa to get into the country. So don't talk to me about how I've not been tough enough on Russia, because that dog won't hunt," she said before going on to accuse former President Donald Trump of only sanctioning those involved in the pipeline at the end of his term.
As of Friday morning, a 40-second clip of the exchange had been viewed more than 310,000 times.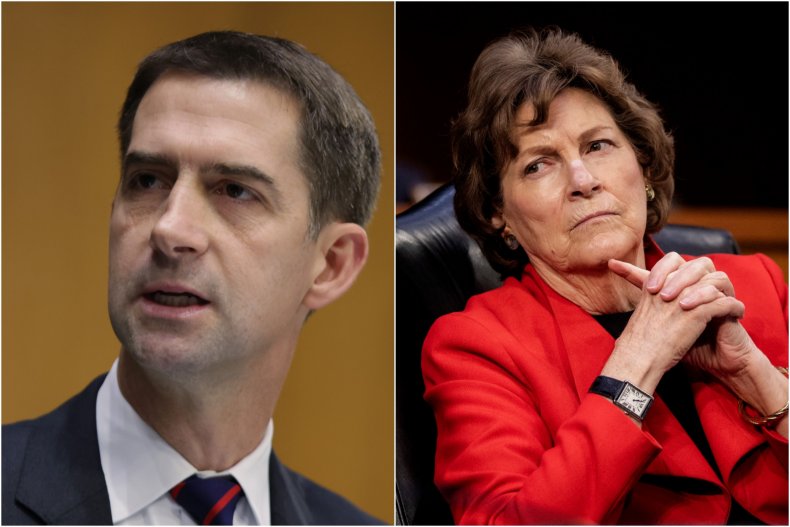 In what was not part of the tweeted video, Cotton responded: "I did not make any personal insult," adding that he "simply observed that for four years in the Trump administration we repeatedly took action on a bipartisan basis to try to stop Nord Stream 2."
As well as being a bone of contention in Europe amid fears of Russian aggression in Ukraine, the spat over Nord Stream 2 has dragged on in Congress for months.
Republicans who want sanctions are holding up a defense spending bill as well as nominees for positions at the State Department and other government posts.
The Senate may soon vote on a National Defense Authorization Act (NDAA) amendment that would override suspension of the sanctions and require the president to seek congressional approval for future sanctions waivers on the pipeline in future.
A White House spokesperson told Newsweek in a statement that the Biden administration "has been clear—the United States opposes the Nord Stream 2."
The statement said that the NDAA amendment "makes no sense" and that some lawmakers are pressing for sanctions "that don't actually deter Russia but do threaten Transatlantic unity."
This was "to score political points at home all while holding up critical national security funding on a range of unrelated issues." The White House also said that the Biden administration was working with Congress on a legislative package of sanctions in case "Russia invades Ukraine further."
UPDATE 12/03/21 10:48 a.m. ET: This article has been updated with a comment from the White House.