Russia Brags Extension of New START Nuclear Arms Treaty With U.S. Is 'On Our Terms'
Russian lawmakers have approved the extension of a nuclear arms treaty with the U.S. the day after President Vladimir Putin received assurances from his U.S. counterpart Joe Biden about the deal, which was about to expire.
Both houses of Russia's parliament voted on Wednesday to back extending the New Strategic Arms Reduction Treaty, known as New START.
The 2010 deal limits the strategic warheads and launchers in the arsenals of the world's two top nuclear powers and allows them to inspect one another's stockpiles. It was due to lapse on February 5.
The extension does not require approval from lawmakers in the U.S. and is the first major policy initiative between the Biden administration and Moscow.
The Kremlin said that during Tuesday's 35-minute phone conversation between Putin and Biden—the first since the U.S. president took office—both countries agreed they would "complete all the necessary procedures" to formalise the deal.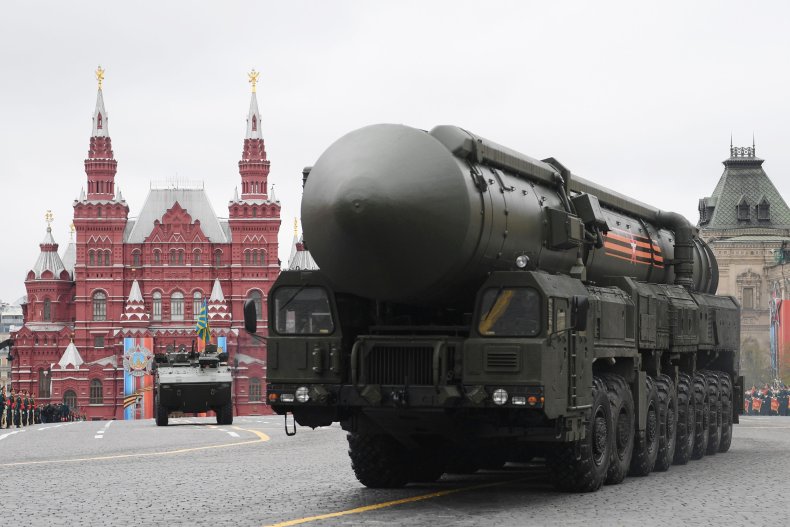 The deal had stalled under the Donald Trump administration and Russia has long been pushing for an extension without any conditions.
Moscow's deputy foreign minister Sergei Ryabkov said on Wednesday that the deal had been agreed "on our terms," adding that it would be "for five years without preconditions, without any additions," according to the state-run Tass news agency.
"We welcome the Biden administration's decision to agree to our proposal for a five-year extension,"Ryabkov said. "We have a significant amount of time to launch and conduct in-depth bilateral negotiations on the entire range of issues affecting strategic stability, to ensure the security of our state for a long period to come."
He also told reporters that Russia's proposal for a mutual freeze of nuclear arsenals was no longer on the agenda, Tass reported.
Mathieu Boulègue, a research fellow at the Chatham House think tank in London, said Ryabkov's comments could be a way to strengthen Moscow's hand in future negotiations.
"This sounds like another act of bravado to achieve an even better position. New START will be extended and signed, but Russia also wants to push for the logic that it has to be signed 'as is', and not 'as it should be,'" he told Newsweek.
"Moscow's terms are basically: 'Let's renew for five years and then we can maybe discuss a different treaty when the time is needed.'
"Ideally, the February document would start introducing new conditions for the future of arms control. But that's a hard stop for Russia," added Boulègue.
Ahead of Russia's ratification of the deal, arms control groups had welcomed Biden's plan to extend New START.
The Arms Control Association's executive director Daryl Kimball said the extension "should be just the beginning" of nuclear disarmament diplomacy.
"A key objective of the next round of bilateral talks should be, in part, deeper verifiable cuts in deployed strategic nuclear weapons," he said on Tuesday.