Tom Cotton Says Jackson Has 'Interest in Helping Terrorists,' Such as Nazis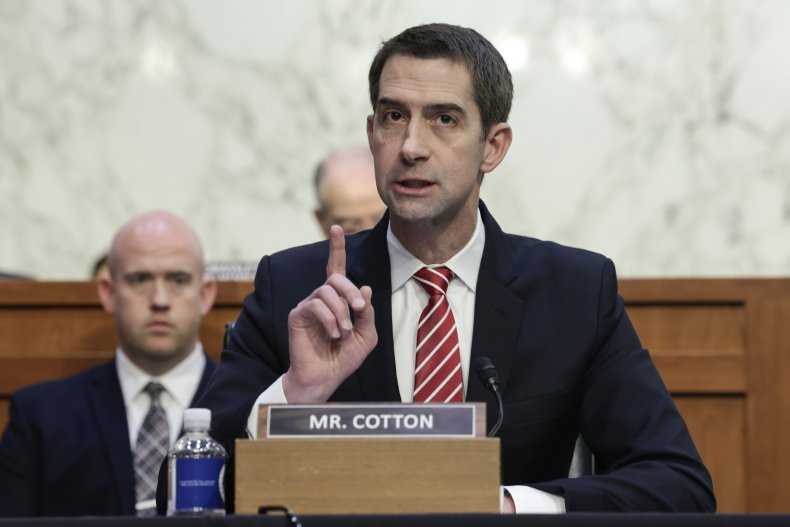 Senator Tom Cotton, an Arkansas Republican, has blasted Supreme Court nominee Ketanji Brown Jackson by suggesting that she would have defended Nazis war criminals after World War II.
Cotton attacked Jackson, the first Black woman nominated to the court, while discussing her record as a federal public defender from the Senate floor on Tuesday. During Jackson's Senate confirmation hearings, Republicans hammered her for representing Guantanamo Bay detainees accused of terrorism, although Jackson did not choose her clients as a public defender and there is little reason to believe that she endorsed their alleged crimes.
"Judge Jackson has also shown real interest in helping terrorists," Cotton said on Tuesday. "You can certainly learn something about a lawyer from the cases they seek out. ... Judge Jackson represented four terrorists as a public defender, one of whom she continued to represent in private practice."
"In every case, she claimed that none of them had anything to do with terrorism," he continued. "Not a thing, totally innocent. Just goat herders who were picked up by marauding American troops."
Cotton went on to reference former Supreme Court Justice Robert H. Jackson, who prosecuted Nazi war criminals on behalf of the U.S. during the Nuremberg Trials that followed World War II. The senator claimed that the current Judge Jackson may have leapt to the defense of Nazis instead.
"You know, the last Judge Jackson left the Supreme Court to go to Nuremberg and prosecute the case against the Nazis," said Cotton. "This Judge Jackson might've gone there to defend them."
Cotton's comments sparked almost immediate condemnation on social media.
"Absolutely shameful conduct from @SenTomCotton," the Anti-Defamation League tweeted. "To use a Nazi analogy as some sort of twisted way to attack Judge Ketanji Brown Jackson is reprehensible. We've said it a thousand times and we'll say it again: stop trivializing the Holocaust for political gain."
"The fact that a brilliant black woman is going to be a Supreme Court judge offends him so much that he doesn't even realize he just came out against due process," tweeted Representative Ilhan Omar, a Minnesota Democrat. "What a joke."
In addition to his ideological opposites, Cotton's Nazi comparison was also poorly received by some fellow Republicans. The conservative National Review described his remarks as a "cheap shot," while Jenna Ellis, former lawyer to ex-President Donald Trump, called his rant "unbecoming."
"Yikes," tweeted Ellis. "This is unbecoming of @SenTomCotton. America's justice system stands for due process, enshrined in our Constitution. There are PLENTY of reasons to argue Ketanji Brown Jackson is not fit for the Supreme Court, but being a defense attorney IS NOT one of them."
Cotton also said that he would not be voting to confirm Jackson on Tuesday because she would "coddle criminals and terrorists" and "twist or ignore the law to reach the result that she wants."
Jackson's appointment to the court is all but certain as Democrats, who control the Senate, are expected to be joined by GOP Senators Mitt Romney, Lisa Murkowski and Susan Collins in voting to confirm the judge later this week.
Newsweek reached out to Cotton's office for comment.