Tom Hardy Wins Gold at Jiu-Jitsu Tournament
Hollywood's action film legend Tom Hardy showcased his fighting skills in real life over the weekend, taking home gold in a charity Jiu-Jitsu championship.
Hardy is known for his roles in The Dark Knight Rises, Marvel's Venom, Mad Max: Fury Road, Peaky Blinders, and Inception, in which he typically plays legendary villains, gun-toting heroes or skilled fighters, and always manages to show off a talented level of athleticism and skill, and fans were surprised to see that Hardy is as much of a badass off-screen as he is on-screen.
On Saturday, the actor participated in a charity Jiu-Jitsu championship in Wolverhampton, competing as a trustee for the REORG Charity, a nonprofit that supports people with post-traumatic stress disorder (PTSD), depression, and life-altering physical injuries and trains them in Brazilian Jiu-Jitsu, a non-violent martial art, as a form of therapy and recovery.
Videos of Hardy were posted to TikTok by user Jiu-Jitsu Geoff and YouTube, showing the actor taking down his competitors on the mat with expert-like precision. The caption on the videos read, "Tom Hardy is a killer," and was accompanied by a flame emoji. He took home two gold medals on Saturday.
Hardy has reportedly trained with REORG since he began learning Jiu-Jitsu to prepare for his starring role in the 2011 film, Warrior, in which he played an MMA fighter, and has long since shown off his training on social media. Three weeks ago, Hardy shared a photo of REORG's training center on Instagram.
Hardy has also said according to several reports that martial arts helped him prepare for his role in Marvel's 2018 Spiderman spin-off, Venom.
While it's known that Hardy takes his training for his films seriously, some of his co-stars have previously claimed that the actor can get a bit intense.
Charlize Theron, who starred beside Hardy in the 2015 sci-fi thriller, Mad Max: Fury Road, said that she had to hire protection on the set to be around Hardy.
In Kyle Buchanan's new book Blood, Sweat & Chrome: The Wild and True Story of Mad Max: Fury Road, it detailed that Hardy was consistently late to film scenes, and Theron waited on set for three hours for him at one point.
When he finally arrived, it was claimed that Theron called him "disrespectful," swore and said that the producers should fine him "a hundred thousand dollars for every minute that he's held up this crew."
According to reports from Camera operator Mark Goellnicht, Hardy appeared "quite aggressive" in response, which made his co-star feel "threatened."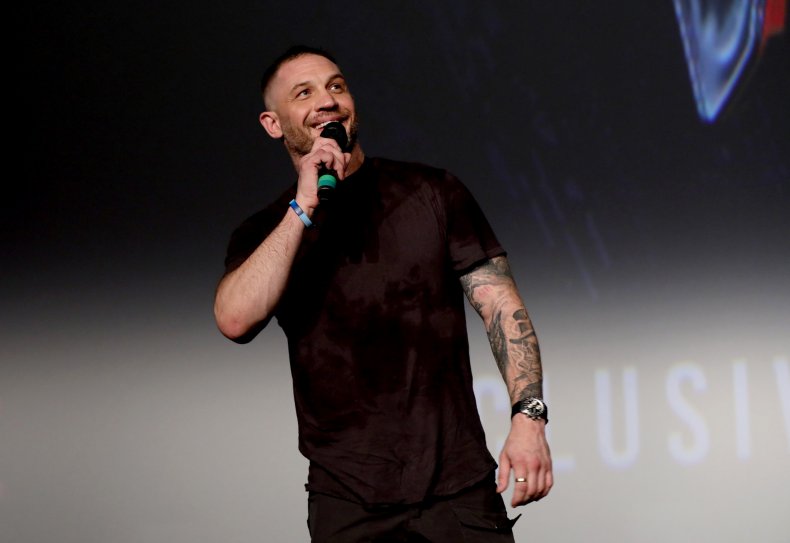 Theron said in the book, "It got to a place where it was kind of out of hand, and there was a sense that maybe sending a woman producer down could maybe equalise some of it, because I didn't feel safe.
"I don't want to make excuses for bad behaviour, but it was a tough shoot. Now, I have a very clear perspective on what went down.
"I don't think I had that clarity when we were making the movie. I was in survival mode; I was really scared s**tless."
Hardy also addressed the claims in the book, saying, "The pressure on both of us was overwhelming at times. What she needed was a better, perhaps more experienced partner in me. That's something that can't be faked. I'd like to think that now that I'm older and uglier, I could rise to that occasion."
Newsweek reached out to a representative for Hardy and REORG Charity for comment.