Tom Holland Wants to Start a Family After 'Spider-Man'—'I Love Kids'
With Tom Holland's latest movie, hitting screens after much anticipation he is already looking to a future away from the big screen.
The 25-year-old actor, who has long been linked with his Spider-Man co-star Zendaya, revealed that after several years of building on his career, his heart is set on more personal goals.
"I've spent the last six years being so focused on my career," the British screen star told People. "I want to take a break and focus on starting a family and figuring out what I want to do outside of this world."
"I love kids. I can't wait to be a dad—I can wait and I will, but I can't wait!" Holland went on. "If I'm at a wedding or a party, I'm always at the kids' table hanging out.
"My dad's been such a great role model for me. I think I've got that from him. So I think I'd be a primary school teacher or something like that [if I weren't an actor]."
With his latest movie being the third and last Spider-Man film he stars in, Holland has said that while he isn't yet ready to say goodbye to his superhero character, he understands that it may be time to pass on the baton.
"I've loved every minute of it," said Holland, who first took on the role in 2015's Spider-Man: Homecoming. "I've been so grateful to Marvel and Sony for giving us the opportunity and keeping us on and allowing our characters to progress. It's been amazing.
"And that's why for me, I don't want to say goodbye to Spider-Man—but I feel like we might be ready to say goodbye to Spider-Man."
He added: "I don't want to be responsible for holding back the next young person that comes in who deserves it just as much so."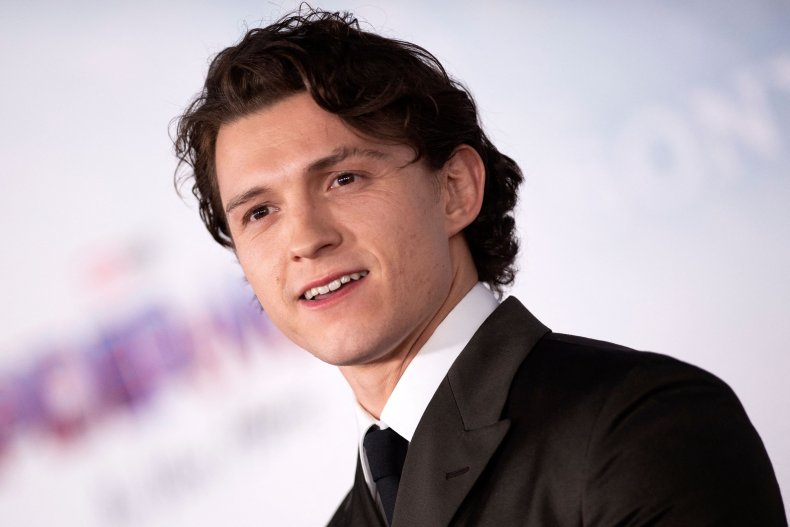 As for the future of the Marvel franchise, Holland, who took on his role after Tobey Maguire and Andrew Garfield, said: "I would love to see a future of Spider-Man that's more diverse—maybe you have a Spider-Gwen or a Spider-Woman.
"We've had three Spider-Mans in a row; we've all been the same. It'd be nice to see something different."
On Wednesday, Zendaya—who plays MJ in Spider-Man—marked the release of their movie by sharing a photo of Holland in character, as well as another snapshot of the actor dressed in costume as the web-slinger as a child.
Captioning the heart-warming post, she wrote: "My Spider-Man, I'm so proud of you, some things never change and good thing @tomholland2013."
The screen stars are expected to have something of a celebratory weekend, with Spider-Man: Homecoming projected to break records.
Production company Sony has predicted that their film will make $130 million between December 16 and 19, while Variety has projected $150 million. According to Indie-Wire, predictions run as high as $200 million.
With the general consensus being that the film will earn more than $100 million on its debut, it would be the first film since the start of the COVID-19 pandemic to achieve the feat in its opening weekend.