Tom Steyer Attended Service at Church Led by Pastor Who Once Said Homosexuality Is 'Enough to Send You to Hell'
Democratic candidate Tom Steyer attended a service at a Nevada church led by a pastor who has called homosexuality a sin that is "enough to send you to hell."
The billionaire was pictured at the Victory Missionary Baptist Church in Las Vegas, Nevada, on Sunday, months after three other Democratic candidates were criticized for visiting the church in the summer of 2019.
In a 2013 episode of KNPR show State of Nevada, Victory Missionary's Pastor Robert E. Fowler Sr. said: "Whether you commit adultery, whether you commit fornication, whether you're a child molester, you gossip, you lie, you cheat on your taxes, you don't pay your tithes, things of that nature, all of that is wrapped together as sin along with homosexuality."
Speaking to the Bay Area News Group in August last year, the pastor doubled down on his view that homosexuality was one of several "sexual sins" and added: "Any sin, if you break the law in one area, you've broken it in all areas. If you mess up in one area, that's enough to send you to hell—so any sin is pretty bad for me."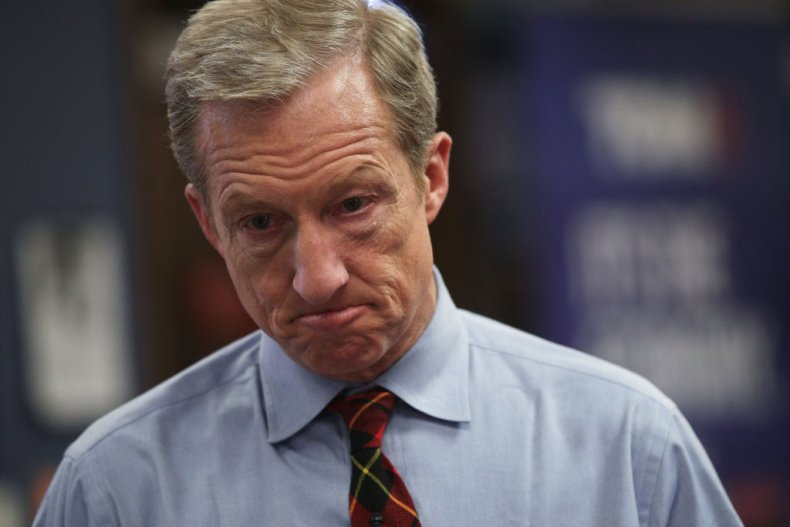 Fowler Sr. is still listed as the church's pastor on the Victory Missionary Baptist Church website.
Steyer's campaign said he "unequivocally" rejected the pastor's views on the LGBTQ community, and said the candidate addressed the Victory Missionary congregation about issues affecting the black community in the state.
Posting a picture of Steyer at the pastor's Las Vegas church on Sunday, Nevada Attorney General Aaron Ford said: "Great having @TomSteyer join us at The @Vmbclv this morning!"
Another post from Steyer's official Nevada campaign Twitter account pictured the candidate at the church's Sunday service.
In a statement to Newsweek, a Steyer campaign spokesman said: "Tom unequivocally rejects the pastor's views of LGBTQ people.
"He attended service at the Victory Mission Baptist Church in Las Vegas yesterday as part of his efforts to reach every African American community in Nevada, including religious, political, and cultural groups.
"He addressed the congregation as a candidate, discussed issues affecting the Black community in the state, and his work in Brown and Black communities across the country."
The Victory Missionary Baptist Church has also been contacted for comment by email. A representative of the church could not be reached by telephone, and a message could not be left on the answering machine.
Democratic frontrunner Senator Bernie Sanders and former competitors Senator Kamala Harris and Senator Cory Booker also paid visits to Victory Missionary in Las Vegas last year.
In statements to The Advocate published in August, the campaigns for all three Democrats said they did not share the views on homosexuality espoused by the pastor.
Heading into the Nevada Democratic caucuses slated for Saturday, the FiveThirtyEight average of state polls puts Steyer in fifth place and within just five percentage points of former Vice President Joe Biden, who is in second place.
One poll of 256 likely Democratic caucus-goers released by Point Blank Political on Monday put Steyer at the front of the pack in Nevada, with 18.6 percent of party voters backing the billionaire.