Why Tommy Robinson Was Freed From Jail—And Why He May Go Back Again
The British far-right activist Tommy Robinson, real name Stephen Yaxley-Lennon, was released from jail on bail after a successful appeal against one of his convictions for contempt of court.
An appeals court judge ruled that several procedural failings by the previous convicting judge meant the conviction could not stand. Robinson must now face a retrial—and could end up back in jail. However, a separate contempt of court conviction was upheld by the appeals judge.
Far-right campaigners held protests against Robinson's convictions for contempt of court, baselessly claiming he was a political prisoner. Robinson won support from right-wing American politicians and figureheads, including Steve Bannon, the former chief strategist in the Trump White House.
"This is clearly the right result," tweeted Adam Wagner, a human rights barrister at Doughty Street Chambers. "Contempt findings can happen very quickly and in highly charged situations—and you don't get more highly charged than this. So it is essential, as courts have said repeatedly, to get procedure spot on as procedure protects against injustice."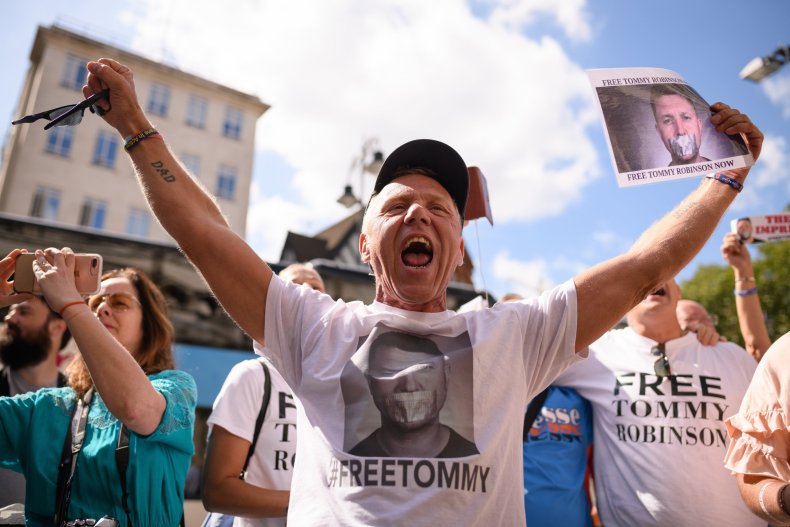 Robinson was jailed in May after broadcasting live from outside Leeds Crown Court and filming those involved in a trial, including defendants, despite there being reporting restrictions in place to avoid prejudice.
He received a ten month sentence over the incident for risking the collapse of a trial by breaking the reporting restrictions on it.
The founder of the far-right English Defence League protest group had previously received a three month suspended sentence for contempt of court over his broadcasting on social media outside a trial at Canterbury Crown Court.
Those three months were then added to the 10 month sentence he received for the Leeds incident after breaching the terms of their suspension.
After the appeals court ruling, Robinson is back out again—for the moment, at least, pending the outcome of a fresh trial.
Wagner added: "Where does this leave us? Is this all an establishment conspiracy with political overtones. Clearly not. The first contempt finding in Canterbury was approved by the Court of Appeal which was clearly being fair and reasonable and not afraid to criticise judges below."
Supporters of Robinson gathered outside the Royal Courts of Justice in London and celebrated the verdict.
"Tommy just called his family from prison to ask what the outcome was—he said prisoners were shouting that he was going home but he did not want to believe them," said a post to his Facebook page.
"He is over the moon! They had a family holiday booked and paid for this Friday which he can now go on and spend some much-needed time with his wife and children.
"He asked us to pass on his heartfelt thanks to every single one of you who have been campaigning for his release and supporting him. Today the Royal Courts of Justice validated what everyone of you has been fighting for—the fact that the conviction back in Leeds was in fact illegal!"
Anti-racist campaigners are unhappy at the outcome.
"There is a danger that Tommy Robinson's release on bail will embolden far right and racists across the Britain," said Weyman Bennett, joint secretary of Unite Against Fascism, in a statement over email.
"We have no confidence in the judgement. Robinson pleaded guilty and should pay the price. We must unite against everything Tommy Robinson and his far right and fascist supporters stand for. The language Robinson uses about Muslims echoes that used against Jewish people in the 1930's," said Bennett.
A spokesperson for the anti-racist group HOPE Not Hate told Newsweek: "U.S. funding and U.S. support for criminal lowlife Tommy Robinson is no surprise. We are witnessing the emergence of a new internationalised far-right, propelled by deep antipathy towards Muslims…. The ugly reality is that he is a powerful proponent of hate speech and a violent criminal who has broken the law many times.
"We urgently now need to wake up to the threat posed by powerful and monied far-right figures, who—with newfound confidence under Donald Trump's presidency, and under the leadership of his former right-hand man Steve Bannon—are determined to stoke conflict and division across Europe and to use figures like Stephen Lennon to do so."