Why Was Tommy Robinson Arrested? Far-Right Activist Jailed for 13 Months for 'Prejudicing Rape Trial'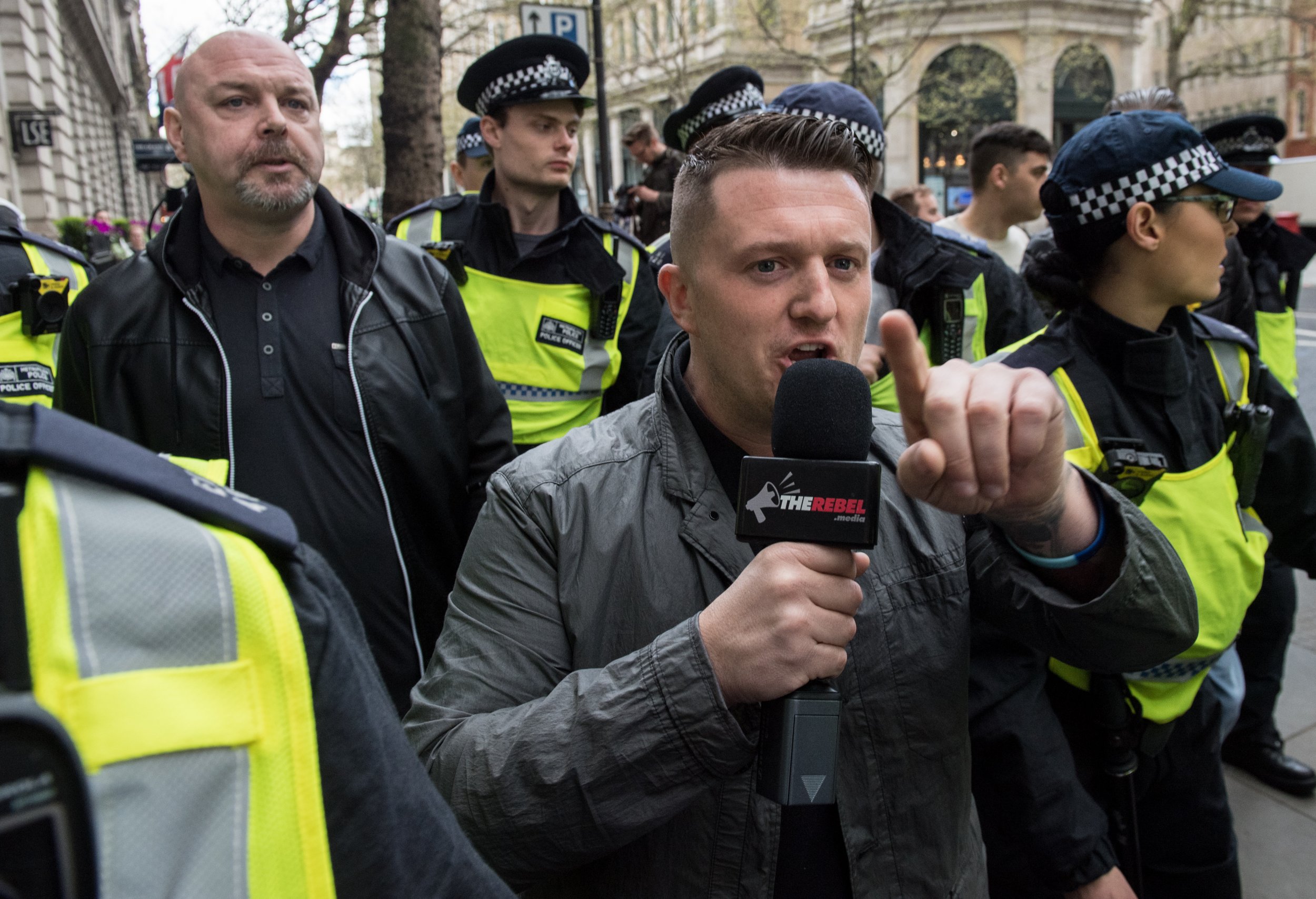 Far-right figurehead Tommy Robinson has been jailed for 13 months after he was found guilty of breaching British contempt of court laws by filming outside an ongoing trial, it can now be reported.
The sentencing of Robinson, 35, whose real name is Stephen Yaxley-Lennon, could only be revealed after British news sites the Independent and Leeds Live fought to lift the reporting restrictions imposed by a judge following Robinson's arrest outside Leeds Crown Court in North England on May 25.
In a case that has attracted worldwide attention, the far-right activist was arrested for potentially prejudicing a criminal case while streaming an hour-long Facebook Live video outside the court during a rape trial.
At the time, the jury were in the process of considering their verdicts after hearing evidence for the past six weeks, Leeds Live reports. The judge imposed restrictions against reporting on Robinson being jailed over fears it could prejudice the outcome.
In the video, Robinson could be heard reading out defendants' names and the charges they were accused of—some of which were incorrect—as they arrived at the court.
The 35-year-old was eventually arrested on suspicion of causing a breach of the peace and was charged hours later. He admitted to committing contempt of court by publishing information that could prejudice an ongoing trial and was jailed for 13 months.
The arrest sparked worldwide interest, with many right-wing and far-right public figures believing Robinson's free speech was being infringed and questioning the alleged "media silence" on the trial.
Drudge Report placed the story of his arrest as their main article under the headline "Judge Orders Press Blackout. Robinson Silenced."
Alex Jones's Info Wars also claimed he had "been disappeared" and imprisoned for merely reporting on a trial.
In the U.K., hundreds protested outside Downing Street in London against his arrest, with nearly 500,000 people signing an online petition urging he be freed.
At the time of his arrest, Robinson was already subjected to a suspended sentence after being found guilty of using a cellphone to film inside a courtroom in Canterbury—an act that is a criminal offense under British law.
While sentencing Robinson, a judge warned that if he appeared at another court and risks "substantially derailing" a trial, Robinson would jailed for breaking contempt of court laws, which aim to safeguard the judicial process and stop trials collapsing over fears the jury has been swayed before they have delivered a verdict.
During the Facebook Live video outside Leeds Crown Court, which was viewed more than 250,000 times, Robinson even admitted that he needed to be "super careful" as "they [police] put me on a contempt of court charge, which would mean that I could face prison."
Speaking at Canterbury Crown Court on May 22, a judge told Robinson: "This contempt hearing is not about free speech. This is not about the freedom of the press. This is not about legitimate journalism; this is not about political correctness; this is not about whether one political viewpoint is right or another. It is about justice, and it is about ensuring that a trial can be carried out justly and fairly.
"It is about ensuring that a jury are not in any way inhibited from carrying out their important function. It is about being innocent until proven guilty. It is not about people prejudging a situation and going round to that court and publishing material, whether in print or online, referring to defendants as 'Muslim pedophile rapists.'
"In short, Mr. Yaxley-Lennon, turn up at another court, refer to people as 'Muslim pedophiles, Muslim rapists' and so on and so forth while trials are ongoing and before there has been a finding by a jury that that is what they are, and you will find yourself inside. Do you understand?"
Robinson rose to prominence in the U.K. as the founder of far-right group the English Defence League, before leaving in 2013.
The anti-Islam group are described as a "racist organization" who were known for staging street rallies and protests againt Islamic extremist and Muslim pedophile gangs.
"Although it claims only to oppose Islamic extremism, it targets the entire Muslim community and its actions deliberately seek to whip up tensions and violence between Muslim and non-Muslim communities," said Hope Not Hate, a U.K.-based group that campaigns to counter racism and fascism.
Robinson was banned from Twitter earlier this year for breaking the platform's "hateful conduct" rules for posting anti-Islam tweets.