Patrick Mahomes vs Tom Brady Super Bowl Showdown Like LeBron vs Jordan, Tony Romo Says
The teams for Super Bowl LV are now set, and it didn't take long for the CBS announcers who'll call that game to compare the two quarterbacks for the big game. It's old versus new. It's the best quarterback in history against the guy nipping at his heels. It's the great one playing the next greatest one.
It's Tom Brady playing against Patrick Mahomes for the Super Bowl Championship on February 7 at Raymond James Stadium in Tampa, Florida.
During the waning moments of the AFC Championship game Sunday night on CBS, color analyst Tony Romo gawked at the idea of Brady and Mahomes playing against each other in the Super Bowl. He compared it to LeBron James playing against Michael Jordan in the NBA Finals.
"Talk about your all-time matchups, right. This is literally going to be like LeBron or Jordan, right, playing in the [NBA] Finals. I mean it's unbelievable," Romo said during the last four minutes of the Chiefs' 38-24 win over the Bills on Sunday.
James and Jordan are often referred to as the two biggest superstars in the history of basketball. The comparisons between them often conjure debates on which one was better, even though they played in different eras. LeBron's career stats are often better, but Jordan won more championships—and didn't lose any. They never had the chance for match-ups like Brady and Mahomes already have.
And they never played against each other in a Finals, like Brady and Mahomes will do in two weeks.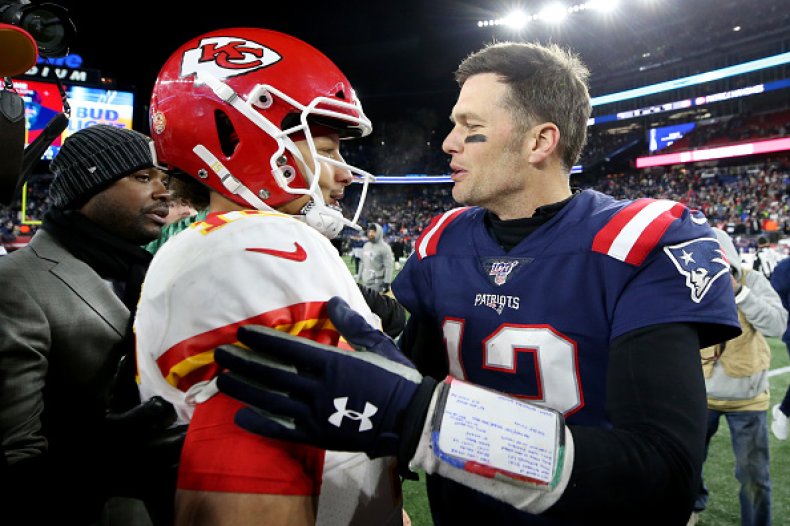 Though it's quite difficult to compare Brady and Mahomes at this point in their careers, Romo knows the comparisons should be noted because this might be the last time they ever face each other on the field.
"Two highly-competitive people who know how important this game is," said Romo, who spent his career with the Dallas Cowboys. "Because you just never know where Mahomes ends up in his career. You know he's going to right up there with everybody."
Brady and Mahomes are the winning quarterbacks from the last two Super Bowls, and they have a 2-2 record against each other, which includes the playoffs. They met twice in the 2018 season, with Brady winning a pair of shootouts when he was still with the New England Patriots.
Here are the all-time meetings between them:
October 14, 2018
New England 43, Kansas City 40
Mahomes tossed a 75-yard pass to Tyreek Hill to tie the game at 40-40 with three minutes to play, but Brady engineered a game-winning drive in Foxborough.
January 20, 2019 (AFC Championship)
New England 37, Kansas City 31 (OT)
The Patriots got the ball first in overtime, and Brady drove the team downfield for the game-winning touchdown at Arrowhead Stadium in Kansas City. Brady went on to win the Super Bowl that season against the Los Angeles Rams.
December 8, 2019
Kansas City 23, New England 16
Mahomes notched his first win against Brady in Foxborough when the Chiefs defense batted away a Brady pass on a fourth down late in the game. The Chiefs built a 20-7 lead, but Brady worked his way back to perhaps tie the game and send it to overtime. Mahomes went on to win the Super Bowl.
November 29, 2020
Kansas City 27, Tampa Bay 24
Mahomes traveled to play Brady on the road for a third time, and the Chiefs held off the Bucs—Brady's new team in 2020—for the late win. Mahomes passed for 462 yards that day at Raymond James Stadium, where he will meet the Buccaneers and Brady again for Super Bowl LV.
CBS' lead play-by-play announcer Jim Nantz said he asked Mahomes earlier in the week how important it would be to face Brady again to perhaps get a final win over Brady, and Mahomes said, "he wanted that," Nantz claimed.
Head to head stats between Brady and Mahomes during their careers:
Mahomes
Wins — 2
Completion percentage — 65.4
Pass yards/game—348.8
TD/INT—11/3
BradyWins— 2
Completion percentage—63.3
Pass yards/game—300.5
TD/INT—6/5