Who is Tonya Harding? Ice Skater's Life Serves as 'Cautionary Tale,' Says 'I, Tonya' Screenwriter
It was the crack heard around the world. On January 6, 1994, beloved figure skater Nancy Kerrigan was struck on the right kneecap with a police baton, nearly costing her the chance of competing in that year's winter Olympics.
It was quickly determined that the attacker, Shane Stant, was hired by a man named Shawn Eckhardt, a self-professed intelligence agent and friend of Jeff Gillooly. Gillooly was the husband of Kerrigan's main team competitor, the complicated, tough and not-so-beloved Tonya Harding.
Kerrigan and Harding would, awkwardly, compete together at the Lillehammer Winter Oympics seven weeks after the attack. Kerrigan took home a silver medal, while a clearly distraught Harding placed eighth. A few months later, Gillooly and his associates were convicted and sent to prison for a year. (His more lasting punishment might have been his last name becoming a synonym for kneecapping.)
But it was Harding whould ultimately pay the price for the crime. Once Gillooly was convicted, Harding, the first female skater to complete a triple axel in competition, was stripped of her 1994 U.S. Championship title and banned from figure skating forever. To this day, she claims she knew nothing of the plot.
The attack created a media frenzy, with reporters in print and on TV spinning an indelible storyline: Harding was a White Trash interloper in the classy word of figure skating, Kerrigan was that world's reigning Princess. It was bad girl versus good girl—cat nip for the 24-hour news cycle, just coming to a boil in 1994 via tabloid TV shows like Hard Copy.
Twenty years later, screenwriter Steven Rogers, who grew up in Harding's home state of Washington, is presenting a "true-ish" version of Harding's side of the story, in the new film I, Tonya. Starring Margot Robbie as Harding and Sebastian Stan as Gillooly, a dark comedy that also manages to break your heart. Rogers told Newsweek that the movie shows the consequences of casting judgements without the facts. Among other things, he sees Harding as "a cautionary" tale.
Newsweek's interview with Rogers was condensed for length.
What made you want to tell Tonya's story now?
I had just written a Christmas movie called Love the Coopers, and I wanted to write something totally different. I happened to see this great 30 for 30 documentary [Price of Gold on ESPN] that Nanette Burstein did [on Harding], and I thought, "Well, nothing says Christmas like Tonya Harding!"
There were things about [her story] that interested me about truth, the perception of truth and the things that we tell ourselves in order to be able to live with ourselves—how we change the narrative. It's also about media and class in America. So I went to Tonya Harding's website to see if the life rights were available, and I called the number for her agent and it was a Motel 6! I just thought, I'm in.
It's very surreal when I talk about this because I wrote this as a spec script—no one was paying me for it. And I had never interviewed anybody before. But I tracked down Tonya, and I tracked down Jeff Gillooly, and they agreed to talk to me. Their stories were so wildly different; I felt like they were telling themselves what they needed to in order to be able to live with themselves. I thought, "Well that's my in. I'll present everybody's point of view of what happened and let the audience decide for themselves."
What was your first impression of Harding?
I found myself in Sisters, Oregon, where she was living at the time. I'd never been there. She picked me up at my lodge, because you stay in lodges in Sisters. We rode in her truck—I remember there was no outside passenger door handle—to go to some restaurant. The first meeting was just to see if we liked each other. A lot of what she said sounded rote, because she's told [her story] so many times. And I knew I'd have to get her to open up.
What was your reaction to the scandal when it happened?
I remembered a little bit, but it wasn't a big thing to me. I've kept journals since I was 8, so I looked up that time and what I thought was that [Harding's behavior] was all for attention. When Tonya's lace broke [at the Figure Skating Ladies' Free Skate in Norway in 1994] I just thought, "Ugh. She's doing it for attention." That's what the media fed me.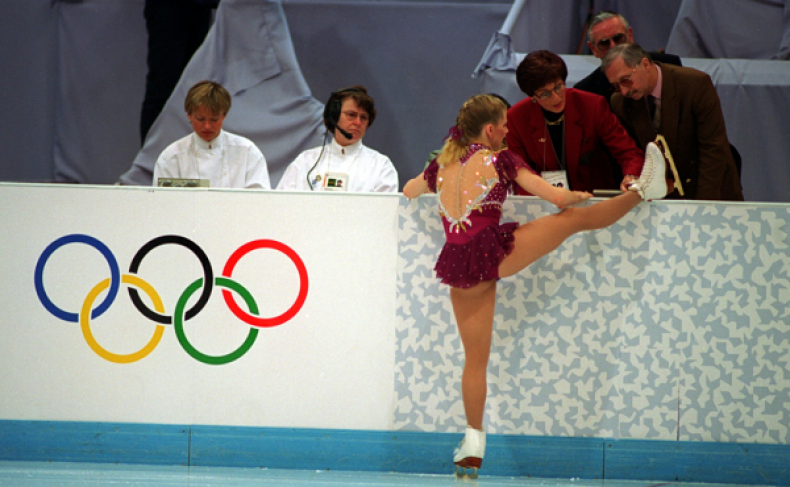 When Harding told you about her childhood, how her mother, LaVana Golden (played by Allison Janney) and her husband Jeff (played by Sebastian Stan) physically and emotionally abused her, did you feel more empathy for her?
Of course. I mean, that's what I really wanted to do with the screenplay. I felt all the characters had been reduced to a punchline, or to just one thing. [Nancy ] the good one, [Tonya] the bad one, and [Jeff] the villain. But nothing is that black or white. There were no heroes. I really wanted to make everyone human.
The media went after Harding really aggressively, camping out on her lawn for months. At one point, a Hard Copy reporter (played in the film by Bobby Cannavale) admits he used to take the air out of her tires so she couldn't get away from them.
It was really the beginning of the 24-hour news cycle, and it was the start of when The New York Times crossed the line—when it was standing right next to Hard Copy to get that story. They had to fill 24 hours [with news] and they didn't care about being accurate; they just cared about content. Nowadays, you look at a news station—not even a program—depending on what your point of view is. Not the facts, but your preference. It's a cautionary tale. That was the start of all that.
Margot Robbie plays Tonya Harding, and she's brilliant. Did you have her in mind for the part?
Margot went after the part. I think the day after I partnered up with Brian Unger to produce it, we got a call asking if we'd meet with her. She had read [the script] and liked it. And what's interesting about that is when we sat down and talked with her [and] I brought up the real Tonya Harding and my interviews with her, there was this sudden intensity behind [Margot's] eyes. And I just thought, "Oh this is interesting," because when I interviewed Tonya and she was talking about landing the triple [axel], she had the same look. I thought, "We have something here."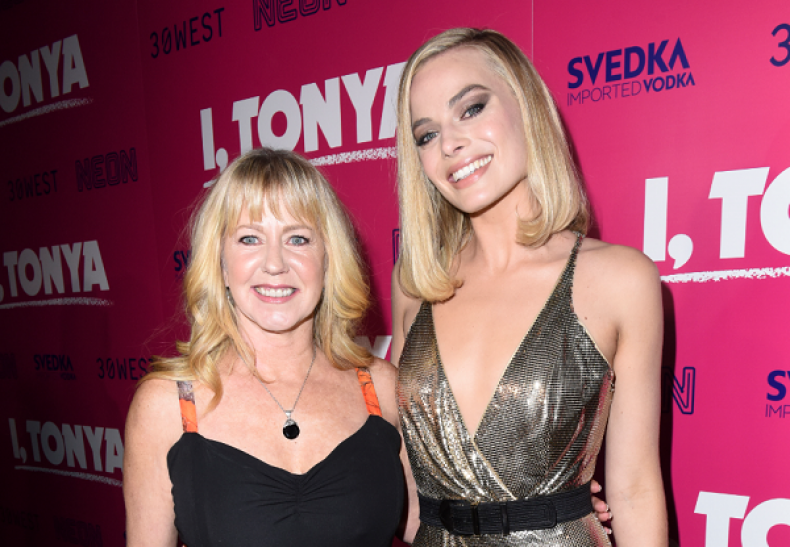 Was Tonya involved in other aspects of the movie, beyond the interviews?
No. You know, you're dealing with a real person, so I did let her read the script and she has seen the movie. But she wasn't involved in the making of it.
What was her reaction to the movie?
I was very nervous because can you imagine someone saying to you, "I'm writing a movie about your life, which we're gonna whittle down to two hours. Here, watch it!" But she said she laughed, she cried. She said there were things that she didn't like, but she's written me two emails thanking me. She's happy. I think it was just important for her to get her side of it out.
The movie is both hilarious and unbearably sad. Like Harding said, it makes you laugh and cry. How did you find the right balance between respecting the seriousness of what happened and keeping it funny?
I didn't want to tell a conventional story, and, to me, the story is very funny, as well as very tragic and very crazy. And it is very true-ish. [Laughs] It's all those things. Life isn't one thing, it's everything. So I used that tone very deliberately.
Harding was treated badly by the National Ice Skating Association, which didn't think she was pretty or nice or elegant enough for their world. She wasn't their definition of what a female figure skater should be and they lowered her scores for that. I'm wondering if you intended to touch on issues of class and gender that are making a lot of news today.
I wanted to write about the media certainly. And I wanted to write about class. But, truthfully, I finished the screenplay before [Donald] Trump [won the election]. So that had not happened yet. A lot of the issues making headlines now had not happened. I don't think it was me being psychic. But I was aware of the differences [of class within the Figure Skating Association] when I was writing it, but not to the extent that exists currently in America.
What do you hope people pick up from the film?
Life isn't fair, but to me there's a fairness you have to have with everything and everybody. There are people who are eager to write their opinion in the comments section without knowing anything about what they're talking about, and I hope those people see the film. We were all so quick to judge Tonya. I wanted this movie to say, "You know what, just take a step back. Why don't you examine all of the facts before you come out here with your good opinion?" I wanted to humanize the characters—that's really what I wanted to do—because Tonya and Jeff didn't have that then.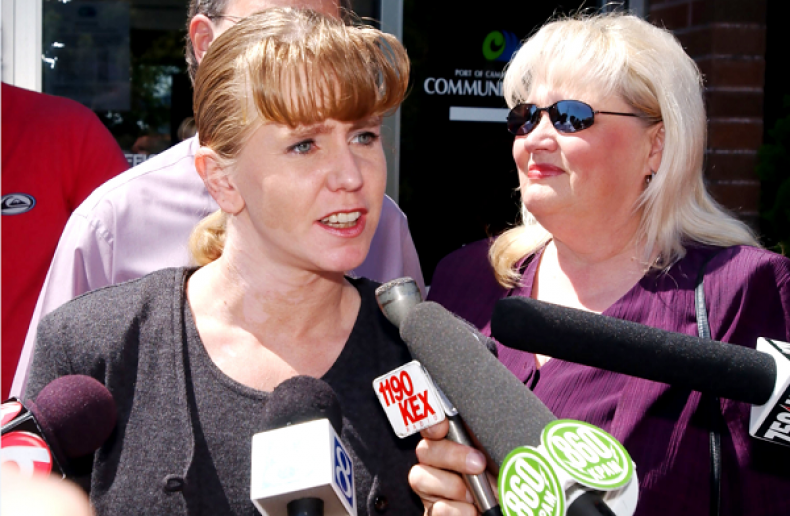 After getting to know Harding and hearing her side of the story, do you feel she deserves an apology for how she was treated—from the Skating Association and the media?
Absolutely, yes. Like I said, I remember thinking, "Oh she just wants attention." That's what we were fed. And she was kicked out of the Skating Association, which means that even if she wanted to train a skater, she can't. I feel like she was treated unfairly. Do I know if she was really involved [in the Kerrigan attack]? No. I'll never know. But I didn't care about that. I cared about putting all points of view out there.
Do you think this movie can serve as some kind of redemption for Harding?
I hope so, for Tonya and Jeff. Film is a very powerful medium. People go in feeling one way and they come out feeling another. They also come out reevaluating how they behaved.