'Too Hot To Handle' Is Netflix's Raunchiest Attempt at a Dating Show Yet
Netflix debuted a new kind of dating show Friday: one that flips the idea of television-show intimacy on its head. While series like The Bachelor, Love Island and Are You the One have prepared masses of viewers for boatloads of entertaining lust, Too Hot To Handle makes physical touch illegal. That doesn't mean everyone will obey the law, though.
The reality show has one cardinal rule: no sex. This isn't limited to just intercourse, though. The group of international singles, perched in a luxurious abode in Punta Mita, Mexico, with ultra-hot roommates, aren't allowed to kiss each other, or "self-gratify," either. This is certain to pose a problem, as the show purposely cast the most promiscuous people they could find, the show's introduction explains.
After 12 hours, the "sex ban" goes into action. Each time the "players and playettes" on the show kiss, or more, their $100,000 prize amount drops. It comes down to preference: sex or money? As the narrator says: "These guys are screwed... just not in the way they want to be."
The ultimate goal, though, is to teach this group of casual daters to form meaningful connections. While this "sex ban" concept is new, taking a unique approach to potential love stories appears to be a fixation for Netflix. Too Hot To Handle comes just months after Love Is Blind captured the attention of millions. That show, which debuted in January, forced singles to get engaged before ever even seeing their loved one in person. Looks didn't matter, Love Is Blind tried to argue; now sex doesn't, either.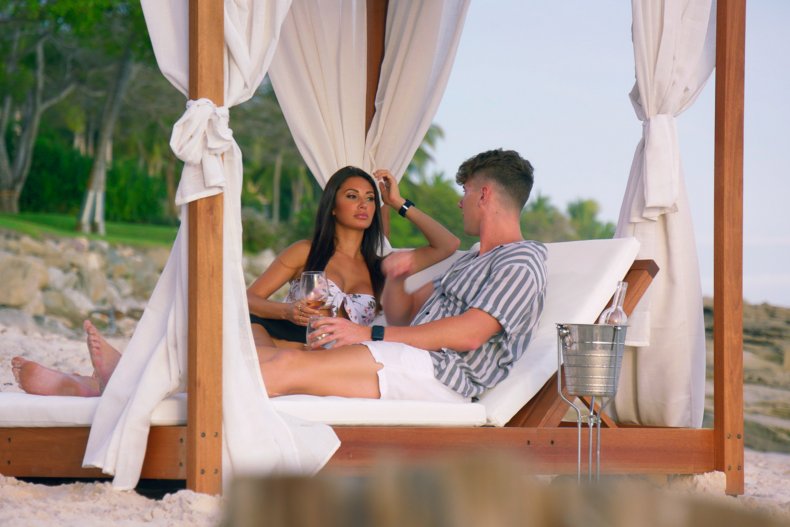 What Too Hot To Handle lacks in physical chemistry (though, it doesn't lack much, since, despite the conditions set, each player's main way to hold a conversation is via heavy flirtation), it compensates for in the general theme of the show. Though the no-sex policy stands, the series is predicated on the concept of sex as a leading relationship spark. Too Hot to Handle might be "sex-less," but every episode is borderline NSFW because of the comical sex references throughout.
It's really just a hornier Love Island, it seems, with ever-growing financial penalties. The show is beautifully cheesy and comically raunchy. It's designed to become an instant guilty pleasure for anyone who eats up reality TV—particularly dramatic dating shows. Like Love Is Blind, which seemed like a too-ridiculous concept at first, Too Hot To Handle could infatuate viewers with just how wild it is. And also like Love Is Blind, Too Hot to Handle could result in some long-term pairings. After all, three of the couples from Love Is Blind are still together, and two of them were married in the last episode of the show. You could argue that dating in the isolated "pods" actually worked, so why not this?
There is, also, the coronavirus of it all, something Netflix's writing room couldn't have predicted. COVID-19 is changing the way that people date, at least for the time being. Love Is Blind introduced the idea of dating in isolation just a month before coronavirus really began invading American life. Now, Too Hot To Handle questions just how difficult it is—or how easy it is—to form a lasting bond without physical connection or gratification, without being able to get close to one another. Imagine that.