American actress Kathryn Kates has sadly died at age 73. Her agents confirmed the news she had died at home surrounded by her family after a "hard-fought battle with lung cancer." Her passing comes as a huge loss to the acting world and the screen, with fans and famous faces leaving emotional tributes online.
Kates was no stranger to the small-screen or big movie sets, beginning her career in the 1980s and 1990s, appearing in episodes of Matlock, Thunder Alley, and Seinfeld. In her later years, she starred in episodes of Caroline in the City, Lizzie McGuire, Judging Amy, and Rescue Me, and had roles in the films Lola Versus, and The Nurse and Asylum.
She also had a successful on-and-off Broadway career and was the founding member of The Colony Theatre in Los Angeles.
Newsweek has taken a look back at Kates' top five roles over her incredibly long career.
The Top 5 Kathryn Kates Film and TV Roles
1. Orange Is the New Black
In Netflix's Orange Is the New Black, Kathy Kates took on the role of Amy Kanter-Bloom, the mother of Larry, played by Jason Biggs.
She made her debut in Season 1 of the show in 2013 and reprised the role in the show's seventh and final season in 2019.
In total, Kates appeared in four episodes:
Season 1, Episode 1: "I Wasn't Ready"
Season 1, Episode 5: "The Chickening"
Season 1, Episode 13: "Can't Fix Crazy"
Season 7, Episode 1: "Beginning of the End"
You can watch Kates in Orange Is the New Black via Netflix now.
2. Seinfeld
During the 1990s, Kates appeared in two episodes of the hit sitcom Seinfeld and quickly became one of the show's most iconic characters.
Kates played the role of a counterwoman, first appearing in the 1994 episode "The Dinner Party" (the Babka episode) and reprising the role in "The [Marble] Rye" episode in 1996.
The podcast about the much-loved series, This Podcast is Making Me Thirsty, paid tribute to Kates on Twitter following the news of her death.
The tribute read: "We are [heartbroken] to learn of the passing of Kathryn Kates. She made us laugh on two episodes of Seinfeld but leaves a legacy of kindness and humanity to all those she touched. RIP Kathryn."
Seinfeld is streaming on Netflix now.
3. The Many Saints of Newark
Most recently, Kates starred as Angie DeCarlo, the parlor shop owner, in the 2021 film, The Many Saints of Newark, a spin-off prequel to the 1990s series, The Sopranos.
The Many Saints of Newark takes place during the 1960s and 1970s in Newark, New Jersey, and follows a violent gang war from the perspective of mobster Dickie Moltisanti (played by Alessandro Nivola) and his teenage nephew, Tony Soprano (Michael Gandolfini).
In The Many Saints of Newark, Kates starred alongside Alessandro Nivola as Dickie, Michael Gandolfini as Tony, Leslie Odom Jr. as Harold McBrayer, Jon Bernthal as Johnny Soprano, Corey Stoll as Junior Soprano, and Vera Farmiga as Livia Soprano.
You can see Kates in The Many Saints of Newark via HBO Max now.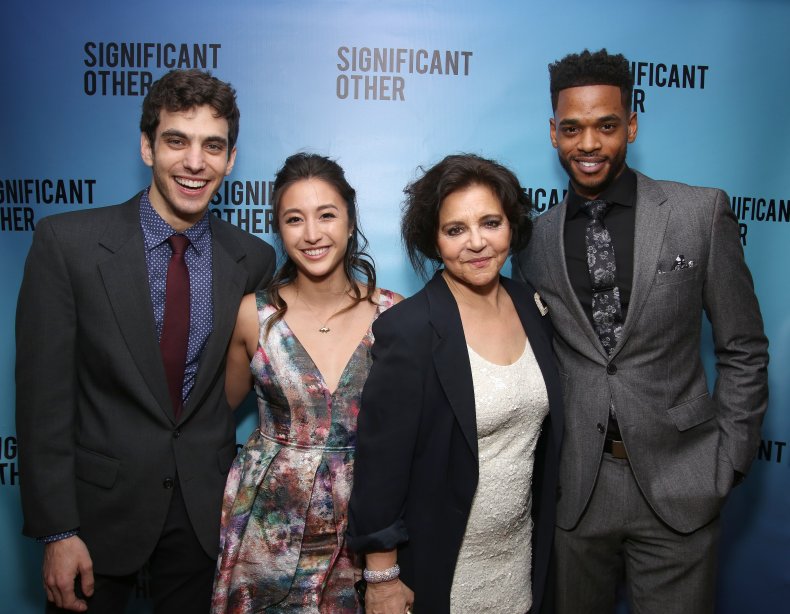 4. Law & Order: Special Victims Unit
In Law & Order: Special Victims Unit (SVU), Kate's guest-starred as Judge Marlene Simons. Her character Marlene was a trial judge who had encountered the SVU on several occasions.
Kates appeared in five episodes in total, with her last appearance in the role airing in November 2020:
Season 18: "Decline and Fall"
Season 19: "Unintended Consequences" and "Chasing Demons"
Season 20: "Alta Kockers"
Season 22: "Ballad Of Dwight and Irena"
You can watch Kates in Law & Order: SVU now via Hulu.
5. Lizzie McGuire
For many Lizzie McGuire fans and Gen Z's, Kathy Kates will be remembered Lizzie's eccentric neighbor Mrs. Carrabino.
In the episode, titled "You're a Good Man, Lizzie McGuire," Matt McGuire (Jake Thomas) and Lanny (Christian Copelin) were sent to do some errands for Mrs. Carrabino, who they called a "crazy cat lady" so they could earn money to buy a bike.
With the money they earned from cleaning Carrabino's attic, they were able to afford one bike between them and agreed to share it. However, the series hilariously ends with Matt sitting on his doorstep with his bike helmet in his hands, hoping Lanny will return with the bike before it is way past his bedtime.
In the end, Lanny and Matt decide to sell the bike after they realize fighting over something impossible to share, wasn't worth risking their friendship.
You can see Kates' episode of Lizzie McGuire now via Disney+.