Top GOP Strategist Rips Trump For Attacking Nikki Haley, DeSantis: 'Loser'
Donald Trump is no stranger to making his opinions about potential competitors known, but one GOP strategist recently criticized the former president's approach.
Trump is the only notable Republican candidate who has filed to run in the 2024 presidential election. Trump announced his third presidential campaign in November. Some polls have shown him dominating potential GOP contenders, while others present possible candidates like Ron DeSantis overcoming Trump in the 2024 Republican primary. Trump has recently taken to criticizing DeSantis and other potential candidates like former United Nations ambassador Nikki Haley.
GOP strategist and former White House Deputy Chief of Staff Karl Rove advised fellow Republicans against voting for Trump in an opinion piece for the Wall Street Journal that published Wednesday.
"It was a mistake to launch assaults against two prospective opponents, Mr. DeSantis and former United Nations Ambassador Nikki Haley," Rove said in his article. "Objects of his scorn should ignore the gibes unless they see a great opportunity for political jiu jitsu. Mr. DeSantis pulled off a particularly effective take down when Mr. Trump attacked his Covid record, saying Floridians must approve of it since they re-elected him by a massive 19 points. The subtext: Donald Trump is a loser."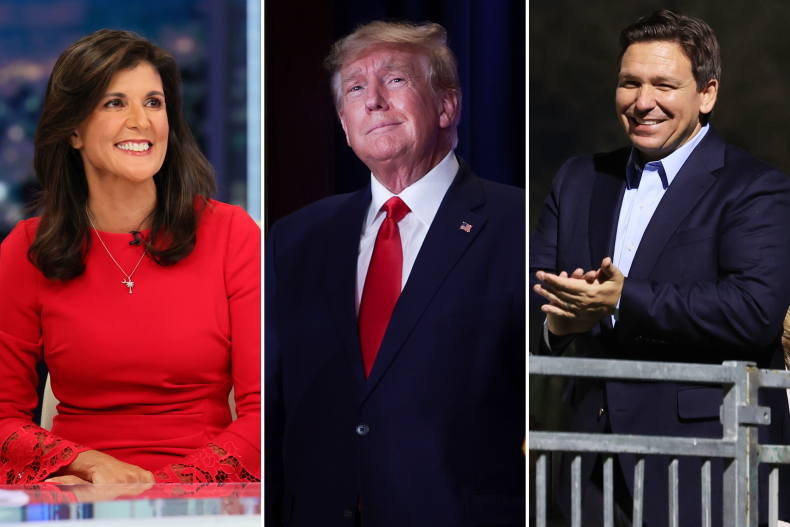 Both Haley and DeSantis haven't announced a presidential campaign, although Haley teased running for president earlier this month. Haley formerly worked as Trump's ambassador to the United Nations and is a former South Carolina governor, being the first woman elected to the position. Haley, who is considered to have more mainstream conservative views than Trump, has been slotted as a favorite to run for president and hinted at taking on the challenge in a Fox News interview earlier this month.
"Nikki has to follow her heart, not her honor. She should definitely run!" Trump posted on Truth Social with an old video of Haley declaring support for Trump and saying she wouldn't run if he did.
DeSantis hasn't announced a presidential bid either, but support for the Florida governor's presidential potential has been steadily increasing. In a recent poll by University of New Hampshire (UNH) Survey Center, DeSantis led Trump by double digits with 42 percent support. Trump had 30 percent support as the GOP primary choice in the survey, and Haley trailed with 8 percent. Other Republican names assessed in the poll included former vice president Mike Pence, senator Ted Cruz and former U.S. Representative Liz Cheney.
Trump, who previously supported DeSantis in his first bid for governor, held back on voicing support for DeSantis during his reelection campaign. Shortly after the election, Trump referred to his potential rival as "Ron DeSanctimonious" when DeSantis trailed him in a poll.
DeSantis easily sailed to a second term as Florida's governor, and people have been pitting the conservative governor's odds of winning against Trump's for months.
A day after Rove's op-ed was published, Trump responded with his own critical thoughts on the strategist.
"I'm 'killing' everybody in the Polls, but FoxNews always is able to find an outlier, usually old and non-credible, that makes me look as bad as possible," Trump posted on Truth Social Thursday morning. "They work with the Club For No Growth, and loser's like Karl Rove, and their Board Member, Paul Ryan—Globalist's All! In any event, we are winning BIG. MAGA!"
Newsweek reached out to Trump's campaign for comment.