As Trump Heads to New Hampshire, Republicans Say He's a 'Distraction'
Former President Donald Trump is the only notable candidate in the 2024 presidential election so far, but New Hampshire voters are growing tired of seeing his name as one, according to a new poll.
University of New Hampshire (UNH) Survey Center published a new poll on Thursday, just a couple of days before Trump is expected to appear in New Hampshire for a campaign stop on Saturday. The poll pitted Trump against Florida Governor Ron DeSantis, which revealed that the former president's approval rating trailed DeSantis' by 12 percent. However, DeSantis has not announced a presidential bid.
Trump, who won the GOP primary in his 2016 and 2020 presidential bids in New Hampshire, is facing an uphill battle this time around. Despite winning both primaries, Trump lost the state to Hillary Clinton in 2016 and Joe Biden in 2020. New Hampshire is typically a very competitive state for candidates, and as its election is one of the first in the presidential primary, news of a loss could lower Trump's chances of winning in other states.
In article published on Friday, Reuters interviewed several former Trump supporters, some who had even worked on his 2016 primary campaign, and found the majority of them no longer supported the former president. Instead, they viewed him as a distraction and accused Trump of being too polarizing.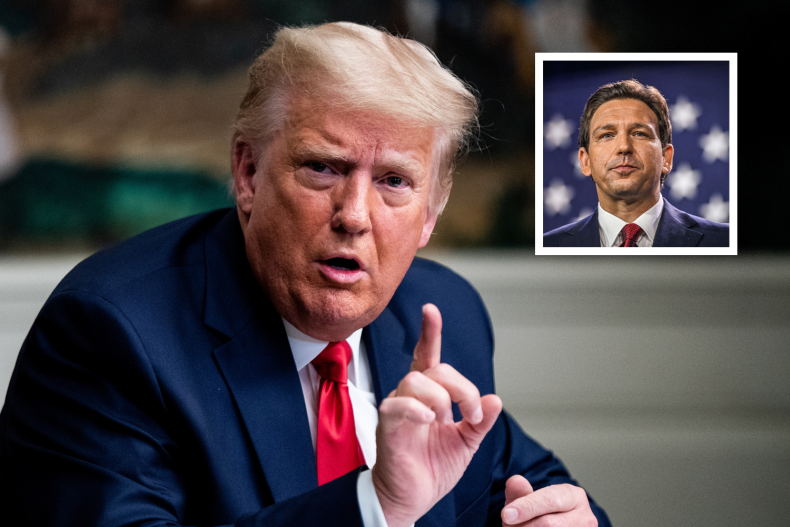 "Donald Trump right now is a distraction for the Republican Party in trying to go forward. Donald Trump has run his course," Brian Sullivan, 60, a Hillsborough County Republican Committee member who previously supported Trump, told Reuters.
Reuters also reported that former Trump supporters have grown tired of his antics. Another person the news organization interviewed was Lori Davis, who worked on Trump's campaign in 2016. Davis told Reuters that Trump's critical and judgmental approach has turned some of his supporters against him.
"I like Donald Trump. But he has gone too far polarizing. It's going to be an uphill battle for him in this primary because of his divisiveness. People are tired of the drama," Davis said. "I'm seeing that people want DeSantis. He has a lot of the Trump philosophy, but is not as bombastic, he's not attacking people 24/7. People are tired of that. It gives them headaches."
Trump's support has steadily declined as he is hit with more lawsuits and possible indictments regarding his possession of classified documents that were taken by the FBI during a raid last summer at his Mar-a-Lago residence, and his alleged meddling in Georgia during the 2020 election.
Trump, who hasn't been charged with any crimes and maintains his innocence, also faced scrutiny over his support of GOP candidates in the midterm elections, many of which didn't win their coveted seats. The Republican Party, who expected to see a "red wave" sweep the House and Senate in the midterms, won the House, albeit by a much thinner margin than expected.
Meanwhile, support for DeSantis has increased after he easily secured his reelection bid this past November.
"Support for DeSantis (42 percent) is largely unchanged since June 2022 (39 percent) while support for Trump (30 percent) has steadily declined from a high of 47 percent in July 2021," the UNH poll said, according to a Fox News article on Thursday.
Newsweek reached out to Trump's campaign for comment.