'Top Gun: Maverick' Cast: All the Call Signs Used in the Tom Cruise Sequel
A pilot's callsign is an important part of who they are in the word of Top Gun, and the same can be said of its sequel Top Gun: Maverick.
Of course, fans will already know and love Tom Cruise's Maverick and Val Kilmer's Iceman, as well as Goose (played by Anthony Edwards) from the original film.
But now it's time for a new batch of recruits with all new call signs, some of which are only seen in blink-and-you'll-miss-it moments onscreen.
Here is everything you need to know about the code names used in Top Gun: Maverick, and which pilots they are assigned to.
All the Call Signs Used in 'Top Gun: Maverick'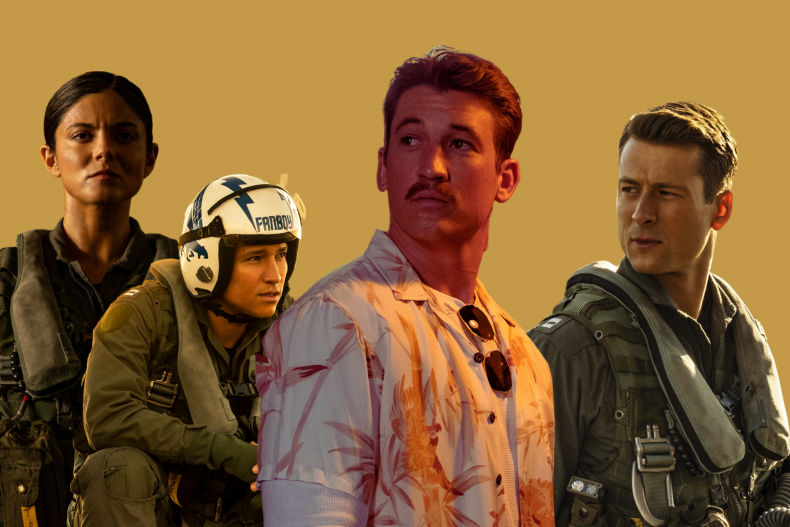 In Top Gun: Maverick, the eponymous character is tasked with training a group of F-18 pilots for a dangerous mission, one that they may not come back from.
Their mission is to target an unsanctioned underground uranium enrichment plant in an unnamed country that has been deemed a threat to U.S. security by the Pentagon, so they must destroy it without being detected before their escape.
It is up to Maverick to train the group so they're up for the task, and to then decide which of them will fly out on the mission and which will be in reserve.
There are 12 recruits in total for the mission, and because of this not all of the candidates are given as much screen-time as others.
Miles Teller portrays Bradley "Rooster" Bradshaw, whose call sign appears to be in reference to his late father own nickname Goose.
Other notable mission candidates include Monica Barbaro's Natasha "Phoenix" Trace, who works with Robert "Bob" Floyd (played by Lewis Pullman) whose call sign is made fun of in the film for its lack of ingenuity.
Glen Powell takes on the role of Jake Seresin whose call sign is "Hangman," and his and Rooster's rivalry in the film harkens back to Maverick's own with Iceman.
The other two main mission candidates are portrayed by Jay Ellis and Danny Ramirez, Ellis' character Reuben Fitch's call sign is "Payback" while Ramirez's Mickey Garcia's is "Fanboy."
While they are seen training, the rest of the team feature less prominently than the aforementioned characters so viewers may have missed what each of their respective call signs are.
The Good Place's Manny Jacinto appears in the film as Billy "Fritz" Avalone, and he is a Weapons System Operator (WSO) for Neil "Omaha" Vikander, played by Jack Schumacher.
Greg Tarzan Davis plays Javy "Coyote" Machado, while Raymond Lee is Logan "Yale" Lee and Jake Picking portrays Lee's WSO Birgham "Harvard" Lennox. Kara Wang stars as the final mission candidate, Callie "Halo" Bassett.
It's not just Top Gun's mission candidates who have call signs as the same is true for those higher up in the Naval Air Forces like Jon Hamm's Admiral Beau Simpson who has the nickname "Cyclone."
Ed Harris' character Rear Admiral Chester Cain has the call sign "Hammer," Charles Parnell play's Admiral Solomon "Warlock" Bates, and Bashir Salahuddin takes on the role of Chief Warrant Officer Bernie Coleman whose nickname is "Hondo."
Top Gun: Maverick is out in theaters now.