Jon Hamm Jokes Prince William's Eyes Made Co-Star Fall 'in Love' in London
Jon Hamm has described how Top Gun: Maverick co-star Miles Teller "fell in love" with Prince William's blue eyes when meeting the royal at a special screening in London also attended by Kate Middleton.
Mad Men actor Hamm told Jimmy Fallon on Wednesday that Teller "geeked out" over the prince when he was presented to the royal in a lineup led by Top Gun star Tom Cruise.
The actor's comments come after the internet was divided when footage of Cruise holding Kate Middleton's hand as she climbed a set of steps at the special Royal Film Performance in London went viral.
Commenters online couldn't decide whether the gesture was pleasantly accepted by Kate as "gentlemanly" or whether the royal wasn't appreciative, being seen to move her handbag to the side closest to Cruise at the next set of steps and ascending alone.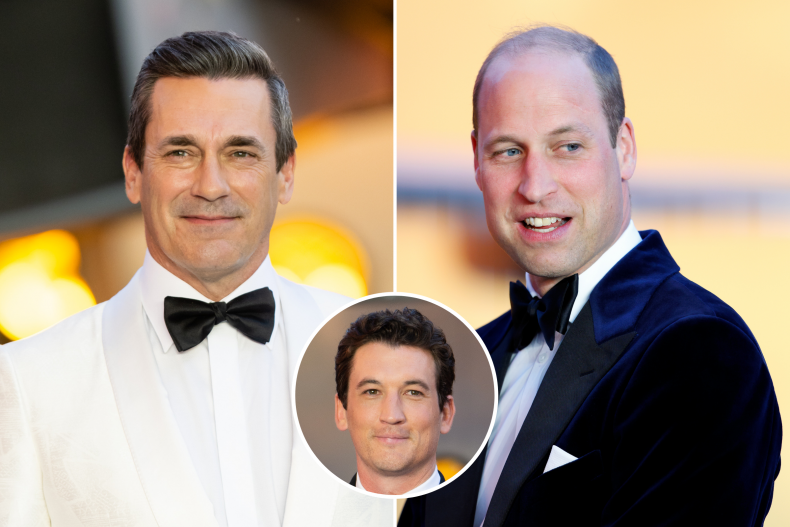 Hamm told Fallon that on the night there were "some guidelines, that are not so much guidelines but hard and fast rules that you are made to follow when you meet royalty."
"There's a bow involved," he continued, "If you're a lady you may bow or curtsy."
It was during the lineup that Hamm, alongside Fantastic Four star Teller, was introduced to the royals.
"There may have been a few breaches of etiquette," he told the show host.
"I heard a story that Miles Teller was kind of freaking out?" Fallon said.
"He geeked out a little over Prince William's eyes," Hamm said. "I remember him coming back afterwards and being like, 'they're so blue. I got lost in his eyes.'"
"I was like 'OK I didn't think we were allowed to look at him in the eye, but alright,'" Hamm continued.
"I was like, 'you told the guy you fell in love, like you got lost in his eyes,' and he goes, 'I think, I don't know, I lost my mind.'"
Hamm also described his appreciation for the royal but not for his eyes.
"It was a very cool experience and they couldn't be nicer," he told Fallon of meeting the Duke and Duchess of Cambridge.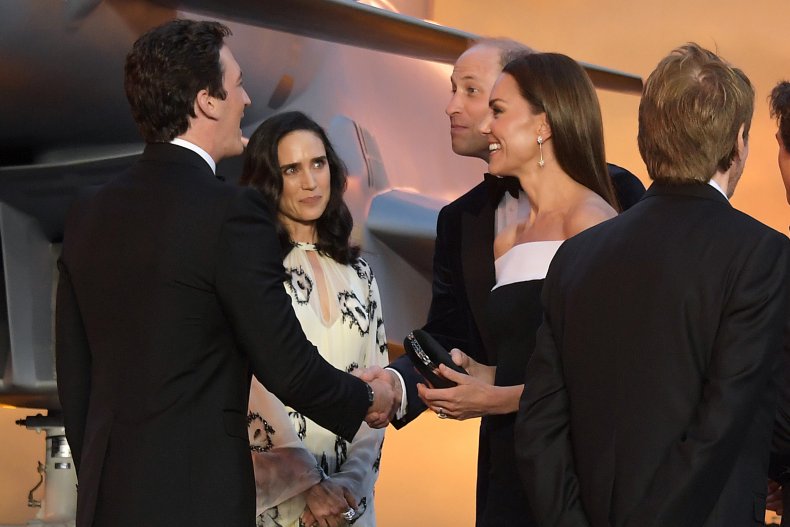 "It was black tie, so we're all in tuxedos, and Prince William had on his tuxedo shoes, embroidered [with] F-18s. Very cool Top Gun tuxedo shoes.
"I was like 'that means you've made it,'" he joked. "So I no longer worry about the prince. I feel like he's made it."
William's shoes were specially commissioned from British-based brand Crockett & Jones, famed for making James Bond's shoes in the movie series.
A spokesperson for the brand told Newsweek: "We can confirm that the slippers are Crockett & Jones. Having the Royal Warrant for HRH Prince Charles meant that we were gratefully approached to produce the slippers for HRH Prince William on this occasion, proudly turning the slippers around in just two weeks, usually a two-month process. One has little choice but to jump around for such a prestigious customer."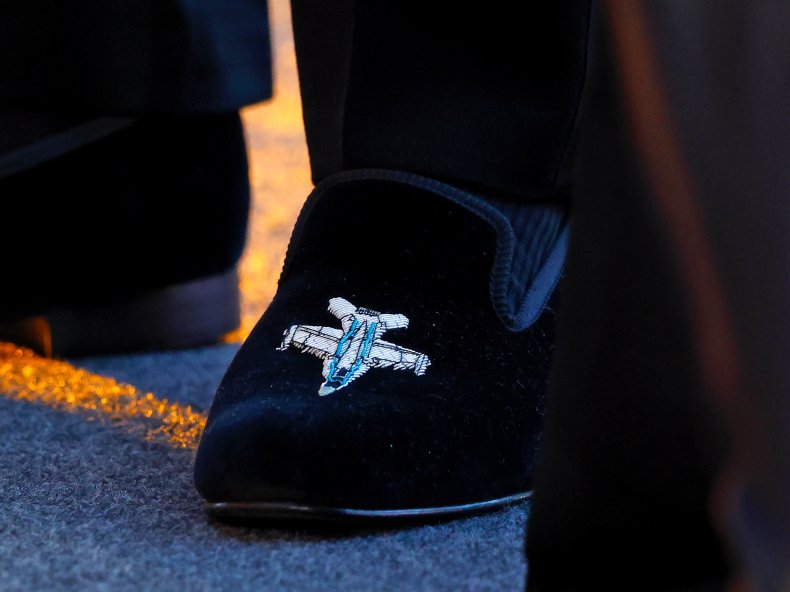 The premiere provided a rare occasion when the prince's sartorial choices gained as much attention as his wife's.
Kate wore a sleek figure hugging black evening gown with a white band across the shoulders from trusted designer Roland Mouret and paired it with a pair of black Prada high heel pumps and an Alexander McQueen clutch bag.
The event was hosted to raise funds for The Film and TV Charity of which William's grandmother, Queen Elizabeth II, is patron.
In a statement printed in the event's program, William wrote: "Catherine and I are delighted to be attending The Royal Film Performance 2022 to mark the much-anticipated U.K. release of Top Gun: Maverick."
He then went on to praise the work of the charity that supported it's community throughout the pandemic. He said: "Every success to all of those who have been involved in the making of Top Gun: Maverick and hope that this evening goes a long way to providing continued support to the charity's beneficiaries."