'Top Gun' Success Means Dems Will Lose at Midterms—Conservative Host
The success of Tom Cruise's movie Top Gun: Maverick has been cited as evidence that the Democrats will suffer huge losses in the midterm elections.
The critically-acclaimed sequel to the 1986 classic Top Gun, starring and produced by Cruise, has become the actor's biggest box-office opening in his career, raking in $156 million domestically in its first three days of release.
While many conservative commentators have already shared across social media their belief that the film is a hit because of its purportedly patriotic themes, radio host Steve Gruber said it also indicates trouble is looming for Democrats.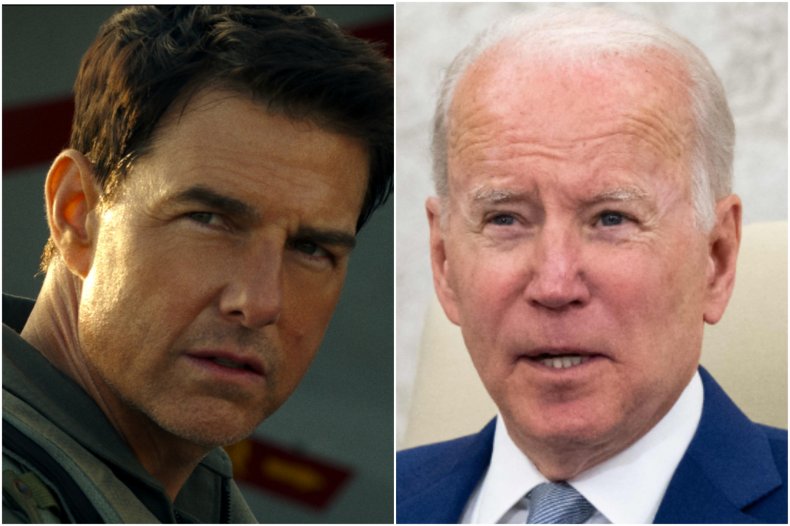 During a recent appearance on right-leaning Real America's Voice, Gruber predicted that "American pride will be returning" come November.
He said: "This is by far the biggest warning of all for mealy-mouth politicians and feckless weasels of all stripes, everywhere, RINOs, Democrats and socialists, that in November it's American pride that will be returning.
"And it will be Americans reawakening and taking back our country, and it is American pride that has driven the very rare A+ rating for the brand new Top Gun film."
Gruber's comments were mocked when they were shared on Twitter on Tuesday, with one person pointing to how the Democrats performed when the original Top Gun movie was released more than 35 years ago.
"The original Top Gun came out in 1986, which was a midterm election that saw Democrats retake the Senate and make gains in the House, while Reagan was in office," they commented. "Try again."
Another pointed out that there were women and Black people included in the cast of the movie, before rhetorically asking if that represented "wokeness."
Several others responded by stating that the film's box office success largely boiled down to the fact that it boasts a star-studded cast.
The film, which was released over Memorial Day Weekend after several delays due to the COVID-19 pandemic, features Cruise alongside the likes of Miles Teller, Jon Hamm, Jennifer Connelly, Val Kilmer, Ed Harris, and Anthony Edwards.
While the link between Top Gun and the midterm elections was largely seen online as a stretch, the Democrats have faced an uphill battle on the road to the midterms since before the blockbuster movie's release.
Most polls show Republicans leading a generic congressional ballot. Many have it relatively close; others, not so much. The Trafalgar Group released a survey on April 22 showing the GOP with a 13-point lead nationally in the race for Congress.
Robert Cahaly, the senior strategist at Trafalgar, said the poll simply reflects the disappointment that not only Republicans and independents feel about the Biden administration and the current state of affairs, "but a lot of Democrats, too."
"[Democrats] aren't becoming Republicans," Cahaly previously told Newsweek. "But a lot of them seem ready to cast a vote in the fall expressing their frustration with how things are going now.'"