Top Military Leaders Acknowledge Black and Hispanic Service Members Get Treated Unfairly in Its Justice System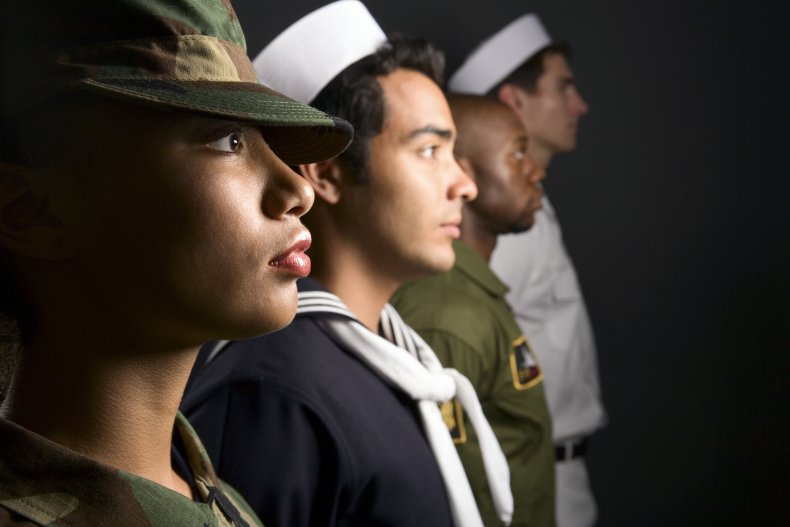 U.S. Military leaders during a hearing with Congress acknowledged that racial biases are responsible for a disparity in the military justice system.
Top legal officers from the Army, Navy, Air Force and Marine Corps testified before a House Armed Services subcommittee hearing on Tuesday, and they insisted that the military no longer engages in intentional racial discrimination, but agreed that discrimination takes place regardless.
"We no longer have intentional discrimination in our processes, [but] the fact is that racial disparity in the aggregate persists," said Air Force Judge Advocate General Lt. Gen. Jeffrey Rockwell.
"As good as our justice system is, we can never take for granted its health or its fairness," added Lt. Gen. Charles Pede, Judge Advocate General for the Army. "It requires constant care."
A report from the Government Accountability Office released last year found that black and Hispanic service members were more likely than their white counterparts to be investigated and subjected to trial by courts-martial, although the report did not find that race was a significant factor in service members being convicted.
Committee members admonished the military leaders for failing to act adequately to combat the racial disparity, with committee Chairwoman Rep. Jackie Speir (D-Calif.) describing their efforts as "unacceptable" with results that were "repugnant."
"I hope that all our military leaders in the room can accept that as a starting point for the change we must lead," Speier said. "We must seek new solutions."
A 2017 report from advocacy group Protect Our Defenders also concluded that "substantial racial disparities within military justice and disciplinary procedures, particularly between black and white service members."
At Tuesday's hearing, the group's leader, Retired Col. Don Christensen, said that the military's "long track record of doing nothing" in response had continued despite the issue being repeatedly raised.
"Like our country, the military has a long and painful history of mistreating racial minorities," Christensen said. "Black service members have continued to be prosecuted and punished at a much greater rate than white counterparts."
The hearing took place weeks after mass protests against racial injustice and police brutality began across the country following the death of George Floyd, an unarmed black man who died May 25 in police custody.
Last week, the Senate confirmed Gen. Charles Q. Brown to become the Air Force's top military leader, making Brown the first black officer to lead a U.S. military branch and only the second black officer to serve on the Joint Chiefs of Staff, after former Secretary of State Colin Powell.
Newsweek reached out to the Pentagon, who declined to comment.
Update 6/17, 4:39 p.m.: This article has been updated to note that the Pentagon declined to comment.