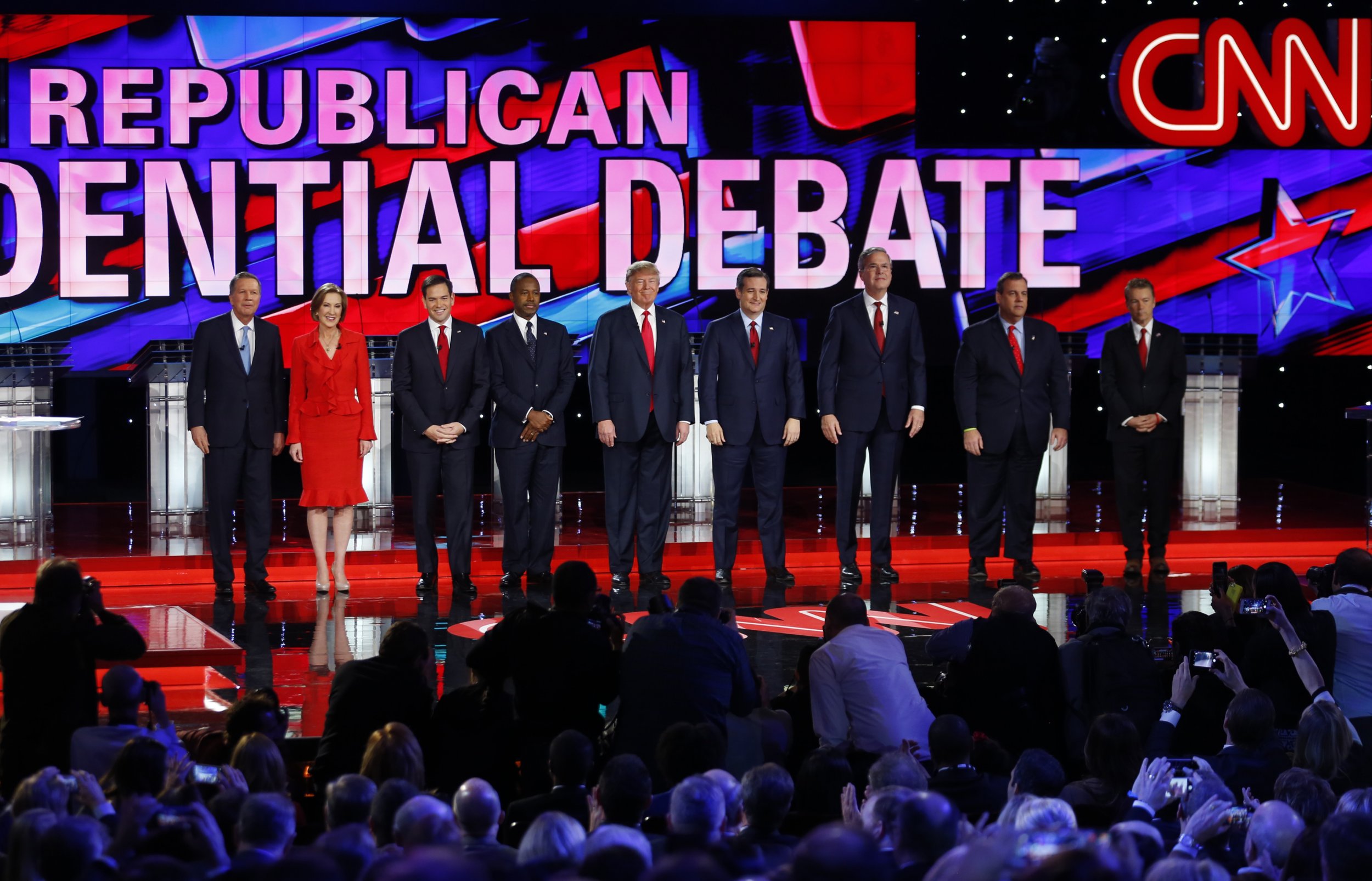 The fifth and final GOP debate of 2015 kicked off Tuesday night, with nine of the highest-polling 14 Republican candidates lined up on stage at the Venetian in Las Vegas.
Real estate mogul and front-runner Donald Trump, Texas Senator Ted Cruz, retired neurosurgeon Ben Carson, Florida Senator Marco Rubio and former Florida Governor Jeb Bush received more than the 3.5 percent average needed in the national polls to qualify for the debate.
Four others, New Jersey Governor Chris Christie, Ohio Governor John Kasich, businesswoman Carly Fiorina and Kentucky Senator Rand Paul also earned a place on the main stage, after host CNN decided to accept the 4 percent polling average in the Iowa or New Hampshire polls.
The four second-tier candidates debated earlier Tuesday night. One candidate, Jim Gilmore, didn't poll high enough to qualify for either event.
Moments before the candidates arrived on stage, Republican National Convention Chairman Reince Priebus welcomed the candidates' families and the rest of the audience members. He told them the RNC is "far better" than during the previous presidential election cycle in 2012.
"The one thing that we all need and the one thing that every one of these candidates on this stage needs," he added, "is a competent national party."
As the debate began, Trump took center stage, with Carson on his right and Cruz on his left. In the past month, Carson's popularity has declined, while Cruz polls in first place in Iowa. After each candidate's opening remarks, CNN moderator Wolf Blitzer asked Trump about his recent proposal to ban all Muslims temporarily from entering the U.S., following the deadly attack earlier this month in San Bernardino, California.
"We aren't talking about isolation; we're talking about security. We're not talking about religion; we're talking about security," Trump said.
"Our country is out of control," he added, promising to build a wall to stop people from crossing the southern border of the U.S.
Bush, after calling for a safe zone for refugees in Syria and for U.S. troops to be embedded into the Iraqi military, said Trump is a "chaos candidate" who would be a "chaos president."
"Donald is great at the one-liners," he added. "He would not be the commander in chief we need to keep our country safe."
In response, Trump blamed Bush's remarks on what he called the former governor's failing campaign. "Jeb doesn't really believe I am unhinged," he added. "All I want to do is make America great again."
Moderators attempted to get Cruz to tell voters where he disagrees with Trump, but Cruz refused to attack Trump head-on, instead pivoting to attack President Barack Obama. "He doesn't call radical Islamic terrorism by its name," Cruz said.
But Cruz was willing to concede that the war on terrorism shouldn't become a war on Islam. "It's not a war on faith; it's a war on a political and theocratic ideology that seeks to murder us," he said. In private audio from a Madison Avenue fundraiser released by The New York Times, Cruz told donors he plans to avoid attacking Trump, hoping to scoop up the business mogul's supporters after "gravity" brings Trump's campaign down.
When asked about his recent comments about shutting down the Internet to block militants from the Islamic State group, or ISIS, Trump called on "brilliant people from Silicon Valley" to figure out how to stop the group's online recruiting efforts.
"ISIS is using the Internet better than we are using the Internet, and it was our idea," he said. "We should be able to penetrate the Internet to figure out where ISIS is."
Trump said he is open to closing areas of the Internet from people who want to kill Americans.
Cruz said the U.S. needs to use overwhelming air power to "utterly" and "completely" destroy ISIS. "Political correctness is killing people," he said. "We need a president who is focused on defeating every single ISIS terrorist."
But Rubio said the U.S. can't destroy ISIS only through airstrikes. Rather, there needs to be a ground force. "ISIS is winning the propaganda war," he said. "We have to show what life is really like in ISIS territory."
The idea of moderate rebels in Syria is "like a purple unicorn. They never exist," Cruz said. "These moderate rebels end up being jihadists."
As her male colleagues argued over what to do in Syria, Fiorina, the only woman on stage, evoked Margaret Thatcher. "If you want something talked about, ask a man," Fiorina said, echoing Thatcher. "If you want something done, ask a woman."
Asked a question by the debate's moderators, Trump was interrupted by a protester who, according to CNN reporter Dylan Byers, tweeted that he was seated a few seats down from the protester, was upset about money in politics.
Later, on the topic of Russia, when asked if he would shoot down Russian planes and start a war with the country, Christie said: "A no-fly zone means a no-fly zone."
"Yes, we would shoot down the planes of Russian pilots if they were stupid enough to think that this president is the same feckless weakling that we have in the White House," Christie added, referring to himself.
At one point, Trump complained about how it was "very unfair" that during the undercard debate earlier in the night the moderators prefaced their questions with many of Trump's comments and beliefs.
Bush hit back, telling Trump, "This is a tough business, to run for president," including dealing with issues such as Islamist extremists and Russian President Vladimir Putin.
Trump responded again, taking aim at Bush's low polling numbers. "So far, I'm doing better," the billionaire said about the former Florida governor, as Fiorina threw her voice into the debate, saying their back-and-forth wasn't solving anything. "This is why the nation is fed up with the political class," she said.
Speaking about building a wall along the southern border of the U.S., which he has been talking about since his first day of his presidential campaign in June, Trump said he wants a "strong border."
"I want a wall. Walls do work. You just have to talk to the people in Israel," he said. "I know how to build. Believe me, I know how to build."
Towards the end of the debate, moderator Dana Bash attempted to goad Cruz and Trump into attacking each other, but neither man would be baited. Bash pointed out that Trump called Cruz a "maniac" only last week, while at the same time saying he would choose Cruz for his running-mate. But Tuesday night, Trump said Cruz was "just fine. Don't worry about it," he added.
Cruz, likewise, declined to attack Trump, arguing that his public comments about the mogul and his private comments to donors reflected a singular attitude.
In their closing remarks, many of the candidates explained what they think is the greatest threat to the country. Paul mentioned debt, while both Christie and Fiorina centered their responses on the September 11, 2001, attacks. "Radical jihadism terrorism is not theoretical to me. It's real," Christie said.
Some candidates reiterated what they would do if elected president. Bush said he will deliver "real results," while Cruz channeled former President Ronald Reagan by saying he will cut taxes and strengthen the military. Carson said he is grateful every day that he was born in the U.S., and Kasich said Republicans must win Ohio if they want the top spot in the White House. Rubio called the election the most important one in a generation.
Trump, the last candidate to speak, said the U.S. isn't victorious on any platform. "We don't win on trade. We don't win on the military. We can't defeat ISIS. We're not taking care of our great people, the great veterans. We have to change our whole way," he said. "Nothing works in our country."
This is a developing story and will be updated as more information becomes available.