Washington Capitals' Alexander Ovechkin, a big supporter of Russian President Vladimir Putin is set to face off against, New York Rangers' Artemi Panarin, who has previously been vocal about his distaste for Putin.
The two, who are considered in the top five Russian-born players in the NHL based on the number of career points, are set to battle in a game on Thursday. The game between the Capitals and Rangers comes as Putin recently declared a "special military operation" in Ukraine, following days of growing tensions between the two nations.
In 2017, Ovechkin, who holds the record for most NHL points for a Russian-born player, expressed his support for Putin in an Instagram post, announcing that he was launching "a social movement in the name of PutinTeam."
"Be a part of this team—to me it's a privilege, it's like the feeling of when you put on the jersey of the Russian team, knowing that the whole country is rooting for you." Ovechkin wrote in an Instagram post featuring a picture of himself and Putin.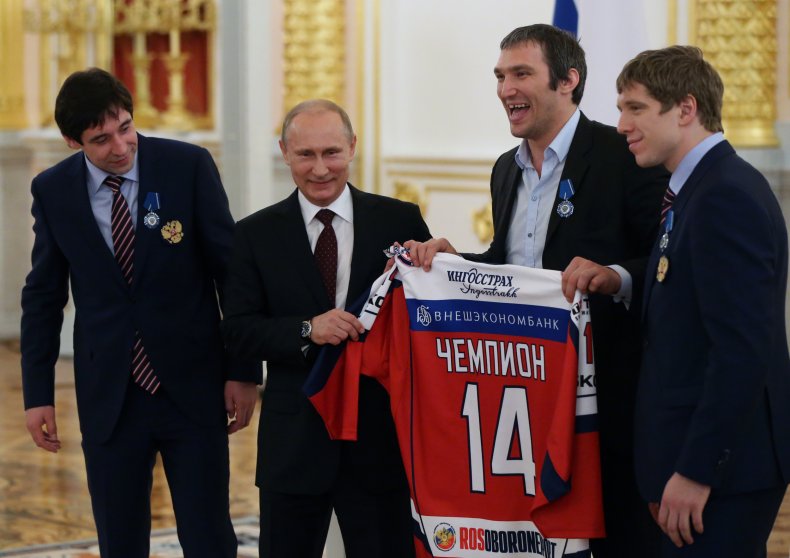 According to the Associated Press, shortly after his 2017 Instagram post, Ovechkin said, "I just support my country, you know?"
"That's where I'm from, my parents live there, all my friends. Like every human from different countries, they support their president," Ovechkin said during a postgame interview in 2017. "It's not about I try to make a statement, like politic stuff.… It's just what I think and what I support."
On the other side of the ice, Panarin, who was also born in Russia, has previously expressed opposition toward Putin.
In 2019, Panarin posted a picture on Instagram showing support for Russian opposition leader Alexei Navalny, who has been in jail after being accused of money laundering. According to the Guardian, during an 2019 interview with the Vsemu Golovin Russian YouTube channel, Panarin said, "The mistake in our society is treating [Putin] like a superhuman.… He is a regular person, like us, and he is serving us."
"Yes, to be a president you have to be smart and enlightened, but our biggest mistake, among many, is thinking that we have nobody better than Vladimir Vladimirovich. This is nonsense. How many million people live here? No question there is someone better," Panarin added, according to the Guardian.
Ahead of the game on Thursday, many social media users shared their own thoughts about Ovechkin's support for Putin following the invasion of Ukraine.
"Seeing a lot of 'Ovechkin shouldn't have to answer questions about Putin' and that's ridiculous. He campaigned for him. He's always tried to have it both ways by being a hype man for Putin but claiming it's not political. It is absolutely fair to ask him about Ukraine," Greg Wyshynski, a senior NHL writer for ESPN, posted on Twitter.
Samantha Pell, a Capitals beat reporter for The Washington Post, said, "Ovechkin wants further time before speaking on Russia's attack on Ukraine."
"Ovechkin's wife, kids, mom + dad are in Russia," Pell added.