The Top 10 True-Crime Dramas Streaming Now
The true-crime concept is showing no signs of slowing down as a TV genre, as audiences, writers, actors, and directors want to get behind it. Over the years, TV has shifted from telling fictional tales to telling real stories that happened to real people.
Unfortunately, some of these cases remain unsolved or have huge question marks hanging over the outcome, drawing in audiences across the world.
Newsweek has a complete list of the Top 10 true-crime dramas streaming now.
The Top 10 True-Crime Drama's Streaming Now
1. Dr. Death
Dr. Death is Peacock's new true-crime drama about disgraced neurosurgeon Dr. Christopher Duntsch.
The eight-part series is a loose adaption of the podcast of the same name and delves deep into the story of Dr. Christopher Duntsch, who is currently serving a life sentence for maiming an elderly patient.
Across two years, Duntsch injured 32 of his 38 patients. Two of his patients, Floella Brown and Kellie Martin, died and his friend, Jerry Summers, was left a quadriplegic.
The series traces Duntsch's rise to the top and his monumental fall, leading to his arrest and conviction.
Joshua Jackson portrays Dr. Duntsch in the series, opposite Christian Slater as Dr. Randall Kirby and Alec Baldwin as Dr. Robert Henderson.
Dr. Death is streaming on Peacock now.
2. The Serpent
The Serpent is the epic eight-part series that tells the story of French serial killer Charles Sobhraj (played by Tahar Rahim).
Known as the 'bikini killer', Sobhraj and fellow criminal Ajay Chowdhury between 1974 and 1975 committed at least a dozen murders and potentially more across Southeast Asia.
Sobhraj preyed mainly on Western tourists, primarily beatniks, traveling the Hippie Trail of Southeast Asia.
Dutch junior diplomat Herman Knippenberg (Billy Howle) begins to investigate the mysterious disappearance of numerous backpackers and their deaths, leading him to Sobhraj.
What begins is a cat and mouse chase spanning two decades.
The Serpent stars Tahar Rahim, Jenna Coleman, Billy Howle, and Ellie Bamber and is available to stream now via Netflix.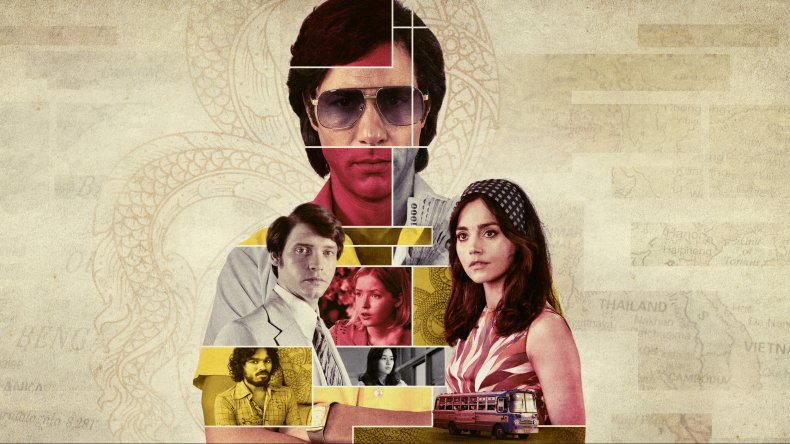 3. Mindhunter
Mindhunter is a psychological crime-thriller series based on the 1995 true-crime book Mindhunter: Inside the FBI's Elite Serial Crime Unit, written by John E. Douglas and Mark Olshaker.
The book's co-author, John E. Douglas was one of the first criminal profilers for the FBI.
The series follows the founding of the Behaviour Science Unit in the FBI and the late 1970s and traces the beginning of criminal profiling.
Just like Douglas did in real life, Mindhunter's FBI agents Holden Ford (Jonathan Groff) and Bill Tench (Holt McCallany), alongside psychologist Wendy Carr (Anna Torv) interview imprisoned serial killers, in a bid to understand their psychology and why they committed the crimes that they did to prevent the same criminal acts from happening in the future.
Infamous serial killers who appear in the series include Jerry Brudos, portrayed by Happy Anderson, Dennis Rader (BTK), played by Sonny Valicenti, and David Berkowitz (Son of Sam) played by Damon Herriman.
Seasons 1 and 2 of Mindhunter are streaming on Netflix now.
4. When They See Us
When They See Us is the award-winning American crime-drama series, created, co-written, and directed by Ava DuVernay.
The four-part series traces the 1989 Central Park jogger case in which five black teenagers (known as The Central Park Five) were falsely accused and wrongly prosecuted on charges related to their ape and assault of a white woman in Central Park, New York.
Kevin Richardson, Antron McCray, Yusef Salaam, Raymond Santana were tried as juveniles in the case and as a result, received lesser sentences. Korey Wise, who was 16 at the time the assault took place was tried as an adult by the US legal system and served his sentence in adult prison.
Their guilty verdicts were overturned when the real attacker came forward 12 years after the attack took place.
The series features an ensemble cast, including Jharrel Jerome, Asante Black, Jovan Adepo, Michael K. Williams, Logan Marshall-Green, Joshua Jackson, Blair Underwood, Vera Farmiga, John Leguizamo, Felicity Huffman, Niecy Nash, Aunjanue Ellis, Marsha Stephanie Blake, and Kylie Bunbury.
When They See Us is streaming on Netflix now.
5. The People v. O.J. Simpson: American Crime Story
The People v. O.J. Simpson is the first season of the FX true-crime anthology series American Crime Story, created by Ryan Murphy and Brad Simpson.
The series is a dramatization of The People of the State of California v. Orenthal James Simpson criminal trial in 1995, starring Cuba Gooding Jr. as O.J. Simpson.
O.J. was accused and famously tried for the murders of his former wife, Nicole Brown Simpson, and her friend Ron Goldman who had been found stabbed to death outside Nicole Brown Simpson's condo in Brentwood, Los Angeles.
The series achieved critical acclaim, receiving 22 Emmy nominations and winning nine.
The star-studded cast includes Sterling K. Brown as co-prosecutor Christopher Darden, Sarah Paulson as lead prosecutor Marcia Clark, David Schwimmer as Simpson's defense attorney, Robert Kardashian, and Courtney B. Vance as Johnnie Cochrane as lead defense lawyer, Johnnie Cochran.
The People v. O.J. Simpson: American Crime Story is streaming on Netflix now.
6. The Assassination of Giovanni Versace: American Crime Story
The second instalment in the American Crime Story anthology series is The Assassination of Giovanni Versace.
The Emmy-winning series explores the murder of designer Gianni Versace, committed by serial killer Andrew Cunanan and the huge manhunt which followed.
Édgar Ramírez portrayed Versace and Glee's Darren Criss took on the role of Cunanan. Ricky Martin starred as Antonio D'Amico, Versace's partner, and Penélope Cruz portrayed Donatella Versace.
American Crime Story is back later this year with its third instalment: American Crime Story: Impeachment, about the impeachment of the 42nd President of the United States, Bill Clinton for charges of perjury and obstruction of justice.
American Crime Story: The Assassination of Giovanni Versace is streaming on Netflix now.
7. Dirty John: The Betty Broderick Story
Dirty John is another anthology series you will not want to miss.
The first season, titled Dirty John was based on the true-crime podcast of the same name about the exploits of John Michael Meehan, who was killed by his ex-wife's daughter Terra Newell in an act of self-defence after he tried to abduct her.
Season , titled Dirty John: The Betty Broderick Story delved into the marriage of Betty and Daniel and its subsequent breakdown.
Much like season one, the second instalment of Dirty John addresses themes of abuse and manipulation and ultimately ends in murder.
On November 5, 1989, Betty murdered her ex-husband and his new wife, Linda Kolkena as they slept. The series traces the events leading up to the killing and their bitter divorce and long-drawn-out custody battle of their children, raising questions of just how responsible Betty was for the shooting.
Dirty John: The Betty Broderick Story is streaming on Netflix now.
8. The Act
The Act is an eight-part true-crime series about the true story of Gypsy Rose Blanchard and the murder of her mother, Dee Dee Blanchard.
Dee Dee had been accused of abusing her daughter by faking her illness and tricking her into believing she was disabled. Dee Dee was believed to be suffering from Munchausen syndrome by proxy.
The Kissing Booth's Joey King portrays Gypsy and Oscar-winning actor Patricia Arquette takes on the role of Dee Dee in The Act.
The Act is streaming on Hulu now.
9. Narcos
Narcos on Netflix charts the rise and fall of Columbian drug kingpin Pablo Escobar.
The series follows his rise to achieve billionaire status and his interactions with other drug lords and the Drug Enforcement Administration (DEA).
Three have been three seasons so far of Narcos and a spin-off show, Narcos: Mexico, which has so far aired for two seasons, with a third on the way.
Narcos and Narcos: Mexico are streaming on Netflix now.
10.White House Farm
White House Farm is a British true-crime drama based on the real-life events that took place at White House Farm, Essex in August 1985.
The series traces the investigation into the deaths of five members of the Bamber-Caffell family by detectives DCI Taff Jones (Stephen Graham) and DS Stan Jones (Mark Addy).
The only surviving member of the family, Jeremy Bamber (Freddie Fox), points the finger at this deceased sister Sheila who had been diagnosed with schizophrenia. However, the evidence seems to paint an entirely different picture.
White House Farm is streaming on Netflix and HBO Max now.