Top Trump Administration Official Meets With Pakistan's Imran Khan to Talk Terrorism Amid Ongoing Conflict
Secretary of State Mike Pompeo traveled to Pakistan on Wednesday to meet the country's new Prime Minister Imran Khan and re-establish friendly ties with the country after months of conflict.
U.S. allegations that Pakistan provides safety to Afghan members of the Taliban have been a recent point of contention between the two countries, whose alliance is known for its complexities. The relationship between Washington and Islamabad hit a low point in January when President Donald Trump announced that his administration would cut almost all security aid to Pakistan until the country does more to crack down on the movement of Taliban terrorists within its borders.
The announcement was punctuated by several angry Twitter exchanges between Trump and Pakistan's foreign minister. In March, the U.S. opted to sanction seven Pakistani companies for alleged links to nuclear trade. Last weekend, the U.S. canceled a $300 million Coalition Support Fund payment for Pakistan.
Wednesday's meeting between Khan and Pompeo was framed as a reset, while the U.S. seeks Pakistan's cooperation for a peace agreement in Afghanistan that would end almost two decades of war. But Khan, a former cricket star who was sworn in as prime minister in August, is an unconventional figure known for his extreme positions. Analysts say the meeting will need to be handled carefully if the relationship between the two nuclear-armed countries is to be salvaged.
"It's a visit that comes at a critical and delicate time. The U.S. has just cut more aid to Pakistan, a move that hasn't gone down well in Islamabad and added more strain to a relationship that has suffered in a big way during the Trump era. The visit also comes at a moment when the U.S. is trying to launch a peace process in Afghanistan that needs buy-in from Pakistan to succeed," Michael Kugelman, deputy director of the Asia program at the Wilson Center, told Newsweek.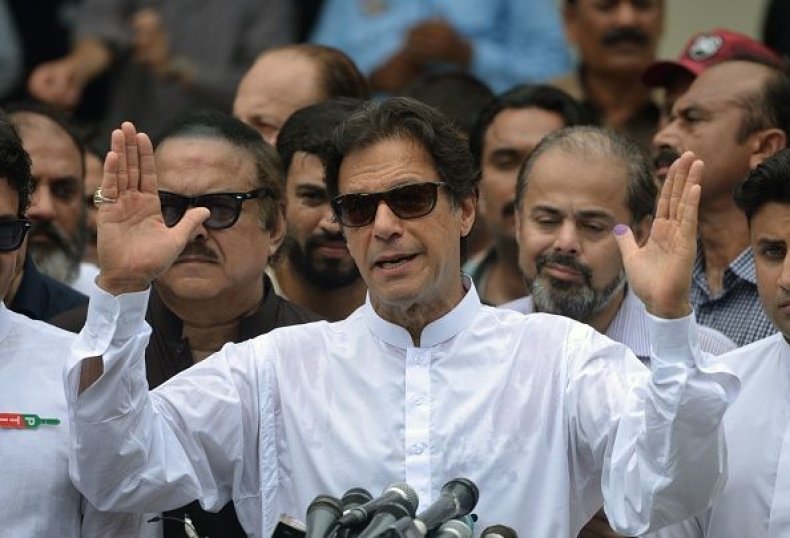 "The new government in Pakistan, which is given to populist and deeply anti-American rhetoric, won't take well to being read the riot act and being told to act against the terrorist sanctuaries on its soil or face the consequences. Though given the tough line the Trump White House has taken on Pakistan, that's exactly what could happen. And Pompeo's meeting could turn tense in a hurry," Kugelman continued.
Pompeo and Khan have already had their tense moments. Last month, Pakistan disputed the State Department's description of a phone call between two officials, claiming that they had never discussed militants operating in Pakistan. Moreover, Pompeo used the lead up to the visit to announce the appointment of Zalmay Khalilzad, a harsh critic of Pakistan, as the new U.S. special adviser on Afghan reconciliation.
Despite receiving billions in aid for security over the decades, Pakistan has often pursued its own security agenda, based largely on its rivalry with neighboring India, at the expense of Washington. After meeting with Khan, Pompeo will fly to India.