Wisconsin Assembly Speaker Robin Vos, the state's top Republican legislator, is facing calls to resign from those looking to decertify the 2020 presidential election results.
Though Vos has agreed with legal experts who say the decertification is illegal, he met with supporters of the idea earlier Wednesday, the Milwaukee Journal Sentinel reported. People with signs reading "Vos no mas" and "Prosecute Vos" sat outside the hearing room, the report added.
Despite a surplus of evidence that there was no widespread fraud in the 2020 election, some in Wisconsin still insist on decertifying the results that gave President Joe Biden his victory in the state. Among Wisconsin's more than 3 million people who cast ballots in 2020, only 24 have been charged with voter fraud.
In the election's battleground states, there were not enough potential fraud cases to have made an impact on the presidential race's results, a probe conducted by the Associated Press found. Vos even hired Michael Gableman, a Wisconsin attorney and former state Supreme Court justice, to investigate potential fraud. Although Gableman laid out a plan to decertify the election, Vos said, "We can't have a legislature decertify an election," WITI-TV reported.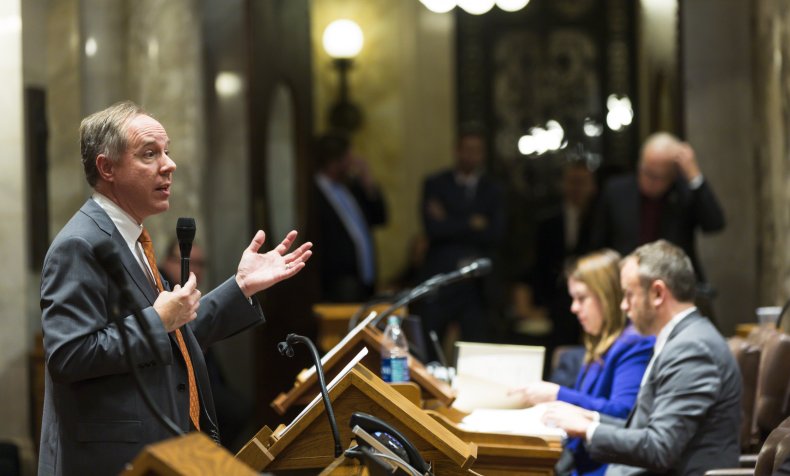 Vos attended the meeting with the decertification supporters at the Wisconsin Capitol because, he said, "I'm always open to listening to people who have differences of opinion," the Journal Sentinel reported.
After he came out of the meeting, he told reporters he believes there was widespread fraud, but he also said he would not move to decertify the election.
"I still believe that the Constitution and my oath that I took as an elected official does not allow me to decertify any of the elections, whether I want to or not," he said.
Vos traveled to Plover to meet with other Republican leaders after his Wednesday meeting at the Capitol, but he encountered a rally there calling for his resignation, the Journal Sentinel reported. A notable attendee of the rally was GOP state Representative Tim Ramthun, who is running for governor. One of his main platforms is calling for another audit of the 2020 election.
Vos had asked Ramthun to leave the Capitol meeting earlier that day because "we don't want to turn this into a campaign event," according to WITI. As a result, Ramthun said in an online interview, he wanted to punch Vos "right in the nose." Adam Steen, who is planning to run for Vos' seat in the Republican primary, also joined the crowd, the Journal Sentinel said.
In addition to those who want to oust Vos for not decertifying the election, others have different reasons for wanting him to resign. A public Facebook group called "ROBIN VOS We Demand You Resign!" expresses anger over his opposition to rescheduling the spring 2020 Wisconsin election.
"His insistence that the election be held on April 7 2020, despite Governor Tony Evers having rescheduled the election, endangered the lives of persons who voted as well as those who manned the polls as workers due to the COVID-19 (coronavirus) threat faced across Wisconsin," the page says.
The group also criticizes Vos' "inappropriate attire," saying he is regularly "clothed in items normally reserved for health workers." The group, which has nearly 200 members, wrote that this attire is a "mockery of the election and has made people across the state and USA infuriated, thus bringing disgrace to the State."
Newsweek reached out to Vos for comment but did not hear back before publication.
Update 03/17/22, 12:10 p.m. ET: This story was updated to add more information and background.