Tornado Hits Fultondale, Alerts in Place for Alabama and Georgia
People are being urged to seek shelter after a suspected tornado hit the cities of Fultondale and Center Point in Jefferson County, Alabama, causing multiple injuries, damaging homes, buildings and powerlines, and tearing down trees.
Tornado watches have been issued for parts of Alabama and Georgia, with the National Weather Service (NWS) Storm Prediction Center reporting that "conditions are favorable for tornadoes and severe thunderstorms" in the areas.
The tornado watch that was issued for Alabama will remain in place until 6 a.m. CST, and covers the following areas: Bibb, Calhoun, Cherokee, Cleburne, Etowah, Hale, Jefferson, Shelby, St. Clair, Talladega, Tuscaloosa, Chilton, Clay, Coosa, Marengo, Perry, Randolph, Greene and Sumter.
The tornado watch that is in place for Georgia covers Bartow, Carroll, Cherokee, Cobb, Douglas, Floyd, Haralson, Paulding and Polk, and will remain in place until 7 a.m. CST.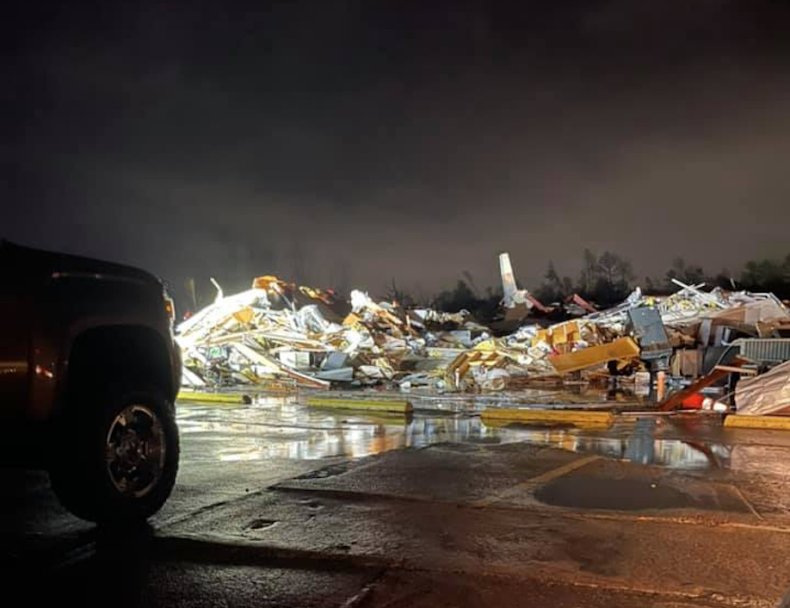 "Persons in these areas should be on the lookout for threatening weather conditions and listen for later statements and possible warnings," the Storm Prediction Center has said.
It added: "The tornado watch area is approximately along and 30 statute miles either side of a line from 25 miles south of Tuscaloosa AL to 70 miles east northeast of Anniston AL."
No fatalities have yet been reported. However, Fultondale Mayor Larry Holcolm has said that some people have been trapped inside buildings, and that there have been around 20 reports of people suffering minor injuries, including scratches and bruises.
"There are still people trapped in their homes that we are trying to access at this time," Holcolm told CBS 42.
Fultondale's Assistant Fire Chief, Justin McKenzie, told WBRC: "Multiple injuries, major structural damage. I cannot confirm how many injuries or deaths at this time. Multiple agencies are on scene still searching and removing trapped occupants."
Meanwhile, Center Point Mayor Bobby Scott said that the storm had torn off half of Hilldale Baptist Church's roof.
"We don't have any injuries to report right now, so we're definitely grateful for that," Scott said. "Hopefully we don't have any lingering things that happen, so everybody stay in, stay safe."
A tornado hit Jefferson County at approximately 10.40 p.m. CST late on Monday night, and images and videos posted to Twitter have shown both the storm and its aftermath.
"First responders are requesting that the public avoid the Fultondale and Center Point areas to allow them to safely continue their operations," said the Jefferson County EMA, which has been urging people in the area to seek immediate shelter.