Tornado Video Shows Madill, Oklahoma, Engulfed by Deadly Twister
Footage filmed during storms in Madill, Oklahoma, on Wednesday offers a small glimpse at what it might be like to sit in a tornado's path.
The two-and-a-half-minute video was captured by a man in his car, who started filming as a twister approached from the distance behind a group of trees.
"We're kind of inside of it," he can be heard saying. "Oh, it's close. Oh, it's close."
Dust and debris are flung into the air as the storm advances, while cars continue to drive past. The roaring winds and rustling trees get louder as the twister gets closer.
As the tornado passes the path of the camera, heavy gusts of wind rip material off nearby buildings and threaten to down power cables.
Towards the end of the film, the twister is seen heading off into the distance, leaving a rainbow as well as a trail of damage in its wake.
"This tornado damaged town structures and lofted trees into the air before transitioning to a rope phase. Many people observed a rainbow with this tornado," said Pecos Hank, who posted an extreme closeup of the tornado on YouTube.
"Moments after the tornado struck, the sky was blue and sunny."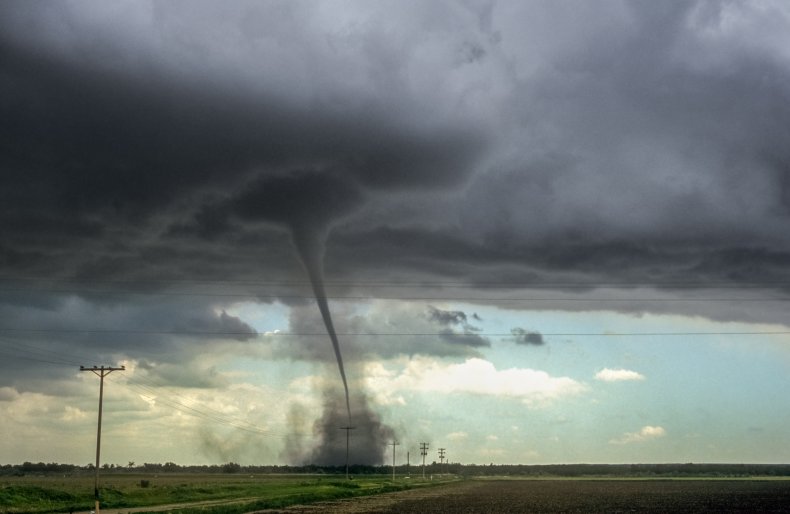 The Southern Plains were battered by heavy storms Wednesday and at least two tornadoes were reported.
Madill, a town of approximately 4,000 people in Marshall County, Oklahoma, was struck by a twister Wednesday afternoon shortly before 5.00 p.m.
Later that evening, the city of Onalaska in eastern Texas was hit by a tornado, causing widespread damage across Polk Country.
Heavy storms have also been reported in Rapides Parish in Alexandria, Louisiana.
Six people are reported to have died during the severe storms, including two in Madill. Another three have been confirmed dead in Texas. A woman is also said to have died in Woodworth, Louisiana.
Yesterday's storms come after a string of extreme weather events to affect the area in recent weeks.
According to Accuweather, more than 100 tornadoes struck the southern states over the weekend, including a record-breaking twister in Mississippi that was over two miles wide.
Wednesday's storms are expected to continue into Thursday, progressing eastward into Alabama, eastern Tennessee, northern Florida, Georgia and the Carolinas.
"The storms from Thursday to Thursday evening will pose a similar threat to that of Wednesday afternoon and night with damaging wind gusts, large hail and torrential downpours," AccuWeather Meteorologist Brett Edwards said.
Overnight, the storms are expected to continue east through the Carolinas and the northern tip of Florida. Meanwhile, the Mississippi Valley and southern states can be expected more storms from Friday and over the weekend.