Video: Stunning Beach Tornado Rips Through Florida Coastal Town
Stunning video of a destructive tornado that formed over water Sunday and passed through Fort Walton Beach in the town of Molino, Florida, went viral over the weekend. In a span of only a few minutes, the tornado caused severe damage, razing property and setting buildings on fire.
Dave Perkins captured the tornado in Florida on video, which he posted to Facebook. In the video, viewers can see the tornado knock down power lines and down trees. Several homes were damaged, WALA reported.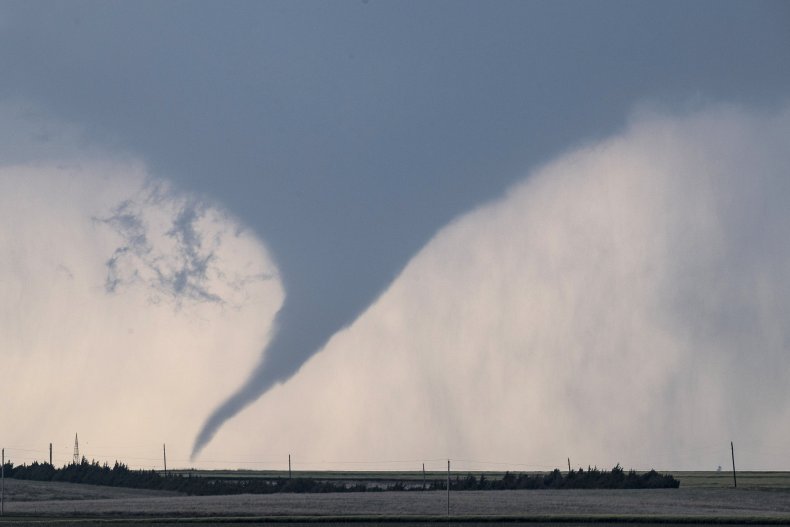 While the video is frightening, Jeffrey Medlin, a meteorologist at the National Weather Service in Mobile Alabama, told Newsweek that tornados such as these are not uncommon for this time of the year.
"Obviously, spring is our peak severe weather season. Yesterday afternoon the atmosphere destabilized and several cells formed, a few of them produced a tornado," said Medlin, referring to storm cells, which are air masses that act as the smallest unit of a storm-producing system.
Medlin said the tornado caught on video had been circulating for nearly an hour, and as a result, the National Weather Service was able to give warning of its presence well in advance.
Although the tornado passed over water, Medlin said it was not a waterspout, as many media outlets called it. Waterspouts, or a tornado over water, are often far less destructive and have weaker wind intensity.
"This was a tornado over water," emphasized Medlin. According to the National Oceanic and Atmospheric Administration, these types of tornadoes may be referred to as tornadic waterspouts, not to be confused with fair weather waterspouts.
A team from the National Weather Service will go back to survey the area to figure out the specifics of the storm, such as the intensity of the wind, Medlin explained. There were no casualties, but at least one home was completely destroyed, WALA reported.