Before running a rented van into pedestrians in Toronto on Monday, 25-year-old suspect Alek Minassian posted to social media praising a mass murderer and citing an "Incel Rebellion." Ten people were killed and numerous pedestrians were injured before Minassian was taken into custody.
During a Tuesday press conference, Toronto police said Minassian posted a "cryptic message" on Facebook minutes before he drove into pedestrians around 1:30 p.m. local time.
"Private (Recruit) Minassian Infantry 00010, wishing to speak to Sgt 4chan please," Minassian wrote in the now-deleted post, which was captured in a screenshot by news outlets. "C23249161. The Incel Rebellion has already begun! We will overthrow all the Chads and Stacys! All hail the Supreme Gentleman Elliot Rodger!"
Rodger, 22, killed six people near the University of California, Santa Barbara in 2014 before killing himself. Ahead of the attack, Rodger posted a video and left behind a manifesto identifying himself as an "incel," which refers to "involuntarily celibate." A sub-Reddit dedicated to incels, who blame women for their involuntary celibacy, was banned by the social site in an attempt to clamp down on forums that incite violence.
Facebook confirmed on background to Newsweek that the post was made on Minassian's account.
"This is a terrible tragedy and our hearts go out to the people who have been affected. There is absolutely no place on our platform for people who commit such horrendous acts. We have found and immediately deleted the suspect's Facebook account," a Facebook spokesperson said in a statement to Newsweek.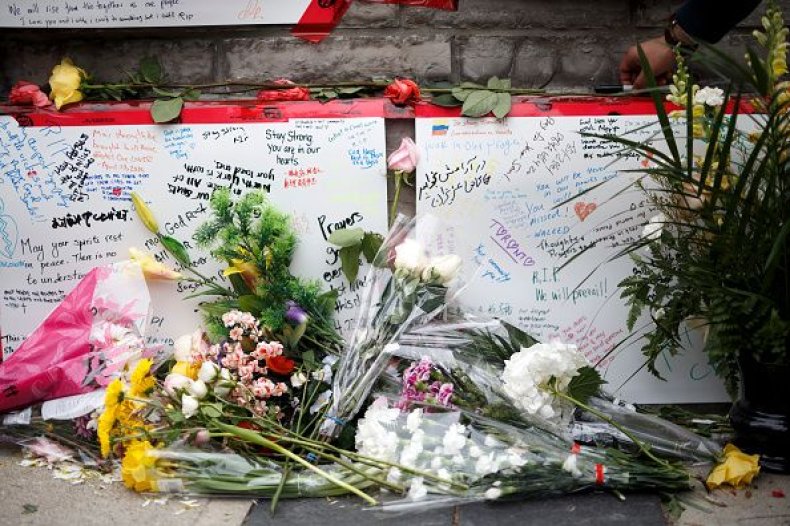 On Tuesday, Canadian Prime Minister Justin Trudeau called the event "horrific" and "senseless." He added there is "no reason to suspect there is a national security element to this attack" and that an investigation is already under way.
Minassian was charged Tuesday morning with 10 counts of first-degree murder and 13 counts of attempted murder in a Toronto court.