Who Is Alek Minassian? Suspect Arrested After Pedestrians Struck By Van in Toronto
Authorities arrested and identified a suspect after a van drove onto a sidewalk Monday, hitting numerous pedestrians in Toronto. Alek Minassian, 25, was identified as the person arrested Monday, Toronto Police announced on Twitter.
Minassian, of Richmond Hill, allegedly fled the scene but was quickly apprehended by authorities.
Police said in a press conference Monday evening that nine people had died and 16 were injured in the incident.
Officials had not yet said whether they considered the incident intentional. Videos online appeared to show the man being arrested, pointing an object at authorities before dropping it and being apprehended.
Reports quickly surfaced Monday afternoon indicating that a white van had struck a number of pedestrians in an area with heavy foot traffic, around the intersection of Yonge Street and Finch Avenue in the Canadian city. There were reports of multiple injuries. The incident happened around 1:30 p.m. local time.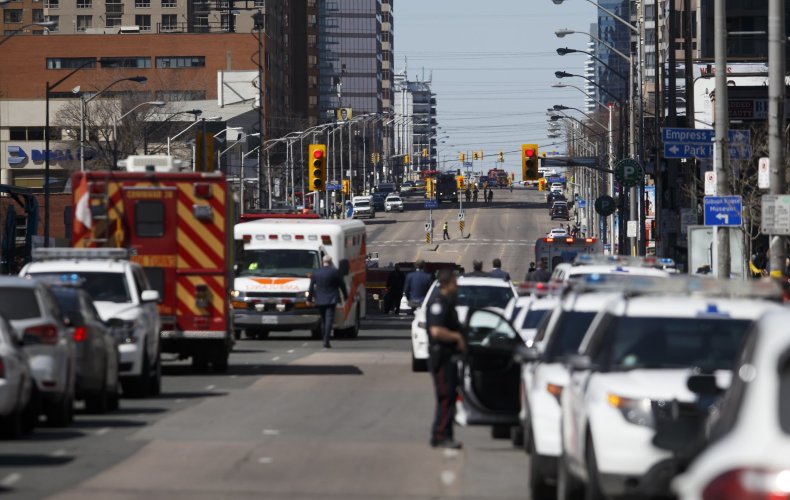 "Reports were that a white van mounted the curb, drove down the sidewalk at southbound Yonge, south of Finch, and struck eight to 10 people possibly, the numbers aren't confirmed yet," Toronto police spokesperson Gary Long told Global News on Monday afternoon. A local facility, the Sunnybrook Health Sciences Centre, said in a statement it had received seven patients in its trauma center from the incident.
A witness told Jamie Mauracher, a reporter for Global News, that it seemed like the driver had run up over the curb, targeting pedestrians on purpose.
"Our thoughts are obviously with all of those affected," said Canadian Prime Minister Justin Trudeau, according to a tweet from Bruce Campion-Smith of the Toronto Star. "We are still gathering information ... we will keep Canadians updated."
Newsweek has live updates on the ongoing situation, which you can read here.