'Toxic' Family Bashed for Forbidding Pregnant Woman From Touching Her Belly
Reddit users who read a woman's post on the forum "Am I The A**hole" criticized a family after she was scolded for touching her pregnant stomach in front of her sister who is actively trying to have another child.
Redditor u/Mysterious-Inside-53 wrote in her post—which has amassed more than 11,000 votes since it was shared on Sunday—that her sister and brother-in-law wanted to try to have more children after previously taking the steps to not have them.
However, when the Reddit user's sister found out about u/Mysterious-Inside-53's pregnancy, she refused to speak to her.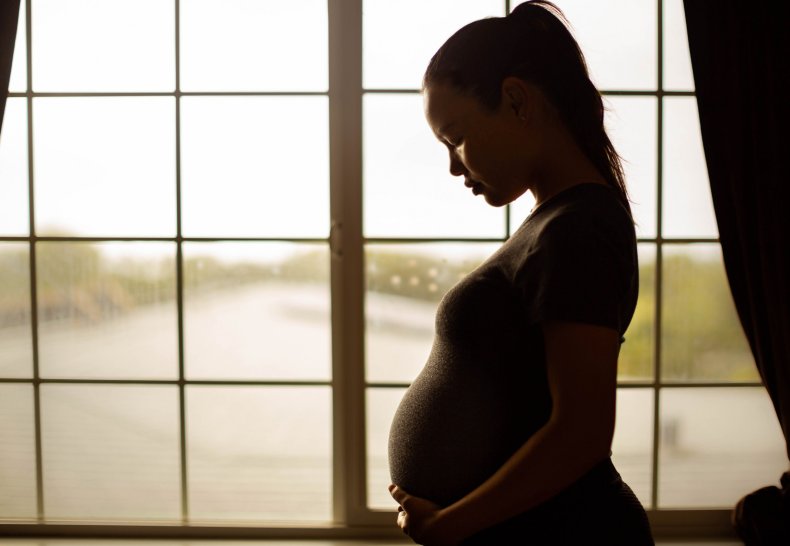 Sharing Pregnancy News
According to Verywell Family, sharing pregnancy news with someone who is facing difficulties getting pregnant themself may feel stressful.
The outlet said the pregnant person should share the news but leave out any details or advice unless asked.
And as the pregnancy continues, the pregnant person should stay in touch.
"If you're worried about talking only about the pregnancy and the baby, try to remember all the things you spoke about before you got pregnant," the article said.
'AITA?'
In her post, u/Mysterious-Inside-53 said that her sister and sister's husband have two children and thought they were not having anymore. They have since changed their minds.
"I found out I was pregnant quite awhile [sic] ago and since the day my sister found out about my pregnancy she has refused to talk to me or be where I am," u/Mysterious-Inside-53 said. "This was until Mother's Day, she showed up and ignored me. Since then my mother has told me not to bring up my baby, my pregnancy, or anything related."
The Reddit user said her mother believed that it is best to ignore the pregnancy to avoid hurting u/Mysterious-Inside-53's sister's feelings.
When the family got together, u/Mysterious-Inside-53 said the baby kicked and she rubbed her stomach to ease the cramp.
"While doing so my sister made a face and continued her conversation with her husband," she said. "My mother on the other hand started to scold me for 'rubbing my pregnancy in my sister's face.'"
Redditor u/Mysterious-Inside-53 continued and said her mother has since ignored anything to do with her pregnancy.
"I'm tired of my baby being avoided like the plague," she wrote, concluding her post. "No one even cared to ask what we even plan on naming her."
Redditors React
Fellow Reddit users overwhelmingly sided with u/Mysterious-Inside-53.
"Your family is toxic," a top comment with more than 23,000 votes read. "If they're treating you like this while pregnant, imagine how they'll treat your baby."
The Redditor u/Mysterious-Inside-53 replied and said that she decided that she will not allow her family to visit the baby after she is born.
Another Reddit user wrote that u/Mysterious-Inside-53's sister was an "immature narcissist" while their mother enabled the behavior.
"I hope your husband's side of the family is being supportive," they commented. "Cut your toxic family members out of your life, you don't need that stress on top of having a new born."
One commenter wrote that they dealt with issues surrounding several pregnancies and needed to take time away from relationships as they dealt with how they felt.
"Not that I wasn't happy for them but I was dealing with a lot of loss at the time," they wrote. "But all of that was my issue, not theirs. I can't imagine making it someone else's problem like OP's sister is."
Newsweek reached out to u/Mysterious-Inside-53 for comment.
Previous 'AITA' Posts
Reddit users also criticized a couple for wanting their wedding guests to spend money for their puppet-themed wedding, while a mother who punished her teenager for taking medicine for their epilepsy also faced backlash.
One man received praise for kicking his fiancée out of their engagement party after she made a comment about his sister's sex work.