Toy Poodle Refuses to Stay Hydrated Unless Water Comes From Fountain
A video of a poodle puppy that seemingly only drinks water out of a fountain has gone viral on TikTok, where it has received 1.9 million views.
A message overlaid on the clip, which was posted from the TikTok account @tinyfloof, read: "When your dog hates drinking water but you get her a water fountain with a flower and now she stays hydrated."
The video showed a toy poodle vigorously drinking water from what appeared to be a small icebox-style device. The fountain featured what appeared to be a daisy-shaped flower centerpiece from which streams of water appeared to be flowing outward.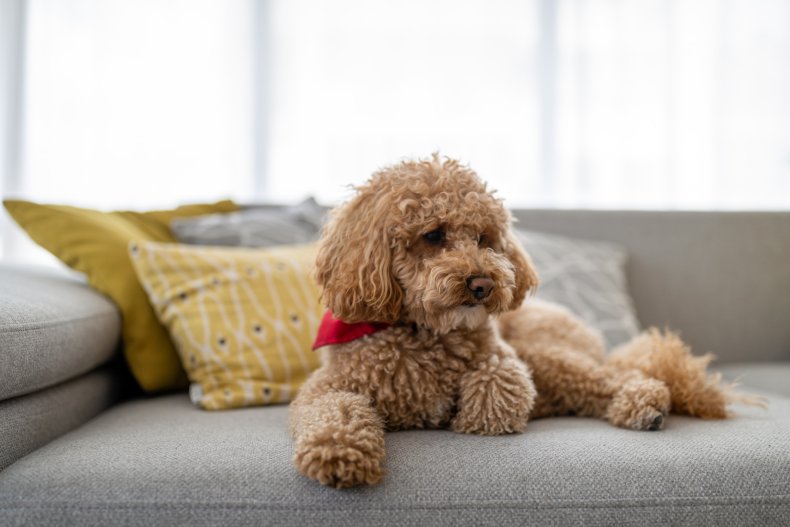 The video was shared with a caption that read: "water from a fountain just tastes better."
How much water your pup needs will vary depending on your dog's age, weight and activity level.
Younger puppies being weaned off of their mother's milk require around a half-cup of water every two hours. Older pups that have already been weaned tend to need between a half-ounce and one ounce of water per pound of body weight per day. This comes from a March 2019 article by the American Kennel Club (AKC), the world's largest purebred dog registry.
For example, a dog weighing around 20 pounds will typically need to drink anywhere between 10 and 20 ounces of water per day, or more than that on especially active days, the AKC says.
It's important to check that your dog is keeping well-hydrated. Below are some signs of dehydration you should look for in your pet, as outlined by Dr. Jerry Klein, the AKC's chief veterinary officer:
Loss of skin elasticity
Loss of appetite
Vomiting with or without diarrhea
Reduced energy levels and lethargy
Panting
Sunken, dry-looking eyes
Dry nose
Dry, sticky gums
Thick saliva
Several users on TikTok have swooned over the toy poodle in the viral video, expressing admiration for her water preference.
Jaqueline Mosa wrote: "Cause she's a pretty girl she needs pretty [things]."
Vandana posted: "She knows luxury, she's living lavish!" And Cat7of9 added: "Do not tell my poodle that this exists. Please."
User @goodboyralphh commented: "This is amazinggg omg [oh my god]."
Irene wrote: "omg cutest thing ever," while Yvettetwo posted: "Wish all pups were treated like this."
Newsweek has contacted the original poster for comment via TikTok.
Do you have funny and adorable videos or pictures of your pet you want to share? Send them to life@newsweek.com with some details about your best friend, and they could appear in our Pet of the Week lineup.