When Is Toys 'R' Us Reopening? New Stores Opening in New Jersey and Texas
Have you been wondering "when will Toys 'R' Us reopen"? Well, now we have an answer. Toys 'R' Us will open its first new store in New Jersey on Saturday. The store, in Westfield Garden State Plaza mall in Paramus, will be opened with a ribbon-cutting ceremony at 10 a.m on Saturday, November 30. However, New Jersey residents had a sneak preview at the store's soft opening today.
The new store spans around 6,000 square feet and has a treehouse, a space for Toys 'R' Us to host activities day-to-day, and there is also a shooting range to test out Nerf products. The Toys 'R' Us store is selling toy brands such as L.O.L. Surprise! dolls, Steiff stuffed animals, Nerf, Nintendo, Lego, Melissa & Doug, and Barbie.
So, is Toys 'R' Us coming back? Toys 'R' Us will open its second store on December 1 at The Galleria, a Simon mall, in Houston, Texas. Around 10 more stores will be opening over the next year, including a New York flagship store, and each one will be around 6,500 square feet which is a quarter of the size of the original Toys 'R' Us stores.
This store in New Jersey is the first store Toys 'R' Us will open since closing all its stores in 2018 after becoming bankrupt in 2017. Tru Kids Brands bought Toys 'R' Us in October 2018 and has since partnered with Target.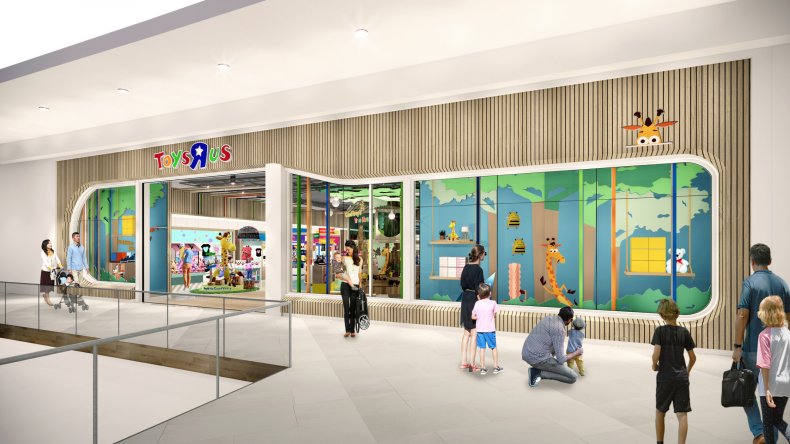 In September, Toys 'R' Us relaunched its website and announced a partnership with Target.com. Toys 'R' Us customers can learn about products on the website before being directed to Target.com to make a purchase.
Similarly, the company announced that the new Toys 'R' Us stores will be experiential spaces where only a selection of toys can be purchased instore and others can be purchased online on Target.com.
Toys 'R' Us is also working with b8ta, a company with a chain of experiential stores that encourages customers to interact with its products rather than simply purchasing them. B8ta will power the new Toys 'R' Us stores, and its technology includes ceiling sensors that track traffic patterns to help Toys 'R' Us understand how well its stores are functioning.
Richard Barry, CEO of Tru Kids, said in a statement: "Our U.S. strategy is to bring back the Toys 'R' Us brand in a modern way through a strong experiential and content-rich omnichannel concept.
"The foundation of that strategy requires the help of a retail industry leader and Target is the ideal retailer to support a new Toys 'R' Us shopping experience, which is designed to provide families with endless ways to discover, play and enjoy toys."