Stacey Abrams high-profile and years-long work to remake the electoral landscape in Georgia led to a unique message as she geared up for her second attempt to win the governorship from her opponent Brian Kemp.
She didn't win last time, but she knows how to win this time, state Democrats and former staffers insisted.
The idea wasn't far-fetched: Abrams, who lost by 1.4% and less than 55,000 votes in their first matchup, knew she needed to squeeze every vote possible out of communities of color, and she had a track record of building real organizing power in the state through the rise of groups like New Georgia Project and Fair Fight.
But now, in a predictably tough race against Kemp again, Abrams' poll numbers suggest she has faltered at the exact point when supporters thought her campaign would be flexing its hard-won muscles.
Democrats and activists in Georgia and nationwide remain concerned that Abrams may not be able to again conjure the magic she did last time — and Democrats did in 2020 — not necessarily because of Kemp's strength, but because of difficulties in getting her base out.
A former Abrams aide told Newsweek those difficulties stem from a less effective organizing program. In 2018 Abrams had 140 organizers on the ground; now she has fewer than 100. And there are reports of slippage with Black men, a critical voting segment that Abrams needs to be a strong part of her coalition.
"Stacey can't win without Black and brown voters," the source said. "You also can't do last-minute outreach to them and call it voter of color outreach."
"Stacey is struggling with Black men," the source added. "How do you struggle 48 days out of an election?"
Abrams campaign released an internal poll showing 85% support among Black men, a figure that is still short of her 2018 performance by about eight percentage points, The New York Times reported.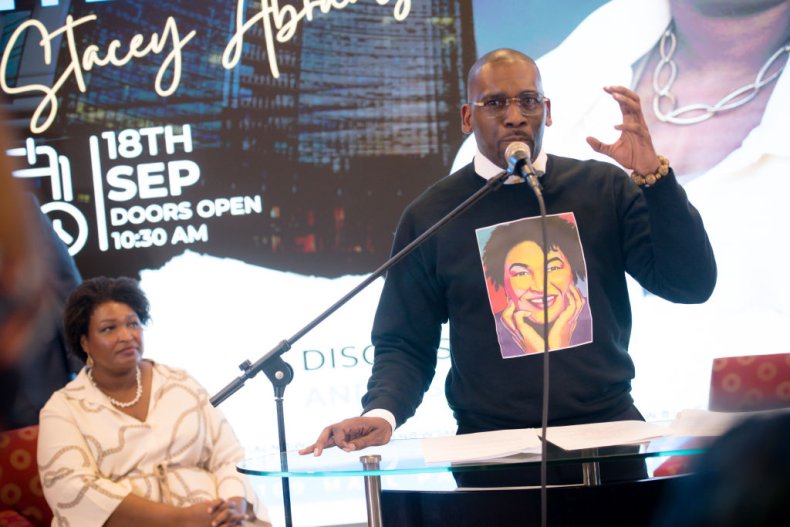 Abrams acknowledges how important the votes of Black men are to her campaign.
"If Black men vote for me, I will win Georgia," Abrams said in August at a campaign event titled "Stacey and the Fellas," held at a Black-owned restaurant in Cobb County, Forks & Flavors.
A month later on September 11, New York Times opinion columnist Charles Blow wrote a piece titled "Democrats' Black Male Voter Problem," where he cited polling showing Black support for Abrams was not as high as it should be.
"The campaign seems to be focusing specifically on Black men when considering this deficit," he wrote.
Two polls out Tuesday showed Abrams behind by sizable margins, with a Marist poll showing her down by six points, and an Atlanta-Journal Constitution (AJC) poll having her down by eight.
However, political observers noted that the AJC poll skewed older and more Republican than the 2018 electorate proved to be. The Abrams campaign and a "combat coalition" of some of the top Georgia groups said that they had this same problem with polls in 2018, during a race that proved to be much closer than expected.
Lauren Groh-Wargo, Abrams campaign manager, tweeted that the electorate in the poll was weighted as if Georgia were Indiana, and said if it had been conducted in the same way its July poll was, Abrams would be behind by two points, which would be a statistical tie.
The Abrams campaign told Newsweek its organizing model is intentionally different than it was in 2018, having incorporated lessons learned from that race. It said the team is taking into account that not every voter is answering their door in the middle of the day or picking up the phone, so the campaign is meeting voters where they are through efforts like a paid relational program that encourages people to talk to their networks about her plans.
It also said it has 250 community captains across the state who are solely dedicated to organizing their communities and encouraging them to vote for Abrams.
Also, an early vote challenge is asking supporters to commit to voting in person during the first week of early voting that begins October 17, which will include digital commitment cards to targeted supporters via email and texts with direct-mail follow-ups.
The field team will ask voters to fill out commitment cards, with two million households slated for in-person visits, and pledge cards will be a standard part of campaign events.
The Abrams campaign said she has not shied away from having tough conversations, including at barbershops, in conversations with local well-known Black men, as well as taking her message to non-traditional crowds, such as the 85 South Show and Butter ATL, two very large Georgia cultural outlets.
"Our intentional outreach should not be viewed as a challenge with these communities," the campaign told Newsweek, "but instead, as an opportunity for us to earn the votes of communities that have been left out of the political conversation for too long in Georgia."
But W. Mondale Robinson, who founded the Black Male Voter Project in Georgia and similarly chides pollsters for excluding Black men from their likely voter models, said the political problem when it comes to the Black men he speaks with neither begins nor ends with Abrams.
"Stacey Abrams doesn't have a Black man problem," he told Newsweek. "The Democratic Party has a Black man problem."
Robinson said lack of investment throughout the years — and not prioritizing issues Black men care about such as jobs, criminal justice reform, and the right to vote — have combined to create the problem. Though he does not see Black men deserting the Democrats to join the Republican Party, the net effect is the same.
"Black men have an alternative," he said, "and that is to sit out an election."
He cited Terry McAuliffe's failed reelection campaign in Virginia where he lost to Glenn Youngkin as an example of a candidate who failed to engage his base and paid the price.
Kemp is also looking to Virginia, not just in an effort to find similar Republican success, but also to expand the map in November.
He's bringing Youngkin to the metro Atlanta suburbs that Democrats grabbed control of for the first times in decades in 2016, hoping to erode some of the support Abrams needs in places like Gwinnett, Cobb and Henry counties.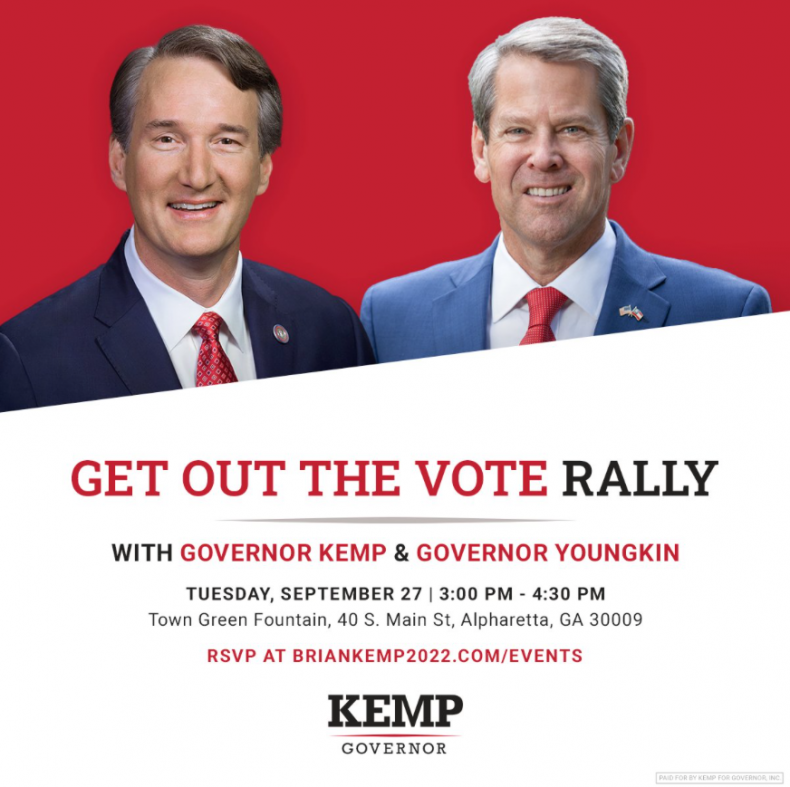 "The reality is a lot of suburban voters who voted for Democrats during the last two cycles were Republicans their whole lives," said veteran Republican consultant Chip Lake, stressing that these voters are worried about the economy and higher grocery and gas prices.
"Yes we're a purple state," Lake added, "but we're a center-right state, and national Democrats are not where the voters of Georgia are."
Democrats hope their outreach to voters of color including AAPI (Asian American and Pacific Islander), Latino, and Black voters will be enough in Georgia before November. They are also looking to make the connection between Kemp's refusal to expand Medicaid using available federal funds and how it disproportionately hurts Black and Latino voters in the state.
"Out-of-pocket expenses for pharmaceutical costs and medical care, Latino families are very impacted by these issues," said Mi Familia Vota Georgia state director Jesus Rubio.
Kemp's partial Medicaid expansion would extend coverage to 50,000 new people as long as they complete work or job training requirements, but it is estimated that some 500,000 people could have gained coverage if Kemp had accepted the federal government's offer.
The former Abrams staffer said the campaign is still playing catch-up when it comes to getting the base voters motivated that she will need in order to win in November.
"They're behind on organizing the communities we need to win," the source said. "They're not necessarily voting for your opponent — they're just not going to show up."